Business technology services
Reimagine better ways to run your business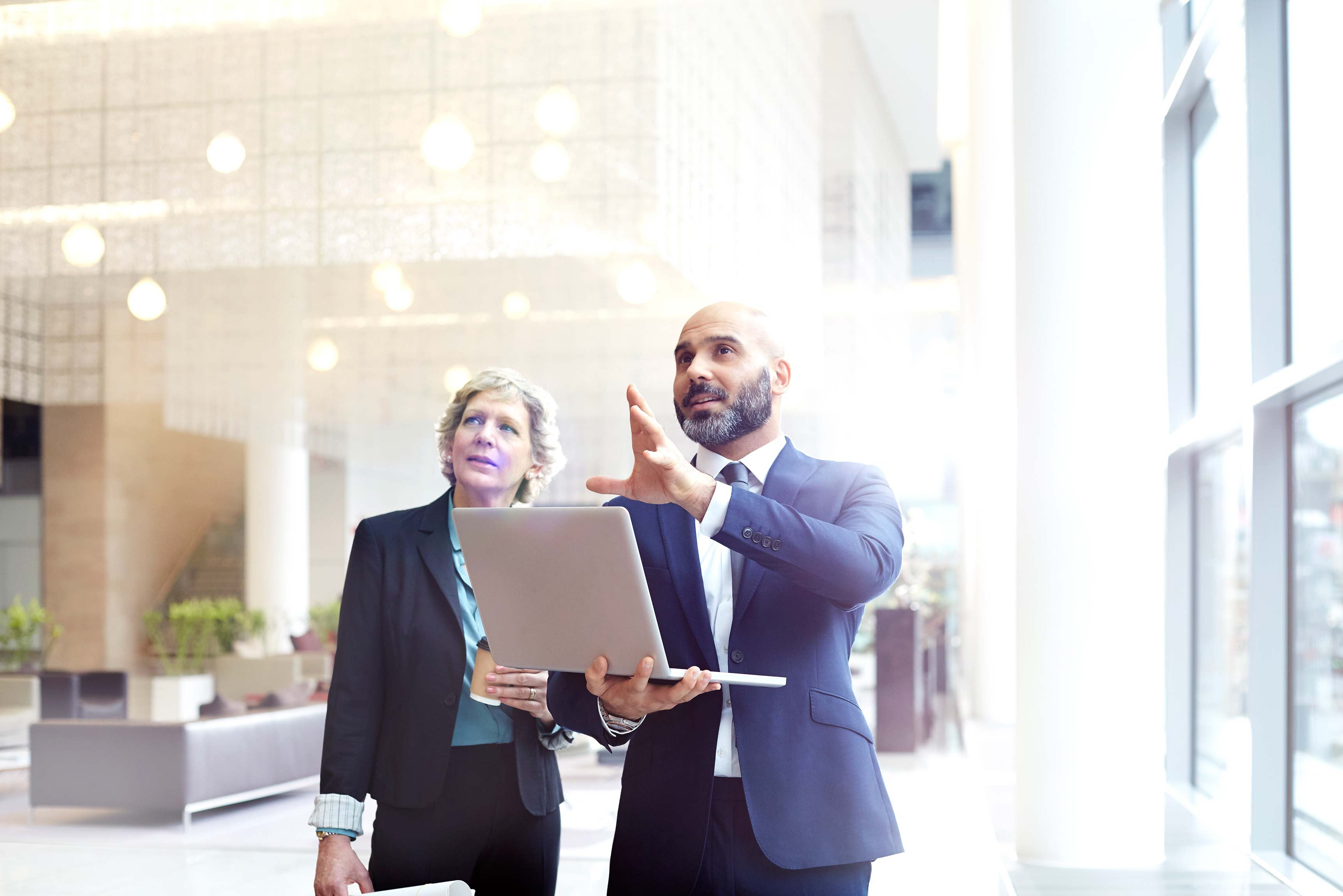 IT needs to keep pace with change. Our end-to-end IT infrastructure and managed workplace services help businesses stay agile and responsive.
Take the uncertainty and complexity out of your SAP S/4HANA migration. Genpact can help you deliver better insights and experiences to customers and employees and optimize technology to make the most of your investment.
When it comes to business applications, we can modernize and automate them by putting business technology services to work in the context of your industry.
Our enterprise application services team will work closely with you to connect your enterprise ecosystem and align business functions to support digital transformation.
We customize each solution to fit your needs
We are experts at operating and transforming business processes, and we leverage our expertise to help client realize their vision to build an effective and leaner architecture – where core applications and our differentiating solutions work in tandem.
Our application modernization services enhance user experience and agility by rearchitecting business applications. We transform customer experiences with our industry specific and specialized platform services. We save time and money with automated testing using prebuilt frameworks and accelerators that provide intelligent business applications support through cognitive solutions.
We also offer best in class SAP, S/4 Hana and Oracle transformation through advisory, implementation, business value integrator and managed services.
Infrastructure services
2 Products & Solutions
Managed workplace services
From service desk and field support to enterprise service management and end-user engineering services, our managed workplace services help organizations stay resilient. We drive value and reduce costs through operating-model-redesign and automation, focusing on improving end-user experiences with personalized IT support. Our unique custom-built tools integrate with your existing investment to provide high ROI.

IT infrastructure services
We help businesses transform their IT infrastructure using intelligent operations. Our end-to-end, 24x7 support focuses on the performance, availability, recoverability, and security of IT infrastructure. Our range of capabilities and extensive experience in security operations and management make us an ideal partner.

Application Services
4 Products & Solutions
Application modernization
We transform your business applications by connecting your development and IT operations to artificial intelligence (AI) and machine learning solutions. Through these initiatives, we've achieved a 35% reduction in cycle times and 30% lower IT operating costs, uncovering new data-driven insights for our clients.

Platform implementation
Our industry-specific platform services use custom accelerators and frameworks to improve the customer experience. Through partnerships with specialized product firms, we oversee implementations that streamline and automate business operations, leading to reduced customer onboarding and deal closing times.

Application automation
We use automation accelerators tailored to your industry to reduce cycle times quickly. Combined with our deep industry and process knowledge, we've achieved a 20% cost reduction for some clients. Plus, modular frameworks backed by reusable components and utilities can drive a 25% increase in quality assessment efficiency.

Intelligent support
We develop intelligent business applications like interactive self-service tools and chatbots using robotic process automation, AI, and natural language processing. These technologies deliver operational efficiencies, helping your teams provide fast resolutions for customers, reduce cycle times by up to 20%, and lower manual support costs by up to 15%.

Digital core services
3 Products & Solutions
Business transformation with SAP S/4HANA
We offer best-in-class SAP S/4HANA enterprise resource planning business integration. We provide the speed, agility, and expertise you need to power digital transformation across your organization. For example, we've achieved a 50% reduction in financial closing cycle time and 20–30% faster rollouts and delivered on time and on budget in 95% of cases.
Learn more
Business transformation with Oracle Fusion
Our Oracle ERP business integration services include design and process consulting, surround services, application maintenance, upgrades, and integration advice. We've achieved a 50% reduction in financial closing cycle time, 20%–30% faster rollouts, and are on time and on budget in 95% of cases.
Learn more
Sales and marketing transformation with Salesforce
Our strong sales and commerce understanding assists enterprises in transforming and developing omnichannel processes for marketing, sales, service, and support. We bring our data, advanced analytics, and AI prowess, along with proven sales and services optimization frameworks, to power successful Salesforce implementations and Force.com customizations.

API economy and application integration
1 Product & Solution
Enterprise integration
With a modern API and microservices-led integration between business applications, we help organizations achieve faster go-to-market, maintain business data integrity, automate business processes, and generate real-time data-driven insights.

Finance industry-leading SaaS
3 Products & Solutions
BlackLine
We combine our industry expertise in finance and accounting (F&A) with BlackLine's unified SaaS platform to deliver faster and more accurate financial close, greater performance visibility, and enhanced compliance. Our cloud-based financial close solutions help companies automate and optimize close, consolidation, and analysis processes.
Learn more
HighRadius
We are HighRadius' Platinum Tiered partner. Our deep F&A understanding and HighRadius' integrated receivables platform help clients fully automate invoice to cash processes and optimize cash collections and treasury processes with solutions such as STAR (straight-through accounts receivable) and cloud-based offerings. Our clients have achieved 15–20% faster deployments and IPs, a 30% improvement in collector efficiency, and 100% automatic payments matching.
Learn more
Tradeshift
Our extensive local regulations expertise, together with Cora System of Engagement as an aggregator solution and Tradeshift's compliance-ready network, prepares our clients to become industry leaders. Our offerings, such as accounts payable automation for "touchless" and end-to-end processing, aid our clients to offer a unified and synergistic experience. As a result, we can drive higher-than-70% supplier adoption in two to three years, automating invoice matching and reducing efforts to manage exceptions.
Learn more
Intelligent Platform Services
1 Product & Solution
ServiceNow
We are a ServiceNow Premium partner. Together, we are helping our clients with intelligent workflow automation processes that anchors on our industry and process expertise in areas such as financial operations, customer service management, and order management. As a result, we enable our clients solve unique business needs that require process design, configuration, and customizations.

Find answers to your business needs.
Our business and enterprise tech services combine industry knowledge, data and technology expertise, and a deep understanding of applications and data. Our pretrained accelerators, automation frameworks, digital technologies, industry experts, and partnerships with specialized product firms are some of the tools at our disposal to drive positive business outcomes. Our solutions improve business agility by eliminating manual and complex business processes to deliver business technology transformation at scale.