This is our pact with you
Our purpose guides us. It's our North Star. Our compass. Ensuring that we make an impact far bigger than just our bottom line.
We amplify the impact our clients make on the world while helping workers prosper, communities thrive, and industries run in harmony with the environment. It's our promise to harness the power of technology and humanity, to help you – the pioneers and visionaries – reimagine, reinvent, and create meaningful transformation that moves us forward. Explore the sustainability services we bring to companies like yours.
We're also committed to advancing our own environmental, social, and governance (ESG) goals, contributing toward a sustainable and more equitable world. Learn about our programs in our latest sustainability report.
This is our passion. Our purpose.
The relentless pursuit of a world
that works
better for people
"Our purpose illuminates the critical and vibrant difference our people make to clients and the world every day."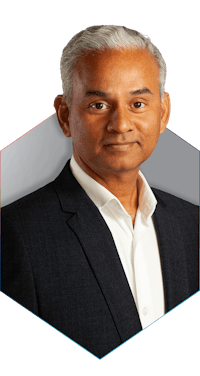 Tiger Tyagarajan
CEO, Genpact
See how our purpose creates a world that works better for people in your industry
Better for everyone
We're working to create a better world for people, businesses, communities, and the environment. This is how...
Our purpose in practice
Have a look at some of our dedicated programs that are enhancing communities, businesses, and ecosystems. The Better World Initiative and World Changing Ideas partnership with Fast Company draw on our collective intelligence to create lasting impact.