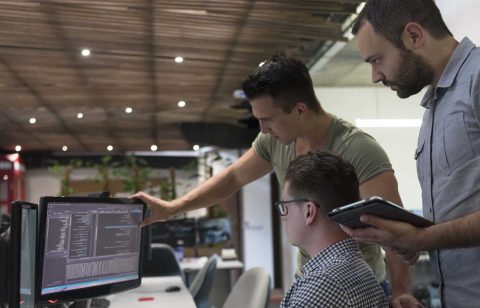 Welcome to 2023, where constant change and unexpected twists and turns are the new normal. As a result, a business's ability to adapt quickly to whatever challenge is hiding around the corner has never been more critical.
Meanwhile, we're facing a slowing economy. And every business and technology leader will be expected to do more with less to make IT modernization budgets go further.
But it's not all doom and gloom. If you outsource and transform, being more agile means revisiting how to optimize employee productivity with technology. And this isn't just good for business, it's good for employee satisfaction and retention too.
What is IT productivity?
In simple terms, IT productivity is how well the IT team delivers and operates IT capabilities and services in a cost-effective way. To explore this further, you need to look at the effectiveness and efficiency of IT teams in building and deploying software. This can be calculated by dividing successfully deployed software by the development effort and resources used (figure 1).
Figure 1: Calculating IT productivity
But why should you improve IT productivity?
As I mentioned, improving IT productivity isn't just good for business. Naturally, every enterprise wants to take control of costs, but greater efficiency and effectiveness also benefit your employees – because productive employees are happy employees. And happy employees are more inclined to stick with your company.
How do you improve IT productivity?
My clients agree that employee happiness, satisfaction, and retention in IT teams are essential drivers of IT productivity. And so, my team has developed a more sophisticated formula to analyze – and improve – IT productivity (figure 2).
There are two critical components to this formula:
Employee satisfaction and culture

Delivery capabilities (and operating model)
With employee satisfaction and culture, building trust and developing high-performing teams is as important as addressing what motivates each development team member.
Then, you review your delivery capabilities for a multiplier effect. Carefully selected delivery capabilities – like adopting composable architectures, Agile software development, DevSecOps, site reliability engineering, and continuous testing automation – boost efficiency and effectiveness. At the same time, these capabilities reduce development team frustration, which is great news for employee satisfaction, productivity, and culture.
Figure 2: Formula for improving IT productivity
Optimizing IT productivity in practice
Here's an example from the financial services industry to paint a clearer picture of what this looks like in the real world.
Our client needed help deploying software releases and IT enhancements. Although Genpact's development team stepped in and followed Agile and DevOps practices, they were inundated with escalated production issues and platform downtime.
The Genpact team took it upon themselves to adopt site reliability engineering practices for more robust application telemetry and observability. This helped them become more proactive, quickly resolve issues, and reduce the chances that the same problems would arise again in the future.
Genpact also helped the client's operations team identify unnecessary toil and uncover the reasons behind platform outages. We enhanced the company's delivery capabilities to proactively identify problems, resolve issues, and improve platform uptime. As a result, the IT and development teams became more productive – and less frustrated.
Protect your people, protect your business
Remember, you must protect your IT team. They fuel the fire of digital transformation across every corner of your enterprise. To retain or gain a competitive edge – without losing your valued employees – start by looking at IT productivity. And if you need some help, don't hesitate to reach out.
Blog