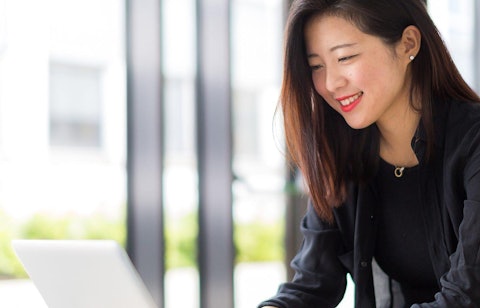 It is well established that access is critical for businesses to prosper. Having access to the right tools, insights, and resources at the right time is often the difference between success and failure. Every day, we help our clients access the digital capabilities that enable their businesses to succeed for their customers, employees, and communities.

But we're also passionate about another type of access – access to the learning, mentorship, training, and networks that help people grow. But that access is not distributed equally. Depending on background, gender, and race, some groups can find it more challenging than others.
And the COVID-19 pandemic has only exacerbated the disparity. More minority-owned than white-owned businesses have had to close during the pandemic1, and more women than men have had to leave the workforce2 to take care of children and family.
Democratizing access
To make a meaningful difference, we must democratize access. And we all have a role to play.

There are more than a billion people globally who need reskilling to adapt to the technological changes in the workforce3. In an effort to do our part during the pandemic, Genpact leveraged parts of its internal learning platform, Genome, to create Adapt and Rise, a version that is free to the public. Curated from the more than 10 million hours of learning content that helps drive the reskilling and collective intelligence of more than 100,000 Genpact people around the world, Adapt and Rise has over 1,500 hours of courses available to anyone. Since it launched, we've had more than 15,000 new learners join the platform.
Skills are a key part of the equation. Access to opportunity is another. Earlier this year, we launched Rise Together, a program that gives people who have been disproportionately affected by the pandemic access to career opportunities and the reskilling needed to embark on successful career paths. Rise Together offers an eight-week learning journey that enables people to adapt and rise into a role at Genpact. It's a way for us to tap into alternative talent sources and work with our hiring team to drive outreach and selection of candidates from populations directly impacted by the pandemic.
Turning access into ecosystems of impact
Access is core to a new partnership we have with Positive Planet, an organization that promotes inclusive, sustainable economic growth and employment around the world. The collaboration between our two organizations is providing minority entrepreneurs with access to the training, skill-building, and network to help talented entrepreneurs amplify their impact.
Together, we've published a new curriculum on Adapt and Rise, tailored to the needs of small-business owners. Entrepreneurs around the globe are using these training modules, which support Positive Planet's Accelerator Hub, a 10-week immersion program that among other things provides 26 minority women leaders with even deeper, more hands-on training. Each entrepreneur is handpicked based on the positive impact their business idea will have on society. The program teaches them how to grow their businesses, effectively sell their products or services, improve their social media presence, apply for business loans, and more.
And just as Genpact experts curate learning content on Adapt and Rise, 10 Genpact executives are serving as coaches, mentors, and speakers in the Accelerator Hub. They're lending their knowledge on topics such as HR, marketing and branding, legal and compliance, and finance to enable talented entrepreneurs to amplify their impact.
"Sometimes, when you start a business you just dive in," said Cathleen Trigg-Jones, founder of iWoman TV and an entrepreneur in the Accelerator Hub. "But this has really made me think about how to grow, about how to diversify, and how to take [my business] to the next level."
When we democratize access to insights, resources, skills, and opportunities, we create a massive flywheel effect that turns hope into action and transforms dreams into reality. It unleashes potential and creates ecosystems of impact. In short, when access is democratized, everyone wins.
Genpact believes diversity of thought, skills, experiences, and backgrounds create not only a better world but better businesses, too. Embracing diversity, equity, and inclusion enables us to innovate and generate stronger outcomes for our clients and communities. Learn more about our diversity, equity, and inclusion initiatives.
Blog