Genpact shines bright on HFS's horizon
Like the advent of the personal computer and the internet, generative AI has ushered in a new era of innovation. From detecting fraud in banking to personalizing patient care in healthcare, generative AI has the potential to disrupt between 60% and 70% of employee workloads, according to McKinsey.
As companies turn to service providers to help them make the most of the gen AI opportunity, HFS Research, a global research and analysis firm, has ranked Genpact as a market leader in its 2023 Horizons inaugural report on Generative Enterprise™ services. This comprehensive report assesses the capabilities of 35 professional services companies at the forefront of AI adoption and innovation.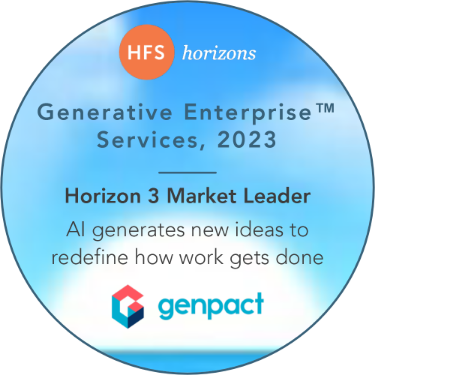 HFS Horizons for Generative Enterprise Services, 2023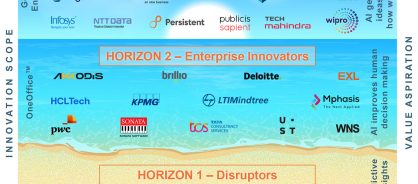 By placing Genpact in Horizon 3, HFS recognizes Genpact's comprehensive approach to generative AI that delivers outcomes that go beyond productivity. From rethinking end-to-end workflows and setting up data foundations and responsible AI guardrails, we develop outcome-driven processes at speed. The report highlights other Genpact attributes, including:
Our value proposition: rooted in the fusion of business process orchestration, enterprise data management, and AI-led innovation to revolutionize the customer experience
Innovation and growth: Genpact has secured three gen-AI patents and trained 400 experts and 20,000 nontechnical employees, with plans to double that by year-end. The report also highlights our plan to invest $600 million in AI over the next three years
The value we deliver to clients: we deliver transformational business outcomes using advanced technologies, customized systems, and an innovative approach to pricing
Our strategic alliance with AWS Bedrock: the partnership enables financial crime reporting, generates positive client and partner feedback on our engagements, and offers expertise in enterprise-grade AI and cloud computing
Our team, comprising over 22,000 data scientists and AI experts, along with our broad network of partners, including Dataiku, Google Cloud, and Microsoft, enable us to reimagine how work gets done. The ranking from HFS is a testament to our dedication and commitment to pioneering innovation and cutting-edge solutions.

"Forward thinking and heavily invested in GenAI, Genpact can help enterprises transform customer experiences. One of the other considerations of enterprise services is assessing partnerships, particularly Genpact's with AWS Bedrock for financial crime suspicious activity reporting with RiskCanvas."
Report