Redefining patient
care
We partner with payers, providers, pharmacies, and health-tech firms to drive value-based care. We combine our healthcare expertise with advanced technology and analytics to enhance patient experiences, transform population health, and lower costs.
Featured
solutions
With 8,500 healthcare industry experts, Genpact transforms operations, plugs revenue leakage, and accelerates membership processes and claims decisions. See how our solutions deliver data-led insights on patient and population health for early intervention and improved patient outcomes.
Analytics
Harness data with artificial intelligence (AI) to predict the risk of disease, digital health adoption, and medication adherence. Model scenarios to prioritize the strategies that deliver value-based care.

LEARN MORE
Cloud
Connect people, processes, platforms, and data to create an interoperable healthcare ecosystem and smooth the patient journey.

LEARN MORE
Customer experience
Design digital health experiences that extend care beyond hospital walls, improve patient outcomes and quality of care, and ease the pressure on healthcare professionals.

LEARN MORE
Enterprise performance management
Connect reporting, budgeting, financial planning, and analysis in the cloud for real-time forecasts and insights that strengthen decision-making and deliver growth.

LEARN MORE
Finance and accounting
Streamline your finance operations to add value across your healthcare business by realizing profitable growth, building resilience, and fueling innovation.
LEARN MORE
Health equity analytics
By building analytics capabilities to assess health equity — accessibility, quality, and cost of care — your business can mitigate risk and prioritize the initiatives that make an impact.
LEARN MORE
Population health management
An AI-driven approach to identify vulnerable populations at risk of illness and hyper-personalize communications for proactive and preventative care.

LEARN MORE
Revenue cycle management
Assess your revenue cycle process end to end to find and plug revenue leakage. Embed analytics and automation solutions to accelerate reimbursement and reduce denials.

Social determinants of health (SDoH) solutions
Streamline your SDoH offerings with performance metrics and predictive analytics. With digital dashboards, your business can manage solutions and personalize member services and communications.

Putting the patient at the heart of healthcare
Empowering the patient and enabling a competitive edge for providers
Learn more
Supply chain management
Gain visibility in sourcing, compliance, and spend for better sourcing decisions to improve patient and employee experiences and mitigate risk.

LEARN MORE
Why
Genpact
Our goal is to create a healthier future for all through an interoperable healthcare system powered by automation, AI, and analytics. Working together, we'll champion affordable and accessible care, help the most vulnerable, and keep care experiences focused on getting well and staying well.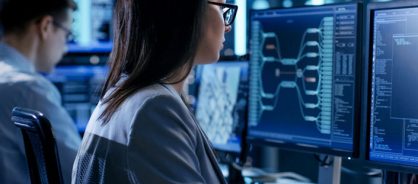 Revealing better ways to do business with agile analytics
A private health insurance company turned to Genpact to help embed analytics and deliver exceptional service to its employees and members.
READ THE CASE STUDY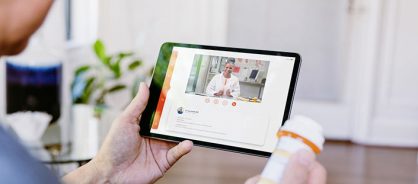 Putting patients first with a new digital healthcare site experience
See how Rightpoint, a Genpact company, helped M Health design a digital health experience to help patients navigate vital care content online.
READ THE CASE STUDY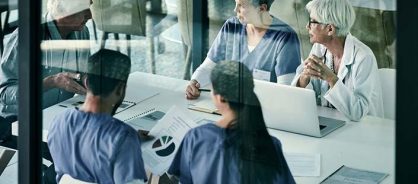 Transforming collections and contact centers with cloud
A healthcare device manufacturer turned to us for a cloud-based collections solution to control costs, improve cashflow, and empower employees.
READ THE CASE STUDY
8
out of the top 10 healthcare companies work with us
+ 35
million claims transactions handled annually
8,500
healthcare industry experts worldwide
How we
think
As we work closely with payers, providers, pharmacies, and health-tech firms, we uncover new ways to streamline operations, embed analytics, and design digital experiences that deliver value-based care. Here are our fresh perspectives.