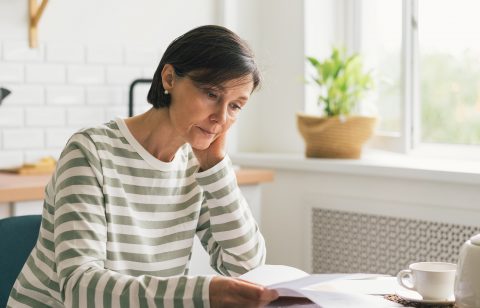 In August 2022, the US Federal government published a final rule on the No Surprises Act on how reimbursements for medical bills from out-of-network providers will be handled when payers and providers cannot agree, and the matter goes to independent dispute resolution (IDR). As the final regulations have taken shape, IDR has become a high-stakes game that can drive millions of dollars of reimbursement savings or losses for payers and providers depending on how they handle the arbitration.
The No Surprises Act, passed as part of the Consolidated Appropriations Act of 2021, protects patients against surprise medical bills from emergency medical services or many services provided by out-of-network providers working at in-network facilities. According to studies by organizations such as Peterson and Kaiser Family Foundation, 20% of all emergency room visits result in a surprise bill. In addition, ~9-16% of in-network hospitalizations for non-emergency services generate at least one surprise bill from an out-of-network provider (such as anesthesiologists or lab services) that the patient did not choose.
The law holds patients liable for their regular in-network cost share only. If payers and providers cannot agree on reimbursement, the disputing parties have 30 business days to reach an agreement. After this period if either party is not satisfied with the outcome, they can initiate a federal IDR process. Both parties submit their best offers along with other supporting documents to the IDR arbitrator, who then chooses one of the offers based on the information shared and rule guidelines.
The IDR decision is based on the several factors, which have triggered legal disputes over whether arbiters should give more weight to some factors than others. For example, in a lawsuit filed by the Texas Medical Association, a judge has said that existing rules favor payers by attempting to control how arbitrators evaluate the information. The factors in the regulation include:
Qualifying payment amount — the health plan's median contracted rate for the same service in the same geographic area

Provider skill and experience level

The severity of the patient's condition

Teaching status of the provider facility

Payer's and provider's market share

Payer's and provider's contracting history
These complex considerations have turned these arbitrations into a demanding and potentially costly activity for payers and providers who misjudge settlement offers.
Genpact's predict-to-win approach
To help payers and providers with the challenge of arbitrations from the No Surprises Act, Genpact has developed a powerful AI-based solution using supervised machine-learning to determine the optimal offer amount for a payer or provider to win in the IDR process.
This is what you can expect from Predict to Win:
The solution is grounded in a defined, intuitive workflow from the beginning of negotiations through to the IDR resolution, with strong controls for tight process discipline

It's easy to adopt from a technology and data perspective as it can be implemented in any tech stack

It uses a re-usable framework that extracts relevant information from a varied set of sources to recommend the optimal arbitration offer (figure 1)

For payers and providers that want to accelerate and enhance the performance of their IDR offer model, a federated-learning environment uses anonymized data from other participants to improve the accuracy of results while maintaining data security and confidentiality

Automation accelerates formerly manual tasks such as compiling a complete set of source documents for each arbitration and extracting relevant data points

From a reporting perspective, built-in business intelligence dashboards provide process insights that trigger user actions, predictive analytics, and measurement of KPIs and customer performance indicators
Figure 1: Select Predict to Win data sources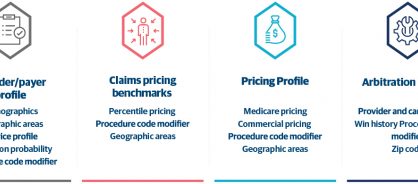 Case study
Overcoming the No Surprises Act challenge with data
At a large regional Blue Cross Blue Shield (BCBS) plan, Predict to Win has reduced contested out-of-network reimbursements by millions of dollars over the first two years of implementation.
The company faced a state mandate on surprise billing in 2021, followed by the federal No Surprises Act regulations taking effect in 2022.
Initially, it struggled with the arbitration process and its win rate was very low. However, after implementing Predict to Win, the organization's win rate rapidly improved by 20%.
Principal lessons learned include:
Preserving and accessing the right internal and external data sets—including historical data—is critical for prediction accuracy

Sticking to the IDR process timelines is as important as having the optimal offer—many losses occurred due to missed deadlines or failure to solicit the right details from counterparties

Insights from the good faith negotiation period before arbitration can provide important "tells" to guide the final offer in arbitration
The solution enabled the BCBS plan to quickly comply with the state and federal No Surprises Act regulations while maximizing savings on disputed out-of-network claims. Since the company integrated the engine in November 2020, connected the data feeds, and trained the algorithm on its data, the plan has handled more than 75,000 arbitrations, generating nearly $20 million in savings (figure 2).
Figure 2: Impact overview: BCBS example
It's your move
For many companies, adapting quickly to the new No Surprises Act reality may be the difference between winning or losing millions of dollars. Every commercial payer, third-party administrator, and provider must rethink their dispute management approaches to accommodate these new mandates and their implications.
Predict to Win can deliver improvements relatively quickly. Setting up an initial proof-of-concept requires two-to-three months, while reaching steady state performance and beginning to bank savings takes another three-to-four months (figure 3). Genpact has developed impact commercial models that can help underwrite upfront investments.
With an innovative approach, any payer or provider can improve performance in the No Surprises Act dispute resolution game. It's time to make your move.
Figure 3: Predict to Win high-level implementation plan
This article was first published by Fierce Health.
Article