Population health management is an area that is ripe for innovation. With the power to decrease disease and improve the lives of vast groups of people comes reduced costs and the promise of increased health equity.
Using data and advanced analytics to look for patterns and trends in disease and population health should move care further toward a preventative model. This accelerates change throughout the healthcare system by changing professional – as well as population – behaviors, as healthcare professionals (HCPs) and organizations see their responsibilities extend beyond treatment.
Genpact's healthcare analytics leader Dr. Reni Thomas explains, "The future of healthcare is patient-centric. And to create exceptional patient experiences, healthcare organizations must take a lifetime approach to patient relationships and continually measure disengagement."
Post-pandemic population health
The need to innovate around population health management is particularly relevant now. In the US alone, the Centers for Medicare & Medicaid Services forecasts national healthcare expenditure will reach $6.2 trillion by 2028, an annual growth of 5.4%. This raises serious concerns around the system's ability to offer fair, effective, and high-quality care to all.
We can no longer underestimate the importance of social determinants of health (SDoH) in healthcare equity. The pandemic highlighted the discrimination in healthcare accessibility and affordability and that vulnerable populations are at greater risk of suffering.
Exacerbating concerns further is the post-COVID catchup, delays to routine and elective treatments, and the knock-on effects. Additionally, the shift from fee-based to value-based care continues. Strains on healthcare professionals accelerate. And the public calls for greater transparency. Harmonizing and standardizing costs and care for better patient outcomes has now become critical.
Creating order in a complex ecosystem
As we look beyond the pandemic, applying our learnings to wider population health is vital and our population health management framework (figure 1) sets out the foundations.
Population health management framework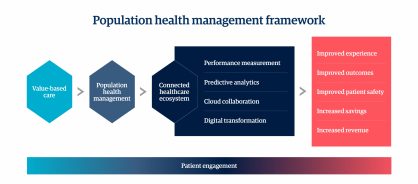 The highlights of this framework are:
The shift from fee-based care to value-based care: The shift to a value-based care delivery model will drive the healthcare triple aim of improved outcomes and experience and lower costs. And it will go beyond to improve patient safety while increasing savings and revenue
A collaborative healthcare ecosystem: First, we must connect the healthcare ecosystem to smooth friction between patients, health plans, and providers. Systems must be integrated and cloud-enabled so patient information is readily accessible in real time, and effective data management and governance must be in place
Moving beyond traditional data sources: Social and behavioral determinants of health have a huge impact on many conditions and their effective management. By applying technologies such as AI and machine learning to clinical, social, and economic data, we can map, measure, and analyze the right metrics at scale and speed. Healthcare organizations can then meaningfully intervene by integrating medical services with a full range of social services to meet patient needs
Digitally enabled care: Healthcare should digitally transform from the back office to the front to seamlessly provide the right care at the right time. Digital platforms and mobile apps connect patients to approved care practitioners and information and empower patients to take control of their health. Telehealth (clinical and non-clinical virtual care) connects healthcare professionals to patients whenever and wherever they need care. And digital therapeutics and remote monitoring support medication adherence and encourage patients to stick to treatment plans and monitor conditions. Data captured across devices creates a continuous data-to-insights-to-action program of care.
Let's look at effective population health management in practice:
Telemedicine delivers accessible care for all population sectors
The pandemic accelerated digital transformation in healthcare and the trend towarddigital health. And one innovation that exemplifies this shift is virtual clinical care (telemedicine). A vital lifeline for many seeking advice and treatment during COVID-19 lockdowns. According to a recent report from Global Market Insights, the market will grow from $45 billion in 2019 to $175 billion by 2026.
Case study
Machine learning predicts patient propensity to telemedicine adoption
For telemedicine to fully emerge as an alternate site of care, understanding digitally engaged patients required more information. For one leading health plan, Genpact designed a framework that analyzed internal and external telemedicine data across three key areas:
1. Telemedicine adoption
2. Virtual care entry point
3. Digital platform used
This feature engineering accelerated cutting-edge supervised machine learning algorithms and resulted in a robust adoption propensity model. The model was further evaluated for potential racial bias in the pre-modeling selection, modeling process, and model scoring – 75% of members identified with a high propensity for adoption converted to telemedicine within the year.
Population health strategies to target the vulnerable with meaningful interventions
During the pandemic, Genpact created a risk index model for COVID-19 and other serious illnesses. Using clinical and SDoH data, we identified patterns around disease progression, severity, comorbidity, and chronic conditions. Analysis of these patterns informed outreach and intervention. It helped map the supply of medical care for vulnerable and high-risk members of the population. And it enabled predictions of geographical demand and capacity for hospital beds.
Case study
Segmenting populations to prioritize and personalize outreach
For one US health plan, the index classified 5.9% of its members as high risk. And it reached out to over 31,000 individuals, engaging 85% at a personal level to help protect them from infection and prevent further spread. For those identified as having special needs or in social isolation (no caregiver), care extended beyond clinical intervention to provide much-needed support.
Data-driven decision-making to drive value-based care
Variance in treatments, costs, and outcomes for patients sparked the move to a value-based care model to improve health outcomes, quality of care, and lower costs. The model reimburses healthcare providers based on outcomes for patients and populations and not on prescribed procedures and therapies. To be successful, value-based care relies heavily on trust and transparency in the system to reduce the variances from one provider, procedure, and prescription to the next.
Case study
The right care at the right cost
Genpact developed algorithms to analyze practice variation and referral patterns among high-cost specialties. These algorithms assign responsibility for an episode of care to one provider using a logic-based attribution model. They profile the costs of a physician accounting for case-mix, service usage, and quality of surgical care. And they power a predictive insights engine to shift referral patterns to more cost-efficient and higher-quality healthcare providers. The impact – a 10% reduction in the cost of care for targeted conditions.
Case study
​A focus on star ratings to improve adherence and reduce cost​
In the US, Medicare Advantage treatment plans receive a star rating based on performance measures. This helps those looking for health insurance to evaluate their options.
Using predictive insights, Genpact helped forecast patient outcomes from medication adherence and modeled probabilities of future Medicare Advantage star ratings. For one health plan, these insights helped to assess and prioritize improvement strategies. It offered an opportunity to improve member and patient experience and protect against revenue losses of over $25 million. At the same time, medication adherence rates went up an average of 3% across patients with diabetes, high blood pressure, and high cholesterol.
Case study
Predicting mail order conversion and personas
People want their healthcare services fast, affordable, and convenient. For this reason, digital healthcare is booming, and tech companies are upping investment. Digital channels heighten experience and engagement. And this improves population health management and lowers the total cost of care.
For example, take Amazon subsidiary PillPack, an online pharmacy for mail-order prescription fulfillment. Conversion to PillPack can improve medication adherence and lower costs. But not all patients will want to switch to mail-order pharmacies. Using predictive modeling, Genpact helped identify the patients most likely to convert and created convertor personas based on patient behaviors. Personalized persona-based targeting drove conversion rates up by 40%. Analysis of pre- and post-enrollment adherence rates is proving positive.
Stepping into the future of population health
In the journey toward a more equitable provision of care for all, advanced analytics and innovation in population health are vital. Between SDoH data driving meaningful intervention for all sectors of the population, an increased focus on value-based care to boost adherence, and convenience through digital experiences, better care is on its way.
Population health management must focus on five key areas:
Value-based care: Innovative care delivery strategies focused on improving the quality of care while lowering the total cost
Health inequality: Defining population health strategies that identify and prioritize the most vulnerable
Social determinants of health (SDoH): Taking a data-driven approach to drive meaningful care for patients, communities, and populations
Patient experience: Lifetime relationships with patients that provide superior experiences that translate to the best possible clinical outcomes
Digitally enabled care: Digital technologies that help connect providers, health plans, and patients
Augmenting population health management with digital transformation and predictive insights will improve experiences, quality, and cost to ensure our healthcare systems become as non-discriminatory as the diseases they fight.
Learn more about how analytics powers population health management.
Point of view