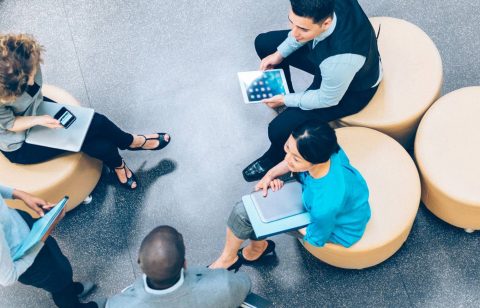 A Genpact consumer banking survey reveals that 27% of respondents would be comfortable setting up a new bank account with a digital assistant, such as Siri or Alexa. Fifty-seven percent, however, say speaking with someone in a branch makes opening an account easier. Innovative banks are learning to engage with customers across both human and digital channels.
Yet many banks struggle to provide an exceptional experience across touchpoints, channels, and devices, which requires seamless connectivity from front-to-back office. Challenges like silos, fragmented data, and rigid workflows often stand in the way of opening new accounts or resolving issues. For example, customers may try and open an account online but find they can't complete the application without calling in. They will simply move to a bank with an easier process.
Banks, like many other organizations, have traditionally invested heavily in the front office – improving user interfaces or enhancing mobile apps. While the front-end experience is critical, so too are the processes, data, and technology that support the journey.
Experience-driven transformation
Many top banks are adopting a holistic experience-driven transformation approach that is organized around users instead of products. Multidisciplinary teams help break down silos between developers and middle- and back-office operations and analytics teams. User research and qualitative and quantitative data map experiences directly to the needs of both customers and employees. The approach fuses design thinking, agile methodologies, and user experience (UX) – and intelligent technologies enable real-time data insights, visualization, and measurement.
Teams can continue to improve the experience through digital interventions in areas like dynamic workflow analytics, machine learning, or artificial intelligence (AI). For instance, Bank of America's virtual assistant allows customers to use voice commands, texts, or touch; receive account balances; transfer money; and schedule meetings with representatives at financial centers.
Below are key principles that can help you get started:
Organize around users and journeys and conduct direct research to inform that understanding. We often map the current journey and identify processes and systems through to the back office and data, leveraging UX combined with process skills to make efforts measurable.
One large bank organized around life events, defining journeys by looking at the different products and services needed to support the experience through that life event. The process highlighted risks, such as indications that a customer might switch to another bank. It also pointed out opportunities to be more proactive and predictive through multichannel communications, offers, and alerts.
Apply design thinking to understand what's possible. We use Lean Six Sigma to support the future state vision and create a roadmap that drives alignment and prioritization. You can visually depict problems and opportunities for digital interventions across the front, middle, and back offices.
One consumer financial services provider asked us to analyze call-center data to find its biggest problems. We correlated data to experiences and found that issues resided within the bank's most valuable segment – around new account openings via the web.
Develop an experience measurement framework. As a best practice, define the business case and expected return. Measure experiences over time. Start with a Sprint 0 and use two sets of KPIs – one at the programmatic level by aligning upfront work and another by analyzing different levers to measure the journeys themselves. Combine qualitative and quantitative data to find correlations. For instance, correlate behavioral, attitudinal, and transactional data with different analytics from cross channels. Patterns will emerge that enable you to become more predictive and instinctive.
While some banks are executing parts of the approach, true benefits come from an integrated end-to-end framework. Most large US and European banks are now using journey mapping, and some are defining journeys at a customer persona level, but execution remains a challenge.
Super-regional and regional banks are dabbling with journey mapping and process mapping on the back end, but they haven't yet combined these capabilities. Meanwhile, digital banks and fintechs are hitting the pause button to understand the full customer experience as they drive toward cross-selling and expansion of digital capabilities.
Banks of any size can enhance customer experience by adopting a journey-driven transformation approach. Listen to our recent webinar to hear how leading banks are bridging the human and digital divide. Let me know some of the successes in your bank –and some of the challenges.
Blog