Contents inventory. Two words a loss adjuster dreads. At first it sounds straight forward easy: Make a list of claimed items, evaluate like-kind and quality, find relevant sources, replacement costs, and actual cash values (LKQ/RCV/ACV), then repair or replace the items. But in reality, it's a time consuming manual task that eats up adjusters' valuable time.
Our contents inventory services offer an alternative. We have a nationwide network of trained contents experts who do it all, from compilation to evaluation and fulfillment.
How it works
The contents field expert visits the loss site to compile the inventory of lost or damaged contents. They work with the insured to capture all the items, including photos and documentation where possible, and to identify those which can be restored.
We provide LKQ, RCV, and ACV using your preferred platform (such as XactContents, our own contents settlement worksheet, or a third-party platform).

A complete, white glove fulfillment service is also available.

The ClaimTracker.com database captures all of the data, so claims reporting and analytics are easy to run.
It's a win-win for customers and insurers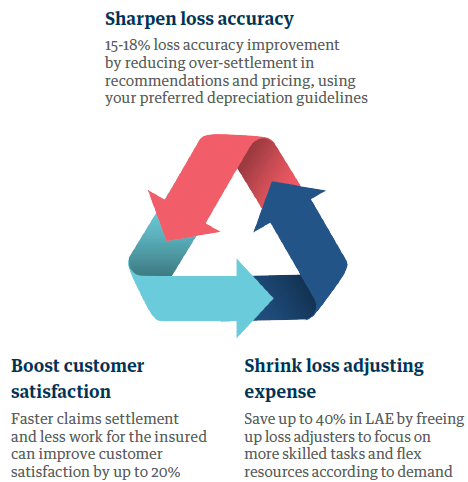 Genpact and claims
Ever-increasing car and natural catastrophe claims. Rising customer service demands. Legacy systems that are aging out. These are just some of the challenges insurers face that digital technologies like automation, AI, and analytics can help tackle.

Our digital tools, which are designed to optimize the balance between customer satisfaction, accurate loss assessment, and loss adjusting expenses, span the claims journey, handling everything from fast-track claims processing to fraud and subrogation analytics. You can start with the module that addresses your biggest challenge and add from there. Or we can run your entire claims operation.
Global insurers and reinsurers, surplus lines insurers, a European insurer, even a top-10 Fortune company – we've transformed claims them all over the past 15 years. We combine the digital understanding of an insurtech with claims expertise and business process know-how. Let's put this to work for you.
Solution overview