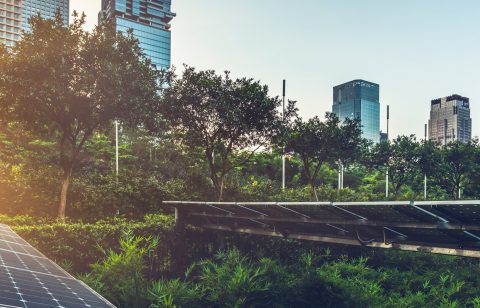 Embracing sustainable business practices is no longer optional.
After a long period of disruption and uncertainty, customers, employees, and investors increasingly expect organizations to focus on long-term value creation for all. With this new mandate, leaders have turned to data-driven solutions to build resilient, purpose-led organizations with a mission to create organizations that prioritize communities, employees, and the environment alongside clients.
And those choices are paying off. Research shows that environmental, social, and governance (ESG) initiatives can drive significant competitive advantage, innovation, and financial performance. For leaders who are ready to act, a data-driven framework that enables environmental and social sustainability is vital.
Data-driven sustainability means collecting and using data to make decisions that guide measurable and responsible business practices. Whether it's lowering greenhouse-gas emissions, optimizing supply chains, or reducing waste, insights from sustainability data can power positive change while increasing profitability.
The global sustainability imperative
Governments worldwide have doubled down on commitments to tackle environmental challenges – putting budgetary and operational pressure on businesses to respond to climate change, which directly affects societies and global economies. For example, consider the following projects currently underway:
The United Nations has laid out 17 Sustainable Development Goals covering everything from clean energy and responsible consumption to production and healthcare access

At the 2021 G7 Summit, all attending countries committed to a 2050 deadline to achieve net-zero emissions
By prioritizing data for sustainable development, enterprises can stay ahead of new and changing regulatory standards. As a result, they can also capitalize on opportunities for business growth, such as:
Attracting investors: Research by Bank of America's Merrill Lynch shows that firms with ESG practices tend to produce higher three-year returns, have lower price declines on their shares, and are less likely to declare bankruptcy. And investors are paying attention. According to Morningstar, global demand for ESG investments hit a record in 2020, standing at nearly $1.7 trillion. Beyond the bottom line, mounting evidence shows that sustainable business practices can have numerous positive outcomes, such as improving risk management, driving competitive advantage, and fostering innovation.
Increasing customer loyalty: With every generation, consumers become more conscious about how their purchases impact the world around them. A recent study by IBM and the National Retail Federation found that nearly 8 in 10 consumers rank sustainability as important for them. Many of those surveyed are even willing to change their shopping habits to lower their environmental impact. Among those who feel strongly about the topic, almost two-thirds would pay, on average, 35% more for sustainable or eco-friendly brands.
Building a strong workforce: Sustainability initiatives are also crucial in recruiting and retaining diverse talent. Millennials are the largest generation in the US workforce, and they are a very socially conscious group. As other generations like Gen Z-ers enter the labor force, organizations must evolve and adapt. For example, according to a 2019 Porter Novelli/Cone Communications study, 90% of Gen Z-ers believe companies should take action on social and environmental issues, and 83% see a company's purpose as a core consideration in deciding where to work.
A healthy dose of sustainability data insights
"Good health and wellbeing" is one of the UN's 17 Sustainable Development Goals. Healthcare organizations are leveraging data and AI to protect patients and meet this objective. Using data and insights from medical imaging and diagnostics, healthcare facilities and researchers can track trends in diseases and treatments. From this data, healthcare professionals can implement best practices to provide the best care possible.
Consider our work with Ciox, the US healthcare market leader for clinical information exchange. For the company, every data point informs the choices made by patients, providers, insurers, and life sciences organizations. And each medical record is a vital step in a process that supports quality of life, treatment plans, and financial and legal decisions.
To realize Ciox's vision of a revolutionary medical information management system, we standardized and centralized data and processes, helping providers locate and analyze records more quickly. Plus, we embedded robotic process automation in specific tasks so that employees could refocus on higher-value work.
Data: the foundation of sustainability
To build a resilient enterprise, data and sustainability analytics are critical.

Automated data collection and analysis empower enterprises to make strategic, real-time decisions – the kind needed to achieve sustainability goals. In addition, advanced technologies can uncover deep insights from data, opening a world of innovative ways to support sustainable practices across organizations.
With data for social impact, enterprise leaders can identify opportunities to:
Improve customer services

Foster equality, diversity, and inclusion

Reduce energy usage and cut carbon emissions

Conserve resources and minimize waste

Measure performance toward sustainability goals
The missing link for supply chain sustainability
Genpact's supply chain report outlines how companies can use data to create connected, optimized, and sustainable supply chains. As supply chains shift from siloed models to hyperconnected ecosystems, enterprises can identify transport and storage options that reduce their carbon footprint and enable more ethical procurement practices from transport and storage options.
For example, working with a global brewer, we deployed a digitally powered supplier risk management program to monitor and screen over 50,000 suppliers across risk parameters, including human rights. This initiative helped identify the suppliers that do not share the company's same standards, preventing it from supporting ethically unsound businesses. As a result, some suppliers had to re-examine their business practices, creating a more sustainable ecosystem for all.
First steps toward a sustainable future
When using data for action and for social impact, there are three main steps to take:
Define industry-specific goals: It's critical to take an industry-led approach. Enterprises should lay out sustainability objectives that are right for their business and industry to achieve the most significant results.

Build a framework: When you identify sustainability goals, you can use data to guide your action plan. With technologies like machine learning and AI, enterprises can rely on data modeling and forecasting techniques to analyze how current processes connect with sustainability goals, such as reducing energy consumption.
Combine human and machine intelligence: Success is not just about having the best and latest technology to drive sustainability goals. Human expertise is still critical, which is where augmented intelligence comes in. In essence, artificial intelligence takes over many data processing tasks, unlocking insights at speed so that teams can make confident data-driven decisions.
By following these steps, purpose-led companies can support their communities, improve diversity and inclusion, and build more ethical business practices. And through technology and analytics, enterprises are bringing positive change to their broader ecosystems while strengthening their competitive advantages.
The climate race
In partnership with Genpact, a Formula E racing team used advanced analytics, augmented intelligence, and human expertise to reduce carbon emissions, combat climate change, and maintain its certified carbon-neutral status.
We helped the team automate its time-intensive emission reports process and then built a carbon calculator. The calculator highlights the environmental impact of the team's travel decisions so people can make the choices that protect the planet.
Purpose leads to profits
The business community has long viewed sustainability as a trade-off between doing what's good for the world and what's good for the bottom line. But as data unlocks exciting possibilities, those goals are becoming the same.
With a comprehensive data-driven strategy, enterprises can meet sustainability goals to satisfy customers, employees, and investors. There was never a better time for leaders across industries to explore what's possible with ESG data at the heart of the enterprise.
Point of view