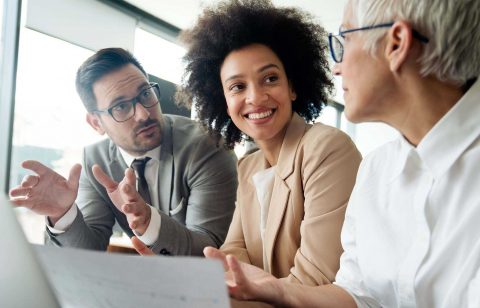 Process intelligence is a hot technology, with 91% of enterprise leaders saying it drives business value. To uncover its potential, we partnered with HFS Research to interview over 400 senior global leaders on process intelligence – gathering their insights, best practices, and lessons.
In our previous blog, we shared the highlights from our study. Here, we explore three challenges most organizations face in successfully adopting the technology:
Finding people who have process intelligence experience
Understanding how to use process intelligence effectively
Identifying where to start deploying process intelligence
But we don't just look at the problems. We also found solutions.
The who challenge: 79% of leaders consider people one of their top three challenges 
When finding employees with process intelligence expertise, demand vastly outpaces supply. Expertise in process intelligence is highly coveted, with a small pool of experts often seeking extensive compensation. As a result, most organizations lack the in-house personnel to embed process intelligence across the enterprise.
To deal with an internal talent shortage, organizations are turning to external experts. And these partnerships are paying off. Not only do these partners have process intelligence talent, but they combine this expertise with other services, including how to power data-driven decisions with cloud, bolster business resilience with analytics, drive sustainability with data, and build ethical artificial intelligence (AI).
But these partnerships don't replace in-house teams. Instead, they support and enhance them by filling talent gaps.
The how challenge: Over two-thirds of leaders say process intelligence is too complex to use effectively 
By combining AI, analytics, and intelligent process automation, process intelligence harvests data to identify process inefficiencies to unlock better ways of working. The mechanics might be complex, but the business function is simple. Process intelligence gives enterprise leaders unprecedented insights into how employees work individually or in teams.
For enterprise leaders, the objective is not to understand every technical detail of process intelligence – they'll rely on outside partners for that. Instead, leaders should focus on guiding enterprises through change.
Our research shows that investing in change management must become a priority. After all, process intelligence is a technology that promises to recreate how people work, and that means significant adjustments for employees. However, without buy-in from employees, even the best enterprise technology will have little impact.
We recommend taking a nimble approach to change management while fine-tuning processes in stages. This strategy will help you realize your vision faster, gradually earn employee support, and stay agile as you explore use cases across the organization.
The where challenge: 67% of leaders say their biggest challenge with process intelligence is not knowing which processes would benefit from the technology
Currently, finance and accounting departments are the most significant users of process intelligence – perhaps due to years of running legacy, inefficient processes. However, we found compelling use cases for process intelligence across many departments.
For example, Driscoll's, a global leader in berry production, used process intelligence to speed up its ERP transition. We saw other organizations using process intelligence to root out compliance risks, smooth supply chains, and connect marketing workflows.
Unfortunately, with so many possible use cases, knowing where to start is difficult. This often leads organizations to implement process intelligence without a clear strategy.
But help is at hand. According to HFS Research, turning to third-party partners is the fast track to getting started with process intelligence. By tapping into the knowledge and experience of specialized technology service providers, enterprise leaders can benefit from industry-specific insights and best practices to identify and prioritize the workflows most in need of improvement.

This collaborative approach often leads to happier employees, improved customer experiences, and greater profits on shorter timelines.
Pioneering process intelligence
Our research shows enterprise leaders are betting on process intelligence, recognizing the technology's potential to deliver significant business value. But to achieve this aspiration, organizations must prioritize investing in skilled talent, robust data infrastructure, and comprehensive change management strategies.
As leaders in data, technology, and artificial intelligence, we partner with clients to solve the who, how, and where challenges of process intelligence. By reimaging end-to-end workflows, we propel businesses forward for process excellence every step of the way.
Blog