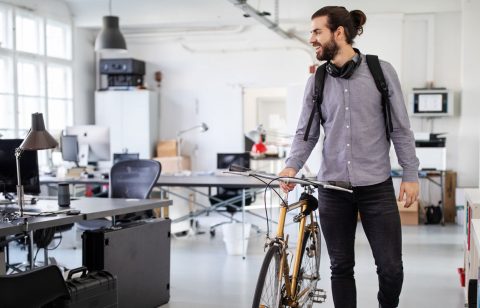 As the COVID-19 pandemic hit, many businesses were forced to close their doors. Some were able to stay open with social distancing measures in place while others moved to working from home entirely. But none of them were unaffected.
Whatever action your business took, it took it for good reason – to protect people.
Today, some governments are easing lockdown measures and encouraging employees to return to work – but it won't be business as usual. Companies must take steps to boost employee productivity and serve customers effectively without compromising health and safety.
Reshaping business as normal
A silver lining of the disruption is that everyone has an opportunity to define what the future of work will look like. Businesses can reassess workspaces and how and when employees will work. The journey back is a multi-step process focused on building business resilience safely.
As your organization makes its preparations, there are four questions to answer:
Which employees will return to work?

How should we adapt our workspaces?

What support services must we develop?

How can we enable home workers?
1. Which employees will return to work?
The first step is to decide who's coming back and when. Advanced analytical models – that examine COVID-19, workspace, and employee data – can identify which employees could return. These models can also reveal ways to maintain social distancing and expand to predict the impact of a phased return to work on sales operations, demand fulfillment, and supply chain.
As employees return, businesses can explore new ways of working that contribute to better customer experiences. Augmented collective intelligence can help. These vast networks of people and AI-powered machines can work together to develop smart, customer-centric processes and implement them faster.
Working in harmony, this hybrid workforce can spot risks before they become problems and forge seamless connections to get the job done at speed and scale.
2. How should we adapt our workspaces?
When you know which employees are coming back, you must adapt your workspaces before their arrival. Hygiene facilities, cleaning protocols, and informative signage will need to step up to prevent a spike in COVID-19 cases. Determine how you will maintain social distancing where possible and enforce additional measures such as employee temperature checks before entry.
A connection between the physical and digital world will ensure that these processes are adhered to. Bring in digital workflows built in the cloud and powered by data and analytics so that you can effectively monitor and mitigate risk.
3. What support services must we develop?
When reopening an office or workspace, don't overlook support services. You'll need new procedures and processes for transportation, building access, visitor access, and vendor management with health and safety as the guiding principle.
Again, digital tools can help to ensure that procedures are followed. And they'll provide the agility your business needs to adapt quickly if the nature of your work or the COVID-19 risk evolves.
4. How can we enable home workers?
COVID-19 has been the catalyst for the largest work-from-home experiment ever. At the height of the pandemic, Genpact enabled more than 80,000 people – a large portion of our employee base – across 30 countries to work remotely.
Even as the risk recedes, many employees will remain or become home workers and must feel like an equal part of the business' collective intelligence. Digital workplace enablement – a range of secure collaboration tools built on cloud technology – will help employees work effectively at any time, from anywhere. To gauge whether employees are happy as well as productive, predictive insights and sentiment analysis can monitor and predict potential risks in terms of employee satisfaction, engagement, and mental health.
The rise of home working also allows businesses to bring in talent from remote locations. People will find work irrespective of their ability to travel or commute – we can bring work to them, as opposed to bringing them to work.
Prepare for prosperity
The return to work is an ongoing and iterative process, but the benefits outweigh the challenges. Organizations will become equipped to deliver better customer service, be more resilient in the face of disruption, offer work to previously inaccessible pools of talent, and boost the world's collective intelligence to solve the challenges that lay ahead.
As organizations and employees return to work, COVID-19 has given us a chance to come together and prepare for a more resilient, equal, and prosperous future.
See how Genpact is helping businesses return to work – download our 'Facilitating the return to work' guide.
Blog