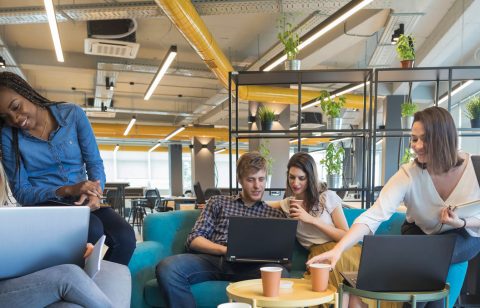 All companies are becoming tech companies. Some just haven't figured this out yet. Or are moving dangerously slowly through their transformation. This post describes how building a digital business technology platform – also known as a digital enterprise platform – can help with your company's successful transformation.
Let's begin with a question: Is Tesla a technology company that's learning how to become an automotive organization? Or is Ford an automobile company that's learning how to become a tech company? Perhaps it's both. Even Goldman Sachs' CEO, Lloyd Blankfein, now describes the company as a tech company.
Why? Because as businesses increasingly strive to create winning customer experiences through digital capabilities – like AI, machine learning, and automation – the lines between technology and non-technology companies are blurring.
Embrace technology and a new mindset to thrive
When faced with a competitor like Amazon, do traditional retailers invest heavily to develop digital capabilities, or do they go the way of Sears? Increasingly, there's only one choice.
Today's business leaders have transformed their company value propositions and are enjoying the advantages of digital technology in business by using digital technology to deliver compelling customer experiences. Your company should begin by changing its mindset. Then, as you progress through your transformation, you must leverage your core digital assets and resources to evaluate how you're going to serve new customers in different industries.
Amazon has become one of the most valuable companies on Earth by doing exactly this. It leveraged its online store capabilities (such as running massive data centers at scale) to create its Amazon Web Services cloud computing service, which now brings in the bulk of its profits. Ultimately, Amazon's digital business platform has the necessary agility for the evolution of its business model and strategy.
Digital business platforms are essential
One challenge facing more mature enterprises is how to operate and innovate like a newer, more agile business. This is where digital business platforms can help.
So, what is a digital business platform? A digital business platform is a modular collection of best-in-class digital technologies that integrate with your legacy infrastructure. Most importantly, it makes your end-to-end business processes more flexible by allowing them to learn, adapt, and continually deliver winning client experiences.
McKinsey believes that building a digital business technology platform – or digital enterprise platform – will help companies to experiment, fail, and scale quickly. And get products to market faster than their peers – think weeks, instead of months or years. Gartner sees digital business platforms as fundamental to scaling a business. Scale often requires ecosystems, so digital business platforms should support it with connections between processes and functions to build these ecosystems.
Finally, Aragon Research adds that digital business platforms are essential to prepare and deliver for the customer of future. "These platforms adapt to changing customer needs through the resources that service customers, processes, and applications that dynamically adapt and optimize in a predictive manner."
How to build your digital business platform
Companies cannot purchase digital business platforms; they must be built. But it's not as daunting as it sounds. The following steps can help you get started:
Get educated. Industry analysts have done extensive research and written reports on digital business platforms, and the providers that can help your company to build yours. Gartner and Aragon Research are two that have done significant work in this space.
Work backward. Begin with your company's transformation strategy and desired business outcomes, then work backward to understand what's required to deliver on them. Taking a strategic perspective will help your company avoid the use of digital technology in business that isn't what your organization needs right now.
Leverage partners. Business partners and trusted service providers with a deep understanding of your industry can help create a digital business platform that addresses your unique needs. The Genpact Cora digital business platform, built on years of expertise gained from working with some of the world's biggest companies, is helping many of our clients with digital transformation.
Think modularly. Building a digital business technology platform in a modular fashion creates agility and the ability to leverage future technologies that are not yet available. An application programming interface that can leverage best-in-class partner services is a must.
Start now. Digital business platforms bridge your company's legacy infrastructure with new, streamlined business processes and the emerging digital capabilities needed for successful digital transformation. This can take time, so today is a great day to start.
Blog