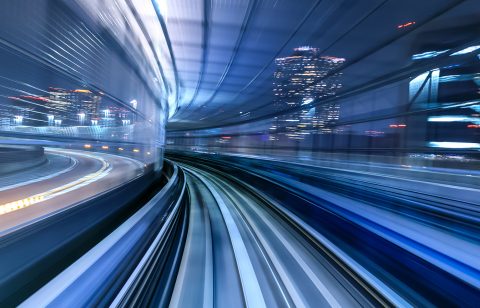 In 2022, analytics and artificial intelligence (AI) will continue to transform how we live and work. Enterprise leaders will shift focus from 'survive' to 'thrive,' requiring more sustainable and scalable solutions. As a result, we'll see the following trends in the year ahead:
1. Data fabric: The key to the enterprise data strategy
A data fabric is an interconnected network of data products connected to business objectives and metrics that can distribute valuable insights across the business. MarketWatch predicts this market will grow by over 25% by 2025. To keep up, enterprises should incorporate AI to enhance customer experience (CX), process automation, and more. This approach will improve return on technology investments, reduce operational costs, and power the other trends on our list.
2. Data-driven CX
Real-time analytics will power CX in 2022. We recently used AI at a leading food service company to standardize more than 80% of its finance and accounting operations. This project enabled greater transaction visibility for employees, increased productivity, and improved CX. For those just getting started, we've outlined four key steps to harnessing the power of data to empower employees, connect with customers, and build memorable experiences.
3. Composable data and analytics
Introducing new technology can prove costly. This year and beyond, forward-thinking organizations are using composable data and analytics to reduce costs and boost deployment speed. Composable analytics use AI across business intelligence, data management, and predictive analytics – creating application building blocks that are reusable and scalable across business processes.
4. Data and analytics on cloud
Data, cloud, AI, and machine learning (ML) can blend to power data-driven business intelligence at scale. Data on cloud will serve as the foundation for most new digital initiatives in 2022. Partnerships with cloud analytics providers will help enterprises quickly scale their analytics capabilities without the costs or admin associated with on-premise hardware.
5. Model-centric AI to data-centric AI
Analytical systems are shifting from model-centric to data-centric AI. Whereas model-centric processes keep data fixed and continually improve the code or model, a data-centric approach keeps the code fixed and focuses instead on improving the quality of data that goes in. This makes high-quality data available through all stages of the ML lifecycle.
6. Improved decision intelligence
Decision intelligence uses AI/ML to process large amounts of data to give enterprise leaders real-time insights. This model is critical as leaders must act quickly and seize new opportunities in a fast-changing world. For example, when hiring frontline agents, a banking institution could implement ML to test candidates' soft skills in customer management. The bank can then quickly and effectively recruit the best candidates.
7. Scalable MLOps and AI engineering
COVID-19 has caused unprecedented disruption across every enterprise – and enterprises must be more prepared for disruption in 2022. Machine learning operations (MLOps) can support resilient AI solutions across departments and functions. And with consistent model training and monitoring, these solutions can help organizations improve efficiencies and reduce costs.
8. Responsible AI as a center of excellence
Gartner identified responsible AI as one of the four key trends driving AI innovation. But for many organizations, the irresponsible or unregulated use of AI/ML continues to pose serious risks, such as unintended biases. To minimize these risks and build trust with customers, enterprise leaders will increasingly establish responsible AI frameworks.
9. The need for graph technology
Graph technology provides a comprehensive view of all data points by connecting multiple databases. Gartner predicts that 80% of data and analytics initiatives will use graph technologies within the next year thanks to its unique ability to manage and store massive datasets so practitioners can effectively transform non-structured data into structured databases.

These AI and ML solutions have already helped enterprises identify cross-sell and upsell opportunities and ways to prevent customer churn. It's something every enterprise should explore in 2022.
10. The continued evolution of AI and IoT
2022 will be a year of heightened internet of things (IoT) use, with the collective application of AI, IoT, edge computing, and 5G networks empowering smarter, more interactive products and services. Weaving in data and analytics from the IoT throughout the data fabric can help enterprise leaders innovate at scale.
Tackling the trends
Though enterprises have already made great strides with analytics and AI in 2021, the transformation has only begun. In 2022, enterprise leaders must continue to invest and innovate to move faster than market demand, stay a step ahead of the competition, and get closer to their customers.
Blog