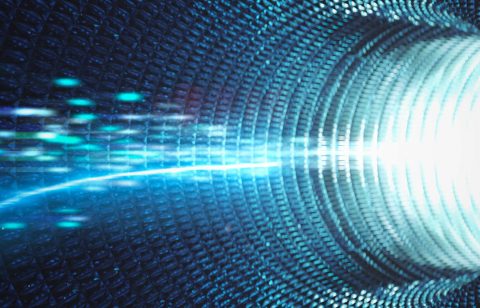 This year, enterprises will look beyond technology challenges and shift focus to people and organizational structures to scale their analytics and AI efforts. As a result, we expect the following trends to emerge:
1. Augmented intelligence drives true transformation
Organizations are starting to approach analytics and AI in a more holistic way, blending machine intelligence and human judgment to achieve augmented intelligence. Augmented intelligence uses AI to empower people to focus on problem solving, relationship building, and innovating to drive faster and more impactful business results.
Augmented intelligence also highlights the importance of keeping humans in the loop. Combined with machine learning, natural language processing, and intelligent automation tools, humans can make decisions that improve data analytics, data sharing, and business processes.
At Genpact, augmented intelligence is a crucial part of our digital transformation strategy. In our work with the Envision Racing team, augmented intelligence helps capture data and generate insights that enhance racing strategies, models, and simulations, and improve energy management. We share these insights with drivers in real time to optimize their behaviors – a true partnership between machine intelligence and human judgment.
2. Employees benefit from real-time personalization
AI-based applications and advances in location intelligence, such as geospatial AI, will power more personalized services in the consumer space. Real-time recommendations – common for Amazon or Netflix customers – will become the norm in the business world too.
Take employee engagement. Real-time analytics will help businesses understand their employees so they can develop more advanced and personalized solutions. Built on conversational AI, these solutions will treat employees as individuals by understanding their current roles, experiences, and career aspirations. They will also predict, recommend, and resolve everything from training and development to travel recommendations and benefits within days or minutes rather than weeks or months. This will greatly improve employee engagement, satisfaction, and retention.
3. Trust in algorithms will grow
We're entering a trust crisis. Across the globe, there are concerns about data privacy, security, and traceability. Enterprises need to address these concerns to remain competitive. With the right data foundation and governance strategy, enterprises can increase data accuracy to boost customer trust in the use of data.
In addition, technologies such as natural language understanding will shine a light on dark data to help enterprises solve compliance challenges. But to reach this level of algorithmic trust, humans and machines must work together.
4. Data plus design separates leaders from laggards
Leading businesses know that they must deploy augmented intelligence solutions through the eyes of the end user. A data plus design approach can help. This year, we'll see more organizations fusing smart data strategies with a design-led approach focused on empathy and understanding user needs. This combination supports highly personalized experiences, which address user needs in ways that neither data nor experience design can alone.
5. Employees need to become data literate
In today's data-driven world, reskilling employees is essential. International Data Corporation (IDC) predicts that more than 75% of organizations will invest in reskilling programs by 2025. Data democratization – an orchestrated effort to help employees easily access and analyze data, get personalized answers to queries, and rapidly uncover insights – is what drives this trend. As data democratization takes hold, employees must be comfortable reading, analyzing, and presenting data.
At Genpact, we take reskilling seriously – 90,000+ employees worldwide have access to Genome, our bespoke learning and development program. Genome offers customized courses to help employees develop future-proofed skills relevant to their individual roles and career aspirations. For instance, Genome might guide an experienced consultant through the practical application of design thinking and AI in banking.
6. Bilingual experts will be the heartbeat of an enterprise
The age of analytics and AI requires 'bilingual' talent – individuals with both business and digital expertise. For example, to build an intelligent application that supports pharmacovigilance analysts, you need an expert with a deep understanding of both the life sciences industry and how to appropriately apply digital technologies. Bilingual experts can leverage the right systems, processes, data, and AI capabilities at the right time to deliver accurate predictions, intelligent recommendations, and tangible business impact.
7. Chief data analytics officers (CDAOs) will be in demand
Responsible for unlocking the value of data and AI, successful CDAOs understand how to harness data, foster collaboration, and experiment in highly agile environments. A typical day in the life of a CDAO combines evangelism, problem solving, and advocacy. We've even seen a CDAO at a major insurer connect and optimize operations to produce analytical insights that help the business get closer to its customers. In 2020 and beyond, CDAOs will need to apply data and design thinking to focus on solving problems in a human-centric way.
8. Pretrained AI accelerators gain traction
As enterprises increasingly embed AI across business processes, the popularity of pretrained AI accelerators will grow. Last year, we saw more AI solutions packaged as application programming interfaces. This year, we'll see greater demand for specialized pretrained AI accelerators built for industry-specific tasks. These pretrained accelerators should combine industry, data, and AI expertise to accelerate process automation. For maximum impact and adoption, these accelerators should be tailored to specific departments such as finance, risk management, or supply chain.
9. Data-as-a-service will become the norm
In most organizations, data management is fragmented. Master data management, data governance, and technical capabilities spread out across silos, leading to inefficient processes and poor-quality data. It's why we expect to see data-as-a-service becoming the norm, bringing together technical, business-specific, and governance functions into data-driven teams. The teams will work holistically to create consumable and trustworthy data for specific business purposes.
As we move through 2020, these trends will help enterprises create more mature and scalable analytics and AI ecosystem tied to business objectives. Fasten your seatbelt – it's going to be an interesting ride.
Blog