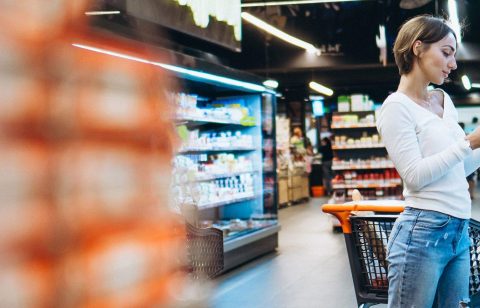 Introducing the next–generation retailer
Even though the economic landscape remains unstable, retailers have found a way to keep growing. But to thrive, they will need to remain agile and respond to changes in consumer behavior, tight margins, and the rise of e-commerce. Here are the five priorities retailers must focus on to keep growing:
Managing the shift from exclusive, store-based outlets to accommodate online capability
Adopting a more connected approach to digital commerce in terms of technology infrastructure, customer journeys, and operating models as traditional brick-and-mortar stores compete against next-generation retailers
Improving distribution through augmented supply chain visibility, integration, and management. Order fulfillment (for example, last-mile delivery and curbside pickup), warehouse management, and procurement all require investment
Ensuring digital capabilities are in place to support AI, cloud services, and integration to deliver better online experiences. Retailers need to respond faster given the speed of change in consumer behavior and technological advancements
Addressing outdated legacy systems and neglected back-office processes to catch up with digital-savvy competitors
How Genpact helps: Boosting agility, intelligence, and customer experience and elevating back-office functionality
Genpact is a leader in customer-centric, digital transformation, helping retailers deliver key business outcomes and value that drives growth and opportunity. We accelerate process automation, supercharge artificial intelligence and analytics, and redesign customer experiences so businesses can thrive.

At Genpact, we use our expertise to transform retail operations, making them responsive and relevant.
Genpact has 20+ years of industry knowledge

We work with 5 of the top 10 global retailers

We have over 3,500 retail experts across the globe

We process over 6 billion data transactions every month

And we manage over 500,000 SKUs
We partner with major retailers to help them delight customers at every point on the buying journey.

With Genpact, you can reshape operations around the consumer
Transforming operations for digital readiness
By leveraging our industry expertise and process knowledge, Genpact leverages cloud technology to unlock opportunities to optimize demand and supply planning, providing a holistic view of the supply chain.
Intelligence that drives customer engagement – adding real business value
With our depth of knowledge and proven methodologies, we enable retailers to quickly deploy APIs and deliver at speed. We also reduce revenue leakage, enabling clients to recover significant revenue through analytics-based tools.
Exceptional customer experiences based on digital expertise
Genpact's Rightpoint approach is a human-centered, evidence-based approach to customer service. It bridges the physical and digital to achieve seamless, intuitive, and meaningful experiences that deepen relationships and simplify CX complexity to delight customers.
Elevating back-office functionality to create a platform for sustainability
Retailers can better understand the impact of the back office on the bottom line and can future-proof services through our finance and accounting (F&A) services.
Using our solutions, clients reap benefits such as the ability to:
Transform back-office processes

Improve asset management and merchandising

Improve margins with a reduction of revenue leakages

Improve F&A

Improve supply chains and logistics
Let's get started: Contact us

Solution overview