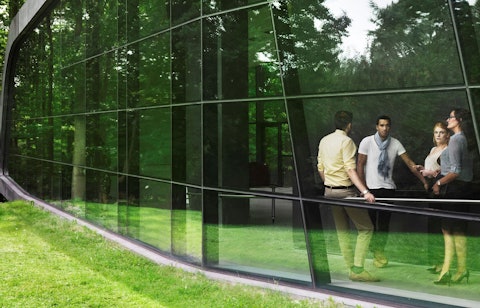 One of the most significant developments over the past few years has been the increase in commitment and action by governments, businesses, and individuals to address the climate crisis. Though there's still a long way to go, the recent proposal by the US Securities and Exchange Commission (SEC) on its climate-related disclosures for enterprises is a big step toward meaningful change. But not all companies have the technology, processes, or governance structures they need to comply and report investor-grade information.
There's no doubt that the planet needs all organizations – public and private – to take giant leaps. And they have taken steps, but a report by Climate Action Tracker highlights that recent targets and pledges are not yet enough to keep the world's average temperature from rising beyond 1.5˚C1. Staying within that threshold would reduce the risks from the catastrophic impact the climate crisis will have on the world's environment and economy. For example, a World Economic Forum report says that more than 50% of the world's total GDP, amounting to $44 trillion, is moderately or highly dependent on nature.
In recent years, the scientific community, institutional investor forums, shareholder activists, governments, private-sector enterprises, and the global community have rallied together to redress the harm being inflicted on the planet.

Businesses play a critical role in protecting the environment and driving a net-positive impact. The new rules proposed by the SEC in March 2022, The Enhancement and Standardization of Climate-Related Disclosures for Investors, will require publicly listed companies to disclose the nature and extent of climate-related risks to their businesses. This includes the impact of material risks, greenhouse-gas (GHG) emissions, and related financial metrics as part of their annual 10-K reports.
The proposed rules require businesses to adapt to new guidelines and regulations. But they also offer an immense opportunity to accelerate action toward reducing climate impact and creating a new source of long-term competitive advantage.
Objectives of the proposed SEC rules
The 2021 Task Force on Climate-Related Financial Disclosures (TCFD) status report found that only 32% of companies either disclose or monitor the impact of climate-related risks on financial performance². It also revealed significant discretion in reporting because only 10–15% of companies disclose their existing strategies' resilience against climate-related risks.
The proposed rules aim to enhance and standardize disclosure quality by requiring organizations to provide stakeholders with consistent, comparable, and reliable climate-related information. The key objectives are to provide:
Investors with detailed information on material climate-related risk and GHG-emissions disclosures

Complete and accurate reporting as disclosures will be subject to investor protections like existing financial disclosures

Transparency and standardization of disclosures with assurance requirements to enhance traceability and comparability
Proposed SEC disclosure requirements
The SEC proposal helps to increase the quality and reliability of climate-related disclosures and takes leading frameworks by the TCFD and the GHG Protocol as its model. Some of the key disclosure provisions include details on3:
Climate-related risks and their actual or likely material impact on a business' strategy, outlook, and financial performance2

The governance of climate-related risks and risk-management processes

Scope 1 and 2 greenhouse-gas emissions, with reasonable assurance and material Scope 3 emissions4

Certain climate-related financial statement metrics and related disclosures

Information on climate-related targets and goals and transition plans, if any, for how companies expect to meet these objectives
It's important to note that the SEC has invited the public to comment by May 20, 2022, which may see the rules undergo changes before being finalized.
Key challenges in disclosure and reporting
According to the 2021 TCFD status report, only 50% of companies are reporting 3 or more recommended disclosures5. This indicates that companies' current underlying processes, digital technologies, and governance structures either do not exist or are not robust enough to support the requirements.

From our experience and work with many enterprises, we've identified the key challenges companies face related to environmental, social, and governance (ESG) data and reporting:
Reliable data availability – Multiple and disparate data sources and a lack of defined processes and controls for data collection, collation, and analysis are among the biggest obstacles when it comes to ESG data and reporting. Investors and other stakeholders are now focused on not just having data available to them but on the quality and reliability of that data. They expect investor-grade ESG information
Collecting and calculating Scope 3 emissions – On average, Scope 3 emissions – the indirect GHG emissions generated by a business' upstream and downstream activities – account for 70–80% of an organization's total emissions. Collecting and consolidating reliable and auditable data from a company's end-to-end supply chain is a key challenge. This is why many businesses use an industrial average rather than calculating actual Scope 3 emissions data
The significant manual effort spent on data collection and reporting – Organizations are looking to prioritize and introduce digital technologies for data collection, measurement, reporting, and disclosures to unlock greater reliability and more transparent reporting
Establishing the right organization structure and governance – Having robust processes and governance in place is critical to the success of an organization's sustainability strategy. With a limited understanding of the requirements and best practices for ESG disclosures, many organizations are still defining their governance structures and responsibilities
Despite these challenges, there are a number of principles businesses can adopt to help meet the requirements of the coming regulations.
The way ahead: Seven core principles for consistent, comparable, and reliable disclosures
The SEC's proposed disclosures are carefully designed to reveal a range of holistic data points. For instance, under the proposal, absolute GHG emissions disclosures would be required alongside emission intensity. A combined disclosure of both metrics will provide a well-rounded view and prevent greenwashing. Similarly, disclosure requirements of material Scope 3 emissions will also prevent companies from shifting their Scope 1 and 2 emissions upstream or downstream.
To meet their disclosure and attestation requirements, organizations should also consider providing investor-grade and digitally enabled reporting and build a strong foundation of governance and internal controls. Robust data-management systems will be necessary for auditability and the transparency of disclosures. In addition to allowing businesses to comply with regulations, by using these enhanced insights strategically, companies can sharpen decision-making that boosts competitive advantage.
To help business leaders comply with coming regulations and harness the advantages offered by this level of transparency, we recommend that they adopt seven core principles in the coming days and months:
Assess and set a baseline – Run a baseline and gap assessment to understand how existing ESG goals – including climate disclosures and emission-baseline processes – compare to the future desired state. With this information as a guide, define a roadmap to meet the SEC's proposed requirements
Set up your data infrastructure – Establish a data architecture to enable data discovery, including data-source mapping, and set up data pipelines for the timely and automated transfer of data, which improves traceability and enhances assurance. Organizations should consider adopting data-management systems that provide analytical capabilities and simplify internal and external reporting layers
Create a cross-functional team – Identify and assemble an ESG team that has expertise across finance and other business functions. Determine the appropriate mix of skills with clear roles and responsibilities to build a culture of standardized, transparent reporting
Assign ownership and responsibility – With climate-related risks and disclosures becoming part of annual 10-K filings, there will be a high degree of scrutiny. Disclosures will get much the same treatment financial information does and will therefore require an overarching approach. Finance teams will be responsible for the accuracy and reliability of disclosures with heightened attention from boards of directors and audit committees
Accelerate digital enablement – Identify and implement fit-for-purpose digital systems to enable an efficient and effective reporting mechanism. Organizations should consider platforms that are agile, flexible, and compatible with their existing IT landscape and facilitate the traceability and transparency of recorded transactions
Establish governance and internal controls – Organizations need robust governance systems and processes for reliable and accurate reporting. Because financial statement disclosures and information will be subject to controls and procedures, organizations need to make sure they have embedded their reporting processes with a robust layer of internal controls
Enable assurance and attestation – The proposed rules require companies to obtain limited assurance in the first year and then reasonable assurances on Scope 1 and Scope 2 emissions. Organizations need to build related mechanisms and identify providers with extensive experience in measuring, analyzing, reporting, and attesting to GHG emissions and other disclosure requirements
Take control of ESG reporting
Currently, more than 90% of S&P 500 companies report on different aspects of ESG, so what will change with the proposed SEC regulations? Until now, most of this reporting has been voluntary. Companies could choose what and how much to report. However, the proposed rules raise the bar and aim to provide more comprehensive, comparable, and reliable information for high-quality climate-risk-related disclosures.
Businesses can't control what they can't measure. By standardizing disclosures on climate, companies will feel encouraged to take more aggressive action to minimize their footprint. And investors will find it easier to value and compare organizations' environmental efforts and risks.
The current SEC proposal is not alone because there are other proposed or adopted disclosure across Europe, the UK, and other regions. And the proposal is just a starting point. In our view, a robust strategy for accurate and transparent reporting on the social and governance aspects of ESG will be equally important for sustained performance, business resilience, and long-term value creation.
As climate, inequality, and governance move from peripheral issues to become mainstream concerns, a huge shift is taking place across businesses in boardrooms and asset management communities around the world. This is a critical moment for the business community to listen to the scientific community, investors, customers, and employees and keep up with their demands and expectations.
ESG at Genpact
At Genpact, we remain committed to our ESG journey. We have voluntarily disclosed climate-related and social data for more than 10 years. We have also increased our disclosure over time to include the TCFD framework in our 2021 report.
We are also committed to driving ESG-led sustainable transformation for our clients. We have created a strong ESG ecosystem by combining our process transformation expertise, industry knowledge, digital skills, and partnerships with our advisory board of global sustainability leaders to demystify and provide holistic solutions in ESG data management, analytics, reporting, and assurance in the evolving world of climate risk and sustainability.
Point of view