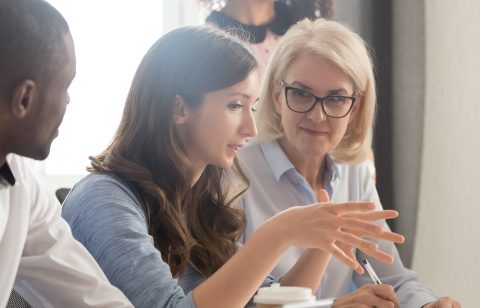 Data is the lifeblood of digital transformation. It holds a wealth of knowledge enterprise leaders need to solve their biggest challenges, make sound business decisions, and create long-term customer value. But to generate data-driven insights at scale, teams need more than just access to data. They need the ability to process, analyze, and extract information from the treasure trove of data at their fingertips.
For most organizations, small teams with specialized training are responsible for data and analytics initiatives. As a result, most departments rely on a limited group of individuals to handle their data needs. In the digital age, however, this model is unsustainable.
Business leaders realize that all data carries value. And as such, it can't be the responsibility of only a few colleagues. Indeed, data is an integral part of every function, and all employees must have the tools to unlock its power. Or, even better, data-driven insights can be visible across the organization, making it possible for everyone to act.
To keep up with the technology revolution, organizations are reinventing themselves to move faster than market demand, stay ahead of the competition, and get closer to their customers. And it's all for a good reason. By the year 2030, the World Economic Forum estimates that more than 1 billion people – nearly one-third of the jobs worldwide – will need reskilling to keep pace with digital disruption.
At Genpact, for example, we recently launched DataBridge, an initiative to increase data literacy across our organization and shift employees away from transactional projects and into insight-generating roles. In essence, we aim to equip about 100,000 employees with the data and analytics tools, techniques, and skills they need to drive value for our customers.
The path to data-driven success
For organizations ready to embark on similar projects, four core principles can help them ensure their teams are successful:
1. Inspire your people: Employees must see the value in how data and analytics can help them streamline everyday tasks such as processing an invoice more accurately or responding to a customer's query faster. This awareness should generate excitement by showing employees how data can make their lives easier.
2. Empower and train teams: Enterprise leaders must use learning tools and development programs to upskill employees in data principles and techniques. By implementing relevant, industry-specific courses, employees will learn how to best use data and analytics to extract value for the business. The objective is to build a data-driven culture across the organization.
At Genpact, DataBridge's three-month initial training period led to one of the fastest activations of any skill-building initiative in the company's history, resulting in:
68,000+ employees enrolled

180,000+ hours of training hours clocked

800+ certifications
3. Focus on your customers: Now that employees possess the right tools and skills, teams can identify opportunities for increasing customer value, propelling business growth, and building resilience. For example, some of our operational teams working in forecasting-as-a-service solutions have proactively flagged ideas to improve systems and further streamline operations for our clients.
4. Build business resilience: As teams become more data-proficient, new product and service ideas will emerge. So, it's essential to keep track of common themes and recommendations and pursue the ones that can drive the most value for your customers. For example, following the success of DataBridge, our team's feedback led us to launch a continuation of the program, called Datathon. This project helps employees expand their knowledge of predictive analytics – a business area that's important to our clients.
Ultimately, the goal is to have talent with diverse skill sets. As our global analytics leader Amaresh Tripathy highlighted during our conversations on cloud series, we want our workforce to know operations inside and out and have similar expertise in applying digital solutions such as cloud and analytics.
DataBridge is the first program of this scope and scale in the industry. It already won bronze in the Brandon Hall Excellence Awards for the advancement of machine learning and AI.
People first, data later
Employees are our greatest asset, and we see value in offering them the skills they need to succeed in today's dynamic marketplace. Upskilling our workforce through knowledge sharing allows our people to advance their careers and apply that expertise to drive additional value for our clients.
For us, the mission is to help organizations build a similar data-driven culture that empowers and inspires employees to become stakeholders who reinvent how organizations operate today and into the future.
Blog