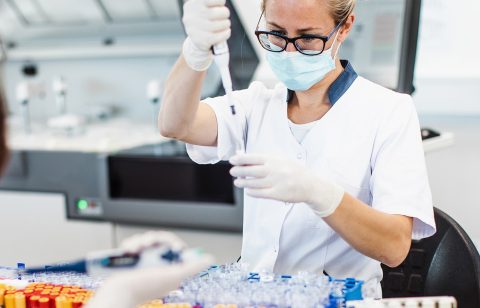 Vaccinations and testing are both critical for a fast and safe reopening of the US economy. But testing at scale is still in its infancy, and there is a steep learning curve for how to do it cost-effectively.
This was the topic of conversation at the first LinkedIn Live panel I hosted with Dr. Michael Mina and Professor Ajay Agrawal, leaders working with Genpact on the Rapid Action Consortium, a collective effort that supports scaling the use of rapid antigen testing, particularly in the workplace.
Dr. Mina, an epidemiologist at Harvard University, and Professor Agrawal, founder of the Creative Destruction Lab and professor at the Rotman School of Management, both sit on the consortium's advisory committee. We discussed the evidence behind the continuing need for widespread testing.
Here are three major takeaways from our conversation.
1. Vaccines and testing go hand in hand
When it comes to stopping the spread of COVID-19, it's not a question of vaccines or testing – it's both. One in every thousand asymptomatic people is infected with COVID-19. The ability to swiftly identify those who are infectious is critical to a healthy and stable economy, so even as vaccine adoption progresses, testing will be a critical part of workforce health and safety.
Societies need to focus on encouraging vaccinations to protect individuals while relying on testing to identify those who are infected but show no symptoms.
2. Not just a health crisis, but an information crisis
COVID-19 is not only one of the most serious health crises of our lifetime, but it is also a mammoth information problem. In the absence of information about who is infected, we end up treating all people as if they could be infected, which leads to restrictions and closures. Expanding rapid antigen testing, however, can provide greater clarity as to who is infected and who isn't, so we don't have to hold back certain social activities unnecessarily.
3. Knowledge sharing will get us through
That we share lessons learned widely to fight this disease is critical. In Canada, the CDL Rapid Screening Consortium, a program that has brought dozens of companies together to set up rapid testing for workers across the country, is encouraging widespread testing. The learnings it has shared with the US Rapid Action Consortium help to drive the collaboration, co-innovation, and information exchange that advances both rapid testing and vaccinations.
How rapid testing benefits employees and businesses
The threat of COVID-19 outbreaks poses a serious risk to businesses and how they maintain normal operations – it could mean entire departments are out sick and offices have closed for deep cleaning. One of the most common causes of an outbreak is individuals who don't experience any symptoms and continue to come to work.
A study by Boston Consulting Group found that asymptomatic cases contribute to roughly 60% of transmission. However, combining vaccines and testing can reduce transmission by 70–80%. The benefits of adopting a rapid-testing system are far-reaching and include:
Reducing or eliminating transmission in the workplace given that vaccinated individuals can still spread or get the virus

Improving employee morale and contributing to a sense of safety around returning to the office

Helping companies attract and retain top talent who prefer to work with employers that take the health and well-being of their employees seriously

Detecting and mitigating outbreaks early. It could mean the difference between shutting down an office or warehouse for 24 hours versus 2 weeks if an outbreak occurs
How to start a rapid testing program
The Rapid Action Consortium is an extension of the rapid testing program in Canada and offers hands-on insights into how to roll out COVID-19 testing in the workplace. It's an opportunity to learn best practices for launching a COVID-19 testing program and receive feedback from other companies at different stages of the process. Join us to gain expert guidance on how to:
Establish a workplace-testing strategy

Create a cost-effective program

Craft employee communications

Access tests

Set up an IT structure that supports testing
Private sector businesses, nonprofits, academics, and scientists have come together to reduce the cost and complexity of rapid testing for companies, and we're committed to sharing all the lessons we learn and approaches we develop as a public good to organizations large and small.
Providing rapid testing to employees will help get our economy back to some semblance of normalcy, not to mention, it's an important step toward improving employee morale. To learn more about how to promote the health and well-being of employees, watch Episode 2 of my LinkedIn Live series, Adapt, rise, and thrive: driving employee wellness and engagement, as it delves into how to address mental health in the workplace.

Blog