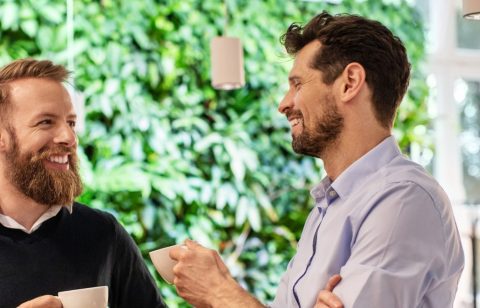 Many businesses have been quick to respond to COVID-19, with people and operations swiftly adapting to work-from-home conditions. Now that the technology is in place, leading companies are fully capable of hiring and deploying people with everyone interacting remotely.
Keeping people connected has been an ongoing concern for businesses, too. A May 2020 survey by Rightpoint, a Genpact company, found that 98% of managers called out the importance of linking remote workers. And companies have been acting on that insight, as Microsoft found earlier this year. The Microsoft Teams collaboration tool recorded 200 million meeting participants on a single day in April. That same month, Teams averaged more than 75 million daily active users – an increase of 70% from just six weeks earlier.
It's clear that many leaders are looking to secure and even enhance the value of strong workplace bonds – along with the morale they generate – by taking advantage of networking technologies. But if most of these tools are still at a rudimentary stage, are they enough to maintain and nurture an organization's culture?
Looking at weak ties
Today's collaboration tools certainly go some way toward maintaining people's ability to work. But there's a subtler human consideration at play – a factor that may be easy to miss – that has a bearing on company culture, engagement, and innovation. For one thing, newly onboarded employees aren't benefiting from rapport and connection-building, energizing experiences, such as getting together with co-workers for casual Friday functions.
For another, people shelter in familiar territory by nature, even when that territory is virtual. Working remotely, they tend to fortify their existing ties to co-workers who play an important role in their day-to-day jobs. True, they're more open to exploring relationships with new, often physically distant colleagues who can help them in their daily functions, too. However, these connections are still among the branches of a person's existing, siloed network. Working from home doesn't fulfill those vital casual encounters that used to take place around coffee machines or in hallways between co-workers who don't normally interact.
That's a real loss. New ideas, innovations, and solutions emerge when people bring different perspectives to the table. Just as cross-pollination benefits plants by introducing new genes into their lineage, this helps businesses too. In fact, research suggests that informal relationships like these – what one sociologist defined as weak ties – keep all the synapses of an organization firing.1
Strong ties are the ties we form with people in like-minded communities or similar work environments. By contrast, we maintain weak ties with acquaintances or rarely seen colleagues who haven't necessarily had experiences that are similar to ours.
These secondary links may seem frail, but research has shown that they break our defenses to help expose us to concepts, risks, and opportunities we might otherwise never come across. And because such encounters are a way for people to exchange intelligence from unique vantage points, these meetings foster trust, reciprocity, and ultimately, cooperation inside an organization. They build morale, increase productivity, and encourage transparency. In fact, weak ties inspire the kind of engagement that fundamentally defines a company's culture by shaping and connecting the system as a whole.
Building new bridges
Weak ties build bridges to external networks, too, revealing opportunities that were previously obscured and could give firms a strong competitive advantage. Connecting to each new network exponentially increases access to all the original thinking that individual weak ties support. Enterprises will flourish if they can harness that collective intelligence. And there's another advantage. 'Soft' connections often expose recruiters to real talent in whatever remote corner of the globe they may find it.

For all the disruption COVID-19 has caused, it has promoted inventive approaches that make it easier to maintain relationships with existing and new connections around the world.
Microsoft, for instance, has solutions that help individuals understand their networks and let managers take care of people who seem marginalized. Additionally, Donut is a program that pairs co-workers who don't know each other well, reproducing serendipitous connections. Other developments, such as augmented reality (AR), will eventually become much more practical. In time, AR will generate a layer of information over the image of a person, including the content of recent discussions, making it easier to resume a conversation. This is how AR is set to encourage spontaneity and interchanges between people, regardless of their location.
Techniques like these will improve as the use of artificial intelligence (AI) – which should sit at the heart of people's networks as it connects, curates, collaborates, and computes – becomes more widespread. Expect to see massive advances in available features as businesses settle into the new remote-work reality. For example, AI may soon generate random meetings between potentially compatible but far-flung employees. The process would work in much the same way matchmaking does on dating sites but would be applied for a different, strategic purpose: nurturing those culture-building weak ties.
In addition, network analysis, which can reveal where and how people congregate virtually, can increase the likelihood of spontaneous encounters. And when solution architects, product managers, and product developers, for example, happen to meet in the 'hall', there's no telling what innovations may arise from their exchanges.
Designing for intimacy
Human-centered operating models that incorporate employee-experience design are key to keeping remote workers engaged. As you move in that direction, there are many valuable ways to ensure people remain connected in a virtual work world:
Provide forums and encouragement consistently and deliberately by systematically monitoring data from internal chatbots that help measure and improve employee sentiment and engagement
Make space for social connections in the short term through virtual happy hours, birthday celebrations, or other unscheduled activities that previously happened face to face
Restructure physical office space in the midterm to allow people to meet safely in person, ensuring the work environment boosts connections within and across teams
Understand personas because baby boomers and generations X, Y, and Z are all responding to remote work differently. Respect that, listen carefully, and customize solutions to meet their needs. And remember to celebrate their differences to encourage collaboration
Be flexible by offering employees the option to work in the office or remotely. It's not an either/or proposition. Find the right balance for your team by trying different models that take full advantage of digital technologies and break geographical boundaries
Reinforce ties and listen for signals
As organizations adapt to COVID-19 and prepare for what lies ahead, using the right tools and practices can help employees keep forging connections – both strong and weak – that build trust and strengthen company culture. It's also vitally important to watch and listen carefully to the signals coming from workers at home. That's how you can spot nuances and detect employee-related trends in areas such as retention and talent.
For many companies, if approached with consideration, remote work could actually bring colleagues and partners closer together even when they're physically far apart.
This article was co-authored by Gianni Giacomelli, chief innovation officer; Piyush Mehta, chief human resources officer; and Shibu Nambiar, chief operating officer, Europe, at Genpact.

1. Mark S. Granovetter, 'The Strength of Weak Ties,' American Journal of Sociology, Issue 6 (May 1973), 1,360–1,380
Point of view