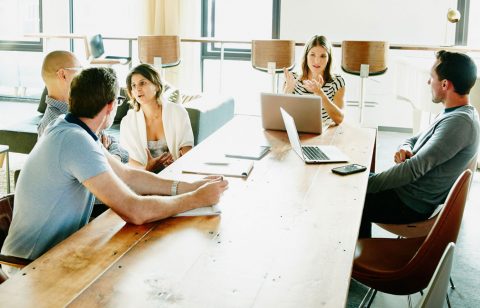 The pressure is on – from regulators, investors, and progressive business leaders – to prioritize ethical, sustainable, and socially conscious practices across the value chain.
A key component of this initiative is responsibly sourcing goods and services from global suppliers. And today, more companies than ever are committing to responsible sourcing. But they're facing challenges, too.
To explore these issues, we organized a webinar and invited industry leaders to offer their perspectives.
The panelists included Ruth Bromley, director of procurement enablement at Heineken, Nicoletta Centofanti, sustainability adviser to the Luxembourg Sustainable Finance Initiative (LSFI), and Anna Hakobyan, who helms global sustainability, supplier diversity, and government compliance at AstraZeneca. Genpact's chief innovation officer Gianni Giacomelli joined me in steering the discussion.
New regulations, new commitments
Anna kicked off the lively exchange. She spoke about sustainability guidelines and imperatives globally and explained how responsible sourcing helps companies, society, and the world mitigate the climate crisis and overcome systemic inequities. Investor activism, favorable capital borrowing costs, and tougher international regulations also drive the agenda, she noted.
As well, the failure to commit to a strong compliance program can result in irreparable reputational damage and more. For instance, in the aftermath of a deadly 2013 factory collapse in Bangladesh, several global fashion brands suffered a loss of reputation and were hit with millions of dollars in fines.
ESG takes center stage
The push to prevent such incidents is turbocharging environmental, social, and governance (ESG) strategies in businesses. Nicoletta explained how responsible sourcing can help enable key components of ESG. Environmentally sound choices can, for example, reduce the carbon footprint, encourage a circular economy, promote the use of clean technologies, and minimize the use of hazardous materials. Companies can create social impact by engaging partners with superior labor practices. And good governance requires robust, transparent anti-bribery and anti-corruption programs.
Responsible sourcing roadblocks
Putting these concepts into practice isn't always easy, Ruth cautioned. Initially, companies can face rising costs when introducing ESG policies in under-regulated areas or when policing suppliers. Increasingly scarce resources can become even more expensive, too. When these costs affect a firm's competitive edge, they are hard to justify to the C-suite.
Ruth added that blind spots in the supply chain are another hurdle because they hide bad actors or situations – an insight echoed by our poll results as well, in which 39% of the respondents cited "enforcing standards with the supplier base is difficult to manage and monitor" as the main challenge in adopting responsible sourcing (see poll results below).
What is the main challenge you face with adopting responsible supply chains?
Additionally, there aren't enough integrated solutions to manage third-party risk and compliance. Off-the-shelf digital tools and platforms may not fit the requirements of individual enterprises, while custom-designed tools can be prohibitively expensive.
And events such as the COVID-19 pandemic – which has led to work and travel restrictions, holdups of raw material, and sudden lockdowns – can further hamper efforts to uphold ESG standards.
But Ruth stressed that without responsible sourcing, enterprises face serious risks, including corrupt suppliers, brand damage, losing out to 'green' competitors, costlier capital, supply crunches, legal issues, and fines.
Overcoming the challenges
Companies can resolve these roadblocks with the right approach and framework. Several of our poll respondents had at least set up programs for a portion of their supplier base, with more than half stating that they had visibility and oversight over critical suppliers (see poll results below).
What are you currently doing to cover the 'blind spots' in your supply chain?
Processes such as strong segmentation and a digitally enabled, scalable program let companies focus on critical in-depth assessments, audits, and monitoring methods.
We recommended that businesses establish baseline supplier performance measures and audits and create a supplier code of conduct with a tracking system that clearly outlines policies, expectations, rewards, and consequences.
We also shared best practices and revealed how Genpact is partnering with companies by mapping their supply chain and flagging the riskiest suppliers. We do this by augmenting human expertise with:
Digitization – such as platforms with connectors to databases and third-party sources

Analytics – such as red flag prompts and scoring engines.
The impact of ethics
ESG policies – responsible sourcing included – are making a measurable difference. Companies embracing these strategies have reduced water usage and pollution significantly. And nearly 100 million children have been freed from child labor.
The business case is strong too, Nicoletta said. She cited a study that indicated that 78% of US customers who say they prefer buying sustainably produced goods are creating a market for niche or premium products. Additionally, an upgraded supply chain pays off in the long run. And by mitigating and preventing risks, companies can also act as contributing members of society.
Our poll respondents agreed. One-third of them said that adopting responsible sourcing allowed them to win customer goodwill and maximize stakeholder value, while an equal number cited competitive advantages such as new market segments opening up and the ability to charge a premium price (see poll results below).
What benefits would drive wider adoption of responsible sourcing?
Responsible sourcing is evolving as organizations increasingly aim to balance profitable growth with sustainability. The momentum driving ESG agendas is undeniable as ethical considerations continue to tee up with the bottom line.
Blog