These are interesting times for the banking industry. Evolving technologies, disruptive fintechs, tighter competition and savvier, more demanding customers are causing rapid changes in the market. This new reality creates unprecedented challenges for incumbents. That's why improving customer experience has become a big target.

There's ample evidence supporting the idea that superior customer experience is a key differentiator in a field where all competitors' offerings are roughly the same. Exceptional service contributes a lot to a bank's market share and return on investment.
Clearly, that service begins with customer onboarding. As the customer's first impression of a bank it's the key perception builder, so it has lasting significance. Yet many banks are struggling to make the online application process a smooth one. Signicat, an identity assurance provider, surveyed 2,000 consumers to find out what they underwent when applying for financial products at traditional institutions. It found that a shocking 40% of all online applications never get finished.
Figure 1: customers regularly abandon applications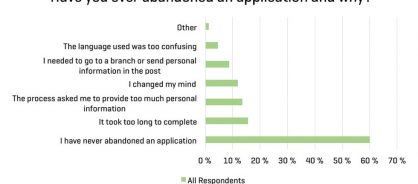 Many of those customers abandoned their applications because it took too much time or they had to go to another channel when they sought help. Yet integrated customer support — a little hand-holding when customers need it — could tackle most of those issues.
Let's take a look at the major challenges that impact online account-opening processes.
On-the-spot support: Surprisingly, accessing customer support is still a big pain point. Nowadays most banks have on line or mobile application processes. Yet these channels often lack integrated customer support. The result: Customers with questions hit a logjam because they have no quick way to get answers. Sometimes, online chat is down or it's off-hours for the contact center. Even when centers are open, customers may twiddle their thumbs on hold for several minutes before speaking to an advisor. Worst of all, when they finally do reach one, the advisor may have no idea why the customer is calling. So the customer must take even more time explaining issues and sticking points. No wonder 40% of applications get abandoned midway!
Documentation: Customers have to submit too many documents for two main reasons. In some cases, it's easier for banks to ask customers about their other accounts — even those held at the same bank — when bank office systems can't talk to one another. In other cases, when banks don't have a simple automated way of capturing and verifying data, they must ask for information from third parties, such as customer data agencies. Of course, some documents are essential, but some banks still expect customers to physically mail, fax or hand deliver them. That's a turn-off in an era when there are several alternatives, such as sending material via video, uploading or emailing photos and documents, and so on.
Delayed handling of exceptions: Typically, between 20-30% of applications aren't straightforward — and poor exception handling is often where the customer journey breaks down. When banks can't validate data, or when a source of income isn't clear, the process starts to crawl, forcing specialists to follow up days later with a phone call. Worse, the bank might send customers a physical letter explaining what additional information they must provide. This gives potential clients plenty of opportunity to try a more accommodating competitor.
Lack of transparency and mismatched expectations: When customers complete an application, they expect an instant response. Yet many banks can't deliver anything close to that. They spend too much time analyzing credit or struggling with false positives involving anti-money laundering (AML). So the exercise becomes a black box for customers, who don't know what causes the delay. They might think that the bank has lost their application or that their application isn't important enough. That causes frustration and higher rates of attrition.
Post onboarding support: Many banks don't have ways of standing by new customers in the critical 60-90 days after they receive a new product. Customers don't always start using the cards, log-in details and so on that they get with their new banking products. In many cases, they don't get around to transferring balances from old credit cards. Or they log in once to their new internet banking service, get confused and never log in again. Forgetting passwords or telephone codes is another major issue. All these factors contribute to the high costs of acquisition — and to low rates of up- and cross-selling.
The answer: wrinkle-free onboarding
Banks can tackle these challenges. The key is to have a digitally-enabled end-to-end onboarding process — one informed by intelligent analytics — that integrates customer support. Customers don't like leaving their preferred channels, and especially hate bumping from online to a phone or a branch. Breaking the continuity of the process adds to customers' exasperation — and frustrated customers abandon applications. In the Signicat survey, 55% of respondents said they would be more likely to seek a product if they could complete applications entirely online. Here's how to capture those potential customers with a smooth application process.
Figure 2: how to capture potential customers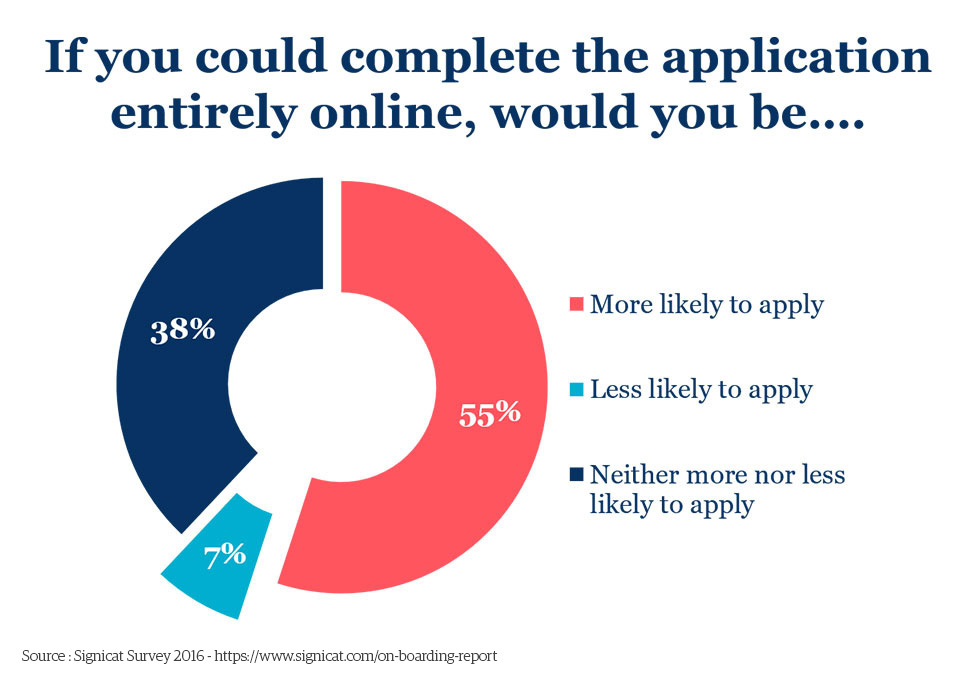 Make it easy by reducing documentation
Use available technology to help customers complete applications with minimal effort. Digital tools such as Intelligent Optical Character Recognition (OCR ) and Natural Language Processing (NLP ) can extract customer information from ID document images and auto fill applications. As well, banks can now integrate third-party data providers and their own internal systems for existing customers to avoid asking customers for more data. When customers absolutely must submit a document, banks must make sure they can do so via digital channels and in the form of photos, PDFs and so on. The goal is to help them avoid offline channels, such as going to branches or sending letters by snail mail, as much as possible.
Hold your customers' hands
Customers love self-service and independence. Still, it's critical to offer integrated support at every step of online onboarding. Customers should never have to dial a number or go to a branch, if they have a query. A good platform can offer:
Online Chat

Video Chat

Co-browsing that allows agents and customers to interact on the same web page

Conversational AI Chat

1-touch click-to-call
Remember, though. While features like conversational AI will prevail as banks automate basic responses, human agents should still be available to handle more complex questions.
Automate decision-making and processing
Artificial Intelligence (AI) has improved a lot in the last five years. It can now automate the review of data that customers submit. It can even automate the decision-making process. It can also identify and directly flag inconsistencies or information gaps so customers can follow up promptly. Spotting such exceptions helps agents deal with them, too. Machine learning underpins this and ensures the AI continues to learn and improve.
Similarly, the dynamic workflows that Robotic Process Automation (RPA) produces can automate middle- and back-office tasks such as contract and party record creation. This reduces turnaround times, cost and the volume of customer calls. More important, the tool also increases customer satisfaction and application completion rates.
Be transparent, set expectations and communicate proactively
The right communication at the right time is the key to meeting customer expectations appropriately. Talk to your customers on their own terms, through their preferred channel. Some favor push notifications through an app. Others opt for in-app chats, text messages, emails, outbound calls, video chats and so on. Banks must reach out proactively to customers regarding:
Additional information needed for their application

Expected turnaround times for application completion

Status of cards, checkbooks and other physical materials

How to use mobile payments and other tools so they can use the product immediately before getting these materials

Most importantly, communication must absolutely be two way. Make it easy for customers to reach out to the bank for self-service status updates.
Don't rest: Keep improving the customer experience
There's a great deal to gain from real-time insights into customer onboarding — and advanced tools can deliver the kind of analytics you need to take advantage of these insights. They help banks see how customers engage with every aspect of the application process. They can even clarify where the customer journey breaks down — and intervene when it does. By supporting product activation and usage they go a long way in preventing application leakage, dormancy — and in bringing a superior experience to customers.
The bottom line: A balance between tech and the personal touch
Customers want simple automated application processes — to a point. They'll only use them if they get quick and effective customer support when they need it. Banks have to make that happen faster and painlessly. At the same time, the personal touch has never been more important — even if AI provides it in part. That's a fine line to walk, but with the right tools and expertise, banks can deliver improved customer journeys and profitability.