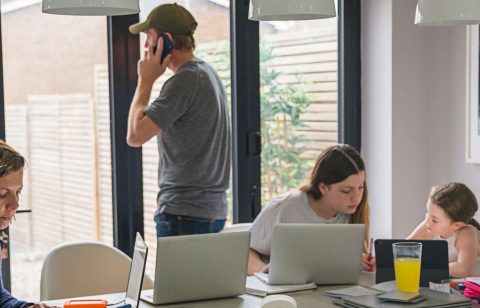 As the cloud enters its second decade, it's increasingly recognized as the enabler of next-generation digital business models. It's no longer a question of if you embrace the cloud, but when and how.
In 2011, Harvard Business Review told CEOs everything they needed to know about cloud.[1] Of course, change takes time, but even nine years on, nearly one-third of cloud projects fail.[2] Now, the need to maximize the value of cloud is even greater. The COVID-19 pandemic has positioned cloud as the new normal as it accelerates businesses' ability to create agile, scalable, and flexible operations.
Today, cloud success begins with upfront planning and strategy, not technology. Dispelling these three cloud myths will equip leaders to maximize the value of cloud.
Myth one: Cloud is a technology project
Migrating to the cloud is a journey, and it must begin with creating a roadmap tied directly to your business strategy. Leaders recognize that business objectives – not technology – should underpin every cloud decision.
This roadmap will be unique to your enterprise, will break down your transformation journey into achievable steps, will identify which cloud technologies best match your business strategy, and will be agile enough to accommodate change.
To create this roadmap, leaders bring together a broad, cross-functional team of multidisciplinary business, operations, technology, security, and compliance leaders – collaborating to ensure alignment around objectives and outcomes. This approach helps avoid cloud failures that can result from a solely IT-led roadmap.
Before you begin developing your roadmap, consider your company's people, processes, and technology to identify the most critical projects you want to tackle first, build early momentum, and recognize that iteration is inevitable. For example, a leading energy company assembled a cross-functional team to develop a roadmap for migrating more than 200 on-premise applications to the cloud. Using a ROI tool tied to overarching business objectives, the company achieved greater business value at every stage of its cloud journey.
Myth two: Cloud migration alone underpins digital business models
Leaders understand that cloud is so much more than migration and lower costs. To achieve tangible value from the cloud, they develop a cloud-ready operating model focused on agile sprints as opposed to long development cycles. These cloud-ready models support innovation, advanced analytics, and the ability to enter new markets and develop new digital customer experiences in a matter of days.
Rearchitecting on-premise business applications enables greater scalability and flexibility, but optimizing operating processes unlocks exponential value. Companies that get this cloud-based operating model right see dramatic improvements in agility, speed to market, economics, and innovation – at lower technological risk.
Lastly, digital transformation is more about mindset than technology. The same is true for cloud – it requires a fresh mindset for leaders to change business processes and think differently about the future of their business. Only then will they be prepared to break down silos and transform their operating model to embrace cloud.
Myth three: My company has the necessary cloud talent
Fully leveraging the cloud requires specialized and often hard-to-find talent, such as cloud engineers, data engineers, and cloud security experts. It also requires deep industry and process expertise. Though internal talent upskilling initiatives are useful, market leaders also leverage strategic partners to augment internal talent and help guide their cloud journeys.
It's important to choose partners with deep industry knowledge, an end-to-end understanding of business processes, a strong ability to leverage data as a competitive asset, and expertise in cloud-based technology.
Partners maximize the value of cloud, which is why – during the selection process – leaders encourage teams to do their homework, confer with industry analysts, network within their industry, and investigate client references before selecting a trusted advisor that will help them achieve new heights of cloud success.

In summary, the pandemic has accelerated the need for companies to adopt digital business models. The cloud can provide the agility, scalability, and innovation needed for this transition. But first, leaders must dispel these cloud myths and understand that cloud is a journey – about more than migration – that calls for new talent and a trusted advisor to guide the way.

Blog