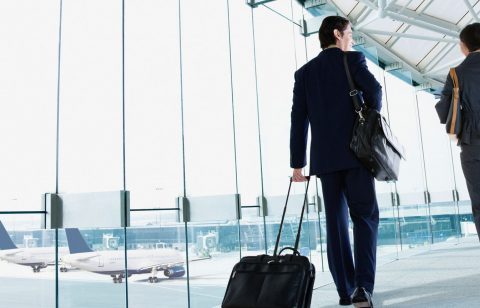 Corporate travel buyers and decision makers can't change the pace of COVID-19 recovery. Although 2021 will be another disastrous year for travel, buyers don't have to watch and wait from the sidelines. Active and affirmative decisions can reduce risk, control costs, and restore confidence by tightening internal controls and strengthening relationships with resilient travel management companies.

The wave of disruption COVID-19 has brought to the travel industry hasn't peaked yet. This is frustrating for category managers whose strategic planning has been thwarted for the second year in a row as the uncertainty continues well into 2021. But taking a closer look at the specific risks in the travel market will pay off in the short term and guide your planning for the longer haul.

According to a study by Skift Research and McKinsey, the US hotel industry alone lost $95 billion last year, making the downturns of 2001-2002 and 2008-2009 look mild by comparison. "The scale of the damage from COVID-19 is more than four times as large as what US hotels experienced during the last two crises combined," the report finds. Airlines are expected to book a loss of $315 billion in revenue for 2020, more than four times the $70 billion dip of the late 2000s.
Well-being takes center stage
The single most important change you can make right now to your category strategy is to realize that the priorities of cost controls and traveler well-being have flipped. Cost containment is traditionally the top priority, or close runner-up, in any travel department. Well-being would fall somewhere in the muddled middle.
Now, well-being needs to be the primary focus. That means continuing to carefully scrutinize the need to travel, just as organizations have since early 2020. It means finding ways to keep travelers comfortable and motivated, even while travel times and administrative headaches grow and many of the traditional amenities are still curtailed or off-limits. Travelers and support teams need to be experts in immunization policies, emergency medical care options, and evacuation assistance options like never before. And departments must listen carefully to what related suppliers, such as insurers, say about how your organization will and won't be protected in the event of injury, illness, or death going forward.
Recovery will be slow and uneven
Since the first travel restrictions began in 2020, organizations have juggled the need to provide essential in-person services that can't be substituted remotely and the desire of some sales teams to keep their face-to-face relationships intact. These and other limited forms of business travel will partially reflate the industry this year, although as reported in Business Travel News, a Global Business Travel Association (GBTA) survey found that the average 2021 corporate travel budget is 52% lower than in 2019. And purely internal business travel will be slowest to return.
In December 2020, the Institute of Travel Management surveyed business travel managers, buyers, and leaders and found that a majority of them (51%) said that future virtual internal meetings would permanently eliminate 10–30% of 2019 spending on comparable in-person internal meetings. Another 23% said their internal meeting spend would drop 30–50%.
That means some grounded aircraft will never fly again. Others that have converted to cargo (a bright spot of profitability last year for a handful of carriers) may never fly passengers again. Some hotels and conference centers that locked their doors as business evaporated won't reopen. Added up, those losses could spell the end of at least one significant supplier.
Tailoring to travelers' needs
Internally, the travel industry is reckoning with the fact that putting organizational buyers in just a few buckets will not be a winning strategy for the recovery and beyond. They are already evaluating strategies to be more precise and deliberate in their approach to a wider range of travel needs.
Travel managers and leaders should mirror that strategy. Treating every potential business traveler the same way won't work for the foreseeable future. In the GBTA survey, 49% of travel managers said employees were at least somewhat willing to travel for business, but nearly one-quarter (24%) said their employees were not.
The solutions to these challenges will need to be novel and personalized. Some organizations are already paying daily incentives to employees traveling to China to compensate for the mandatory quarantine. Others are addressing traveler concerns with better door-to-door travel accommodations, suite upgrades, meal plans, and direct flights. "Any return to travel requires the confidence of the individual traveler and therefore travel solutions need to be agile and adopt a more sustainable and safe travel environment," said Scott Davies, CEO of the Institute of Travel Management.
Steps to take now
Conduct an in-depth review of your travel and expense processes now while volumes are down. Booking compliant, safe travel in 2021 and beyond will need new processes, guardrails, and enforcement, so getting the basics right is more essential than ever. Leakage levels from noncompliant travel purchases of 20–40% were not uncommon before COVID-19 complications arrived. Unchecked, they could grow considerably

Be clear with your suppliers about your need for open and honest disclosures about their approach to safety and well-being. Make sure they include details on how they're enforcing those standards throughout their entire ecosystem. Ask for details on how hotel brands will audit franchise operators, including their internal accreditation lists

Don't be afraid to reopen closed topics, including fixed pricing on air travel routes and hotels, and rebate opportunities from every supplier

As part of your ongoing travel supplier review, put special emphasis on their risk management practices and overall business resilience. There is a real chance that at least one legacy supplier will cease trading as a consequence of COVID-19. Choose a tighter network of suppliers with strong contingency planning

Speak to independent bodies as well as suppliers. Independent accreditation is gaining steam as a way to provide consistent international standards and enforcement schemes. Watch the emerging ISO 31030 travel risk management standard and consider discussions with independent assessors, such as hotel security risk assessment firm Global Secure Accreditation. "Each country has a different approach, never mind each organization or supplier, therefore a recognized standard such as the new upcoming ISO 31030 is a good benchmark to managing risk," said Brian Moore, GSA director.
Ready to board the future?
No travel professional can prepare for every contingency right now. For example, with as little as 24 hours notice, EU member states can create new restrictions on movement from a higher-risk country in the form of quarantines or COVID-19 tests upon arrival. Carriers are struggling to reinvent their hub-and-spoke networks amid shrinking demand. Recovery will take time, and suppliers will struggle with whether to absorb or pass along the increased costs of COVID-19 controls. And even the rhythms of travel are being disrupted and rewritten as the infrastructure and traditional passenger habits of terminals and stations are reforged.
There is a promising future in sight, however. A recent McKinsey report observes that after the last global recession, international leisure travel recovered more than twice as quickly as international business travel. The leading edge of that recovery may already be here. In China, key metrics of hotel occupancy and domestic air travel in the second half of 2020 were just 10–20% below 2019 levels. Innovation in the travel and event industries along with pent-up demand for in-person connections could speed the business side of the recovery as well.
Being prepared to ensure the well-being of each traveler is the paramount concern. Understand that the notion of a cookie-cutter business traveler has disappeared and that both your department and your suppliers need a more individualized approach. And take every opportunity to take friction and unnecessary contact points out of your travel process, saving time where possible by substituting self-check-in and keyless entry for lengthy interactions with gatekeepers. With these goals in mind, some of the barriers to a productive future of revitalized in-person collaboration will disappear.
This point of view was written by Stephen McGrane. Follow him on LinkedIn here.
Point of view