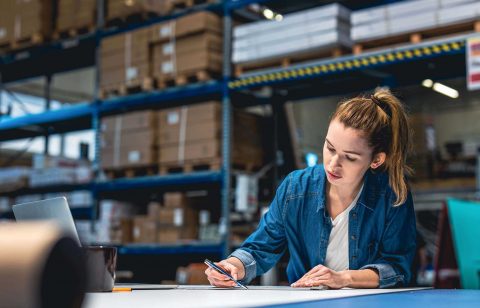 Drought in China delays raw goods production. New government regulations and tariffs put some of your suppliers into noncompliance and increase manufacturing costs. A strike at a busy port means your products get stuck in shipping containers. Then there's a possible US railroad strike and increased gas prices worldwide. It's a perfect storm of supply chain challenges.
The result? Product shortages, price increases, and chronic uncertainty for companies of all sizes across all industries. And your customers still expect free next-day delivery.
In other words, it's a typical day in supply chain management.
As a result of all this disruption, supply chain managers are struggling. Thankfully, cloud services allow organizations to develop a more secure, scalable, and predictive way of working. Over the past 15 years, cloud providers have been creating global infrastructure capabilities that – if harnessed correctly – can transform your supply chain.
The benefits of cloud in supply chain
Let's start with a look at some of the ways cloud technologies can transform supply chain:
Create a single source of truth: Many legacy supply chain management solutions are great at solving one problem at a time – think planning, sourcing, manufacturing, logistics, and aftersales. But supply chain problems are rarely isolated problems. You need a hyperconnected supply chain in which multiple systems and pieces of data connect for a single source of truth. But without the cloud, this is nearly impossible
Power data-driven decisions: Data is a valuable resource, so take advantage of it. Move your supply chain applications, data, and processes to a cloud foundation to support self-service analytics for your stakeholders. When connected, all this data can develop a supply chain twin – a detailed digital model of an actual supply chain – perfect for scenario modeling
Lay a foundation for innovation: The cloud also allows companies to take advantage of innovative software as a service (SaaS) supply chain solutions like Kinaxis – far better than expensive, inflexible, and siloed legacy systems. Instead of large upfront purchases and on-site installation, SaaS supply chain solutions allow companies to pay as they go and scale up or down as needed
Support better ways of working: Cloud-based SaaS supply chain solutions allow for access from anywhere – a major selling point for companies looking to continue with hybrid or remote working. They improve the employee experience too, crucial as the war for talent rages on. With more sophisticated cloud-based supply chain technology – especially those that make planning easier – supply chain leaders can reduce the stress on overstretched teams.
Expect the unexpected with AI and ML
Whatever solutions you invest in, there will always be disruption. But having predictive AI/ML solutions can make it easier to manage. For example, no one predicted the COVID-19 pandemic, but they could have simulated its impact using an AI platform. Having run these simulations through AI/ML models, they could have determined the best approach to shipping during a global or partial shutdown, including demand planning, route changes, and carrier selection.
But this isn't possible without a cloud foundation. A few decades ago, only the largest government agencies and a handful of software giants had access to this type of computing power. Today, cloud computing solutions like Amazon Web Services (AWS) and Microsoft Azure bring this within reach for many. With these tools, supply chain managers can become predictive and proactive.
Putting theory into practice
So, what does a supply chain enhanced with the power of cloud look like?
One example comes from our work with a contract development manufacturing (CDMO) pharmaceutical company. It came to Genpact with a legacy supply chain – in which multiple applications resided in outdated data centers across the globe. Using AWS we developed a modern cloud-based supply chain model that takes advantage of the latest cybersecurity tools, and a next-generation data lakehouse that can host, ingest, and integrate all its supply chain data. With this model, the cloud provides greater scalability and a future-proof approach to data that allows the company to make data-driven decisions.
Change is coming
Given their increased influence post-pandemic, supply chain leaders should prime themselves and get ready to make the case for cloud. It will give them the digital foundation they need to truly transform their business, progress toward a data-driven supply chain, and make data-driven decisions when it matters most.
During my time at Genpact, I've seen how we help businesses build sustainable and resilient supply chains with cloud. For every organization – whatever your size or industry – there's no time like the present to embrace the cloud and develop a scalable, flexible, and cost-effective supply chain.
Blog