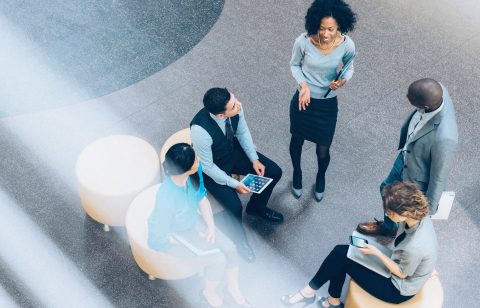 Every business leader understands the importance of digital transformation. And many are using cloud platforms and cloud integration technology to enhance the customer, supplier, and employee experience. In short, they're creating new and more innovative ways to engage.
To do this effectively, they must bring new technologies – like software-as-a-service applications, multi- and hybrid cloud, and the internet of things – together with the old for seamless experiences.
The question is: can your business successfully manage this integration?
Every experience begins with data
As you look to transform your business, you need data-driven insight to know where to invest and where to hold back. And so, organizations must integrate data from disparate sources – securely and at scale. It's why cloud application integration and connectivity are becoming C-level concerns. In fact, some CIOs are now described as 'chief integration officers'.
Unfortunately, data-driven insights aren't easy to create. In fact, according to recent research, only 8% of leaders have fully integrated analytics and artificial intelligence (AI) into business processes. But as cloud integration and connectivity become not just critical enablers of digital transformation but the key factors for success, leaders must take action.
What is API led connectivity?
An application programming interface, or API, is a software intermediary that allows two applications to talk to each other. A focus on API connectivity will help you manage integration and take a step toward creating better customer and employee experiences. With API led connectivity, you can forge connections between different data sources for the real-time insights your organization needs to deliver seamless experiences.
What is the advantage of API led connectivity?
APIs create a network of applications, data, and devices that are 'pluggable', providing the agility that the speed of today's digital transformation demands.
Here are some other ways that API led connectivity can help transform experiences:
Higher-quality data: API connectivity brings modern cloud and legacy applications together, making it possible for organizations to capture and process all important customer data – transactional or historical. In this way, APIs create a 360-degree view of the customer that businesses need to both understand – and transform – the customer experience
Seamless connections between technologies: Every company relies on various tech – from customer relationship management systems to commerce platforms – often a combination of legacy on-premises and new cloud technologies. Without API connectivity, these systems would operate in silos with little to no connection, resulting in lost, disconnected, and inconsistent data. APIs make it possible to connect these technologies, giving organizations the consolidated data they need to improve experiences for customers, suppliers, and employees
Faster implementation: Reacting quickly to changing marketplace conditions and evolving customer needs can make or break a business. When disruption strikes, it may not have time for a yearlong implementation. Thankfully, APIs can do the heavy lifting to make meaningful change possible at speed and scale
Improved business and employee agility: APIs don't just benefit customers – they help employees too. When an API led architecture is in place and applications are API enabled, technical teams can pivot and prioritize different business issues as they arise faster than ever. This flexibility takes root in the 'low code' or 'no code' development process associated with APIs. The innate reusability of APIs not only reduces duplicate work but considerably accelerates the time to launch
Next steps for API led connectivity
Remember, no organization should start from scratch. Reference architectures, design templates, and established implementation and delivery frameworks can speed up the process and deliver better business outcomes.
Then you can spend less time on integration, deployment, and maintenance and more time making memorable customer experiences.
Blog