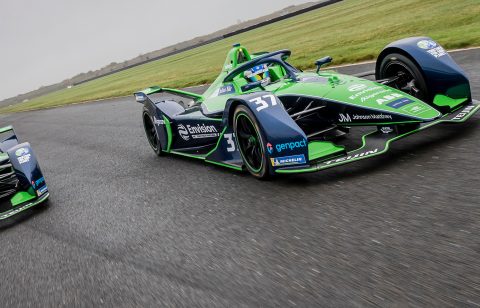 For top-class Formula E racing drivers, preparation is everything. Even in a typical season, there is little downtime. Every spare moment is spent on analysis, strategy, and training. The days spent in the simulator, on practice runs on the track, on previous seasons' contests, and in competitors' races hold priceless information that can influence decisions and determine who lifts the trophy. But only if teams can get their hands on these insights and act on them.
The volumes of data teams generate when practicing and during races are enormous. The challenge is to collect, aggregate, analyze, and extract the insights quickly enough to keep pace in this cutting-edge motorsport.
In season six, the need for speed increased dramatically. COVID-19 put the championship in neutral for five months. And when the competition returned, it came back in top gear with six races in just nine days on three tracks in one city: Berlin. With this aggressive schedule, teams had to be ready to pivot and prepare for the next race while the tires were still hot. Fortunately, the Genpact and Envision Racing partnership had not been idle while the season was on hold.
THE CHALLENGE
So many races, so little time
To prepare for each race and develop the optimal strategy, drivers and engineers must consider a range of facts and variables. Their plans must adapt as surface conditions and the weather change and rivals make their mark. That's why winning races and advancing to the top of the championship takes a keen combination of driver skill and data-driven decision-making.
In season five, Envision Racing and Genpact used advanced analytics to gain deep insights from the drivers' simulator runs and practice sessions, helping the team's drivers learn from each other and improve their plans and lap times. Taking that analysis further and providing more detailed visualization had always been a priority, but the condensed schedule made these insights even more important.
Facing six races in fewer than 10 days, the team knew it would have just days or hours instead of weeks between performances, making it harder to reach a keen understanding of a vast, complex data set.
THE SOLUTION
Augmented Race Intelligence: on-demand insight
Genpact's data-science capabilities and Envision Racing's motorsport mastery came together to meet this data challenge. The new platform, Augmented Race Intelligence, delivers faster access to insights between practice runs and races, supporting the demands of a frenzied championship.

From each Envision Racing driver's simulator runs or practice sessions in a Formula E car, the platform ingests data on, for example, vehicle speed, race distance, energy consumption, and use of attack mode.
With customized reports and visualizations tailored to each user's preferences, the platform provides easily consumable visuals to the drivers, who need quick, snappy insights, and greater granularity for the engineers, who dive into the details.
Previously, engineers would need several days to manually analyze all this data, and they struggled to gain deep insights. Now engineers can quickly run their analysis. Based on the results, they identify where a driver may be more efficient, faster, or have a more effective style at distinct points on the track. They discuss the approaches and differences with the drivers so they can add their perspectives and expertise and pinpoint the main learnings for the coming race.
THE IMPACT
Unlocking an instinctive-racing edge
By squeezing five months of races into fewer than ten days, enhanced analytics and insights become a crucial advantage. The Envision Racing and Genpact partnership gives the team more accurate insights across multiple data dimensions at speed.

Ahead of the final two races in Berlin's season-six finale, the platform highlighted an early turn where one of the team's drivers was using levels of energy similar to those of the other driver but had more speed. Later, on another turn, the platform's analysis found that one driver was over-consuming energy going into the corner with no gain in lap time. Both drivers went into the race with those insights in mind, a race that resulted in a second-place finish for Robin Frijns.
The engineers can now keep updating the data for further insights. The drivers also look for the analysis to see how they can gain an additional edge.
Now that it's faster for the team to compare driving styles and performance, drivers can quickly learn from each other's strengths ahead of a race. Compact, tailored reports accelerate the transition from insight to action. With more double-header races in season seven coming up, these advantages will be essential. The team can now develop more robust strategies for energy consumption, attack mode, and overtakes as they hunt down podium finishes and a championship win.
Learn more about how we're creating the world's first instinctive racing team.

Read on to see how the technology behind Augmented Race Intelligence can enhance your business
From the racetrack to the boardroom
Banking and capital markets
How to identify customers' propensity to borrow
A commercial lender's sales funnel can be extremely inefficient – typically only 2–3% of prospects convert. Using advanced analytics, we help financial institutions quantify the extent to which a prospect may feel inclined to take out a commercial loan to help match the right product to the borrower's needs.
By adopting a data and analytics-based sales-qualification process, firms can increase the quantity and quality of their pipeline.
Insurance
Collections analytics to spot invoices at risk of delinquency
Like all companies, insurers must reduce the volume of overdue invoices and improve their collection channels.
Using natural language understanding, insurance firms can analyze structured and unstructured data, including incoming transactions, payment-behavior patterns, customer profiles, and email and text communications.
And by embedding machine-learning algorithms in collections workflows, finance teams can prioritize invoices that are at the highest risk of not being paid on time and create more effective contact strategies.
This approach has reduced the volume of invoices that are most overdue – those more than 60 days late – by up to 30%, and increased cash flow by 30%.
Healthcare
Refocusing analytics to understand demand
A healthcare company acted quickly in response to COVID-19 by refocusing its commercial analytics team to identify where demand for personal protective equipment would spike in the US.
By analyzing data from many sources, it could make fast changes to its supply chain. It was so accurate that the company had already identified a high-demand region a day before the Federal Emergency Management Agency requested help, which meant that it was ready to act.
Manufacturing
Managing supply chain risk with better insights
When a supplier fulfills an order late, the knock-on effects can put a manufacturer's customer satisfaction at risk.
By analyzing suppliers' production data, Genpact helps manufacturers see exactly whether there are product delays so they can adjust all processes and avoid waiting times.
Greater visibility into supplier quality levels and performance metrics give manufacturers clear visibility of their supplier portfolios, which helps during contract negotiations too. It also improves fulfillment timeliness and increases customer satisfaction.
Consumer goods and retail
Connecting the business to analyze demand
A global consumer packaged goods business had to realign and monitor its manufacturing plans when COVID-19 hit as consumer-demand patterns changed dramatically.
With very few people traveling, sales of chocolate dropped at airports, but demand for products at grocery stores spiked. By using advanced analytics and a connected-planning approach, the business could pivot its organization, supply chain, and channels to adapt with demand volatility.
Finance and accounting
A single view of finance performance data to guide decision-making
We worked with a consumer goods company to improve management decision-making. We embedded an enterprise-performance analytics portal to connect performance data and provide a real-time, detailed view of its finance operations.
By integrating all functional data and insights from its ERP and systems for order to cash, procure-to-pay, and record to report into a single portal, it could identify process flaws, monitor trends, and resolve performance issues. As a result, the management team could quickly collaborate and make more informed decisions.