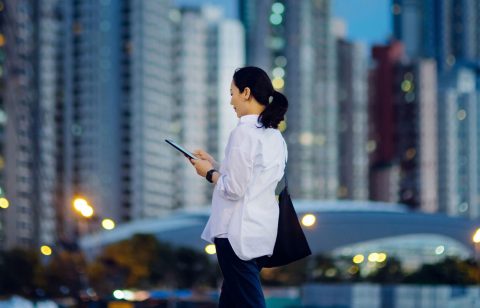 In January, the impact of the COVID-19 pandemic was felt across the globe. Yet for many enterprises, the global crisis has also been a catalyst for innovation.
Working with leading enterprises, I've seen an acceleration of digital transformation in the past 10 months. Business leaders around the world are leveraging data, analytical insights, artificial intelligence (AI), and the cloud to adapt and thrive in the new normal.
It's clear we've reached a level of digitization we didn't expect to see until 2030 – that's 10 years of transformation in just 10 months.
Recently, I sat down with digital and analytics leaders to learn how their enterprises are navigating digital transformation. Though these leaders represented a wide range of industries – including consumer goods, healthcare, and technology to name a few – we found similarities between our experiences. Here are five key takeaways from our discussion.
1. A robust data foundation is essential
The ability to unlock insights from real-time data has become a top priority for enterprise leaders. They're seeing how AI and predictive analytics can help them adapt to rapidly changing conditions. In addition, they're stress testing operations to prevent possible disruptions from impacting business continuity.
However, some of this information is hidden away as unstructured data in everyday documents, emails, and transactions. If enterprises can light up this dark data, they'll uncover a treasure trove of actionable insights.
2. Innovation today is an investment in tomorrow
The pandemic has been particularly disruptive for enterprises that have needed to create new digital channels to reach and engage customers – think brick-and-mortar retailers shifting to digital commerce, or healthcare providers increasing their telehealth services. Though this shift was born out of necessity, today's innovation will also reveal new opportunities and revenue streams for long-term, sustainable growth.
3. The remote workforce needs security and empowerment
Business processes and infrastructures need to be reimagined to keep distributed teams connected and productive in the virtual world of work. Enterprises are adopting digital tools for remote collaboration and migrating on-premises systems to the cloud to enable people to work effectively and safely from home.
The shift toward remote work has made security a top business priority. We're seeing enterprises invest in a range of cybersecurity technologies to protect their applications, data, and employees from existing and emerging cybersecurity threats.
4. Bilingual talent has never been more important
For many enterprises, the rise of remote work has broadened the geographical reach of the talent pool. However, some are struggling to find people who understand both technology and how to apply it effectively within a business context.

Such 'bilinguals' are essential to successful digital transformation. They know business. They know technology. And they can connect the two areas to solve critical business problems. If you can't find this talent externally, you will need to upskill existing employees internally.
5. Avoid a piecemeal approach
When digital transformation fails to deliver expected results, it's often because business leaders tried to digitize their enterprise in siloed increments. In truth, success requires a holistic approach.
That's why this new surge of digital transformation resulting from the pandemic has been truly innovative. Business leaders are now initiating projects in which people, processes, data, and technology align from day one and focus on the end goal.
Looking to the future
We wrapped up our discussion by sharing priorities for the coming year. And it appears we're all on the same page.
Every enterprise needs to dig deeper into cloud services, AI, machine learning, and intelligent automation to unlock new heights of productivity. In addition, a continued focus on data as the foundation of digital transformation will enable enterprises to develop more robust predictive analytics to prepare for whatever the future holds.
A final question
COVID-19 has caused disruption for every business in 2020, but it's inspiring to see how leaders have turned this challenge into an opportunity to make unprecedented strides and accelerate digital transformation.
However, I can't help but wonder – as the world recovers, can we keep up the momentum? Now is the time to make the commitment.
The choices you make today will shape tomorrow. Discover more insights into how Genpact is helping enterprises build resilience.
Blog