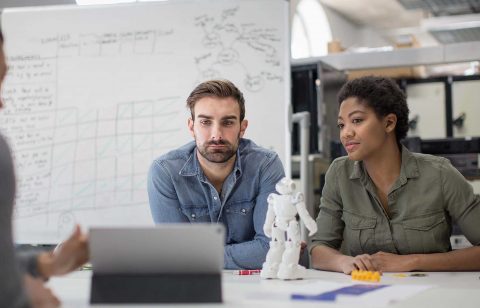 For the past few years, data analytics teams have been laser-focused on delivering business insights. And in many cases, technology leaders had seemingly unlimited funds to make it happen. As we enter 2023, demand for digital transformation will remain high, but budgets will stay flat. In turn, enterprise leaders will need to reimagine their digital transformation strategy.
But rather than stifling the growth of analytics, these constraints can spur innovation, especially as senior executives and their teams chart the course with limited resources.
Against this backdrop, I outline my predictions for the new year, sharing advice and tips on how to thrive in the face of uncertainty.
1. The algorithmic enterprise is coming
When algorithms make at least 50% of process decisions in an enterprise, that organization has essentially become an algorithmic enterprise. Until recently, this was a far-fetched dream. In 2023, however, this trend will accelerate.
Far from replacing people, algorithmic enterprises will lead to more jobs in industries undergoing drastic shifts in digital transformation, such as banking, insurance, healthcare, supply chain, and transportation, to name a few.
As machines take over manual, repetitive tasks, employees will focus on more meaningful work, the type that people enjoy most. But getting there will prove challenging.
First, technology leaders must identify the highest-value problems and align algorithms with their company's mission. Second, algorithms for decision-making must serve as a means to the end of business value, not a frivolous task.
Additionally, transitioning to an algorithmic enterprise presents unique roadblocks for employees. To address these obstacles, leaders must upskill workers in data science techniques and increase data literacy – two key elements of an enterprise change management process.
2. Building trust in data and AI takes priority
For artificial intelligence (AI) and machine learning solutions to achieve scale, companies need to collect more data than ever. But many organizations are still stuck in data silos, lacking proper governance and quality control frameworks. As a result, they struggle to manage, access, and – most importantly – trust their data.
Worse still, if employees and customers don't have faith in the health of the underlying data they need, analytics efforts go to waste, and the customer experience takes a hit.
As a result – though it has always been a concern – increasing trust in data will become a priority in 2023.
Remember, data is the fuel that powers technologies such as AI and machine learning. But successfully laying the foundation for data management, delivery, and governance – the building blocks for developing high-quality, reliable data AI and machine learning algorithms – is not easy.
By building a data foundation early on, enterprise leaders can maximize returns on their AI investments and avoid the headaches that arise without having a sound data management strategy.
For those organizations looking to bolster trust in AI and get ahead of government regulations, we've developed a framework for sustainable innovation.
3. Think outside the box to meet business demands
With limited resources available to them, both in terms of personnel and capital, enterprise leaders must adjust their approach to analytics to do more with less.
Analytics teams that used to have 50 people might now have 40. But the workload has stayed the same. To adapt, leaders must build cultures of ingenuity, in which technology empowers people to become more productive, collaborate, create, and innovate.
In doing so, leaders will free up their teams to focus on higher-value work while leaving the rest to automation.
Similarly, enterprise leaders must identify and prioritize the analytics investments that could drive the most value for the business. If 20% of these initiatives capture 80% of the business value, then 2023 is the year to put the pedal to the metal on that 20%.
Finally, as companies rethink talent models, it will change how people work for the better. But change is hard. To prepare employees for the analytics revolution, senior leaders must prioritize change management and data literacy programs. And ultimately determine which positions require in-house talent and which are better fulfilled by outside partners with expertise in digital transformation.
Embracing change in 2023
We're entering the era of the algorithmic enterprise, grappling with an economic downturn, and facing increased regulation and a slew of other issues. With so many uncertainties, one thing is clear for 2023: the need for technology leaders to do more with less.
To thrive in this new environment, analytics leaders can't rely on old answers for new problems. Instead, they need to think creatively about how to embrace these constraints and spur innovation. If they do, they will drive growth and lead the way forward no matter what 2023 brings.
Blog