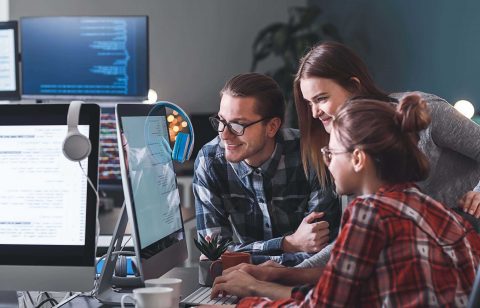 What is shadow IT?
Shadow IT is the creation, deployment, and use of IT systems without the knowledge, approval, or governance of corporate IT teams. And it creates risks for the entire organization.
So, why do people use shadow IT? Though employees may not mean to create problems, a desire to pick and choose which enterprise applications they use can drive them toward shadow IT.
What is the risk of shadow IT?
Shadow IT is a phrase that sends shivers down the spine of many CIOs. Let's look at some of the most common shadow IT problems:
Compliance: There are many regulations, standards, and laws that govern the data businesses use. Especially in more highly regulated industries like financial services. Employees are often unaware of the breadth and depth of these regulations, but if they're not followed, the penalties can be extreme
Data loss: The more people create their own IT systems, the more your business gets exposed to possible data loss. There are many shadow IT data loss examples, but let's look at software-as-a-service deployment. An employee may set up an application using a personal account – but what happens when they leave the company? For on-premise – and even some cloud solutions – many shadow IT projects haven't considered backups and recovery processes
Security: The lack of visibility, access, and control IT teams have over shadow IT projects is a real concern – especially regarding security. Shadow IT opens many avenues for hackers to access or use the shadow IT system as a jumping-off point to the rest of the network. Network and vulnerability scanning is essential but just doesn't happen if IT is unaware of the system's existence
What can your business do about shadow IT?
Your organization may attempt to eliminate shadow IT – but these attempts are often futile. Employees need to get things done and will use the tools they want to use to get there.
So, instead, what if we embraced shadow IT – but with the right controls in place?
Overseeing your citizen developers
Enterprise application development platforms, like the Microsoft Power Platform, can shed light on shadow IT. They oversee citizen developers – in other words, an employee that creates apps for themselves or others to use but with permission from IT.
As an example, here's what the Microsoft Power Platform offers employees:
Power BI: Access to self-service analytics but with control over sensitive data

Power Apps: Templates to speed up the app development process while connecting to existing systems and data

Power Pages: A way to create rich and interactive business websites quickly

Power Automate: A solution to automate business processes connected to Microsoft Azure – a cloud computing service – or other existing systems and data

Power Virtual Agents: A tool for creating AI-powered chatbots
To make things even easier for your citizen developers, these platforms follow a low-code approach, meaning they require little to no coding to build applications and processes.
Don't go it alone
Even with an enterprise application development platform, visibility can still be tricky. IT teams must prove they can answer these questions: how many apps are there? What data is in these apps? Who has access to these apps?
Here's where an experienced partner that understands the needs of both your industry and your business can help. And they should start by developing a center of excellence (CoE) for enterprise application services.
The CoE can provide best practices, insights, and advice to your citizen developers – and provide some governance. The goal is not to slow or stop enterprise application development. Instead, the CoE delivers standardization by identifying existing assets and managing the application pipeline.
Continuously improving the CoE model allows the organization – and its citizen developers – to get the most out of their applications today, tomorrow, and into the future.
Put power in the hands of your people
Though shadow IT can cause headaches, don't be afraid of your citizen developers. Remember, you can't eliminate shadow IT. Instead, embrace it with the proper tools, such as Power Platform.
When your IT teams spend less time trying to control rogue employees and more time on strategic projects – trust me – they'll thank you for it.