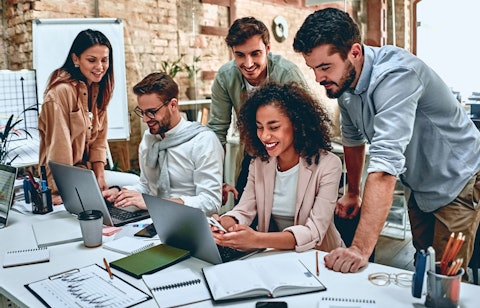 Every corporate employee knows process pain; those moments you find yourself saying, "How have we made something so simple so difficult?" Whether ordering a new laptop, trying to find your pay stub, or bringing a new supplier on board, these experiences can be needlessly frustrating.
It's because employees in every function – across IT, HR, and procurement, to name a few – are trying to do good work with bad systems. They're grappling with manual processes, fragmented workflows, and a lack of standardization. And for the business, this means limited visibility and disparate data unable to support strategic decisions.
So, what can you do?
Behind every great experience is a great workflow
Around the world, enterprises are turning to ServiceNow for smoother experiences. Known for its origins in IT process management, ServiceNow has become one of the leading workflow automation and orchestration solutions for global enterprises.
At Genpact, we follow an outsource and transform strategy. We blend business, industry, and technology expertise to empower enterprises to make the most of ServiceNow. In this blog, I share some tips and ServiceNow success stories.
Getting started
Here are three of my ServiceNow best practices that apply to most use cases:
Think big, start small: It's hard to find a workflow that ServiceNow can't improve, so get ambitious with your transformation roadmap. At the same time, break the journey into small, achievable steps. Start by building the minimum viable product to see results and gain buy-in. Then, scale from there.
Don't rip and replace: Think of ServiceNow as a complement to your current technology investments rather than a replacement. Ripping and replacing existing systems will complicate the process and drive up costs. Instead, look for integration opportunities that can enhance ServiceNow.
Go modular: ServiceNow's capabilities are staggering, but you don't have to introduce all the elements simultaneously. Start with a procurement transformation, and once you've built employee trust and confidence, present new solutions piece by piece. As you go, unify your architecture so it's easy to make updates and avoid incurring technical debt.
What does it look like to put these tips into practice? Here are two of my favorite success stories:
Reimaging procurement in healthcare
Field technicians at a leading medical technology provider were responsible for ordering new parts while visiting hospitals across 140 countries. Procurement was critical and complex.
The technicians used a call center to connect with procurement agents in the back office. These agents were dealing with highly manual processes, a lack of visibility, and an inability to scale. Technicians could wait weeks for replacement parts, leading to dissatisfied customers and extra pressure on procurement and suppliers.
Genpact came in to deploy procurement-as-a-service solutions built on ServiceNow. The end product was an online, self-service experience like Amazon, integrated with the company's ERP.
Once we launched the solution, procurement didn't have to manage the process, but they did get complete visibility and control of a process that was 70% faster than before. What some might have seen as an isolated technology project, we saw as an opportunity for holistic business transformation leading to greater satisfaction for technicians, procurement teams, suppliers, and the end customer.
Creating a unified helpdesk for retail and banking
This transformation happened at a global retailer, which we replicated for a global bank. In short, employees struggled to get company questions answered as both businesses had different systems for IT, HR, and finance processes. This fragmented approach led to high maintenance and training costs.
Using ServiceNow, we created a unified helpdesk solution – a one-stop shop for every employee inquiry. Integrated with customer relationship management and ERP systems, the helpdesks are centrally standardized but regionally tailored in each country's native language.
Now, employees across the world can get an immediate answer to whatever question they have. We've reduced the query turnaround time by nearly 50%, maintenance and training costs have dropped dramatically, and core business departments can focus on higher-value work.
Start your journey
ServiceNow workflow automation can turn irritating experiences into seamless, self-serve processes.
Whether you want to make the most of your ServiceNow investment or are just exploring the solution, we can help. Whatever industry you're in, whatever business unit you're trying to transform, there's never been a better time to get started.
Blog