The semiconductor chip shortage has highlighted fundamental flaws in the supply chain. But a structured, sprint approach to transformation can deliver quick wins so the whole value chain can take advantage of growth opportunities.
Latest trends in the semiconductor industry
The internet of things, cloud-based models, artificial intelligence, and big data are converging to fundamentally change business as we know it. And as reliance on semiconductors grows in all aspects of our lives, the industry is under tremendous pressure to keep pace with the speed of change. The semiconductor industry is on a run rate to achieve revenue growth in four years equal to that of the first 40 years of the industry. The demand for semiconductors, and the products and services they create, will only increase, permeating every facet of life.
Today, almost every corner of the semiconductor industry is experiencing huge growth pains, and what it assumed were aligning, functional supply chains are now showing cracks and deep fractures. And the daily impact of risk, perhaps the most profound industry shift, is being felt from the docks to the C-suite.
New industry dynamics within the semiconductor value chain have also emerged. Legacy players are re-evaluating their roles and exploring new models and opportunities. Foundries are working directly with consumer electronics firms, fabless models are moving inside traditional integrated device manufacturers, and original design manufacturers and channel partners are expanding into new areas. The well-established chip design houses and fabless semiconductor entities such as Google, Amazon Web Services, Tesla, and Cisco are great examples of these new industry models.
New challenges facing the semiconductor industry
The need to tackle these issues and build overall business resilience is soaking up both resources and leaders' attention. To boost business velocity and keep up with demand, the industry needs to fundamentally rethink how functions and processes should run and how technology powers business. There are four main challenges to overcome.
Breaking down silos for enterprise-wide thinking: Breaking down business silos is essential to respond to these changing market dynamics with speed and agility. But adopting enterprise-wide thinking means organizations need to leverage data-driven analytics and decision support processes and tools to help them maximize revenue and margins. John Waite, global supply chain vice president at Genpact, highlights one example. "We helped a client implement advanced planning systems to assess new aspects of risk. Now, it has visibility into all sources of supply, as well as alternatives. It can run scenarios on actual and estimated risks and plan how it would shift sourcing strategies and other actions in the short term as well as strategically." The client can now assess risk across literally hundreds of external partners, emerging geopolitical issues of impact, labor challenges, and more – with the analytical tools to assess scenarios and drive mitigation actions.
Integrating legacy systems and data: With new markets opening all the time and capital expenditure deployment creating massive opportunities, companies in the semiconductor industry are scaling organically, as well as through mergers and acquisitions. With growth, especially inorganic growth, organizational processes, systems, and data –mainly around supply chain, finance, and sales operations – need to realign. Though there's been an endless stream of integration activities, technology investments have failed to integrate legacy landscapes. The residual problem around master data is causing serious challenges in planning, manufacturing, procurement, and fulfillment. The marriage of front-end fabrication and chip design operations is now completed with back-end assembly and testing. Advanced technologies and solutions needed for the marketplace are driving complex chip-package interactions and demanding firms better allocate resources and integrate planning and data. This is further complicated by decades of outsourced models that lack cross-company integration or have gaps in their control towers.
Building supplier integration and visibility: Given the interdependence of the semiconductor industry, many businesses rely on other companies in the ecosystem to execute their networks and supply chains. But this has caused major problems around core supplier integration and visibility, and in some cases, it has led to catastrophic events. Some companies are literally waiting to see what shows up on their docks to figure out what they can build.
Mitigating risks: The semiconductor industry faces multiple risks including geopolitical, natural disasters, labor challenges, intellectual property restrictions, environmental mandates, and an increasingly interdependent (but often hidden) ecosystem. As such, firms are modernizing their traditional planning processes to evaluate risk scenarios more accurately. But they're finding they have insufficient data, analytics, and talent to rapidly assess, react to, and mitigate these risks before they hit the business.
How Genpact can help: A supply chain framework to accelerate business velocity
Genpact's enabling transformation alignment (ETA) blueprint methodology rapidly assesses market opportunities and strategic objectives based on your company's current state. It finds the people, processes, technology, and data gaps that are blocking desired outcomes and, in a matter of weeks, recommends an operating model that will bring wins and business impact through short sprints of change. This rapid yet thorough assessment allows clients to quickly start sprints for quick positive impacts while moving toward an overall target operating model for the firm.
This is the six-step proprietary methodology we've deployed for over 70 global clients:

Project alignment: We start by collecting and analyzing existing data, assessing the processes, technology, data, and organization as it stands. Then we align stakeholders and communicate goals to create a detailed project plan and mobilization activities.
Assessing vision and current state: This evaluates how vision, strategy, and business case ambition all align, as well as the capabilities required to achieve the future vision. Design principles get defined for the target operating model and regional archetypes to segment the operating model identified.
Process design: We define the process enablers required for new capabilities, develop processes to support customer-centric thinking, document collaboration points and functional handoffs, and define master data management process cadence with planning cycles.
Digital architecture: Next, we assess the current technology landscape, define the technology required for new capabilities, and develop a high-level technology and data architecture based on archetypes.
Organizational design: We define the organizational enablers required for new capabilities, conduct location analysis, define the organizational model, develop user journeys across processes, and identify the skills and capabilities needed to operate the new model.
Define the roadmap: Finally, we design an implementation roadmap, define the resource requirements for implementation, architect the transformation program and governance, estimate the benefits and cost of implementation, and build business case scenarios.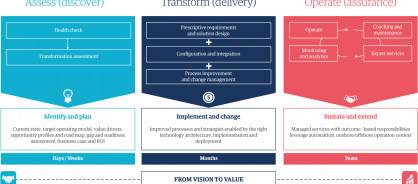 Business leaders understand their supply chain challenges but often struggle to recognize which specific actions will drive meaningful outcomes using limited resources. This structured methodology delivers a fact-based operating model design. It aligns with a firm's most important strategic and operational objectives and sets milestones to ensure it delivers value.
A disciplined sprint methodology allows for quick pivots to respond to market changes, competitor actions, or risk mitigation requirements. And it enables every point in the organization to align and prioritize what's most important. Leaders have countless concerns, but a nimble, structured approach drives meaningful and aligned outcomes.
The framework in action: Integrated business planning
A large semiconductor company was struggling with demand forecasting. Sales had limited input into manufacturing decisions and limited feedback on supply availability. It wanted tighter integration between sales and operations.
By using intelligent applications of advanced planning systems, forecast analytics, and machine learning to orchestrate forecasting, the company improved forecast accuracy by 13%, moved over half its product portfolio to no-touch forecasting, and cut millions of dollars in inventory.
Building the talent to embrace the future of the semiconductor industry
"The biggest issue facing our clients in the semiconductor industry is that their teams are too busy and their experts are consumed with running the business,'' says Waite. "They need to be able to augment their staff and create space to be able to step away from their daily activities, design a new way of doing business, and capitalize on growth opportunities."
Companies should look for partners who are experts in the semiconductor industry and can offer skilled managed service and analytics teams to relieve them of business-as-usual tasks and free their experts to take part in revolutionizing their firm's capabilities.
The extraordinary change and growth the semiconductor industry is experiencing aren't going to slow down any time soon, but innovative solutions and partnerships will help companies scale at speed to capture the opportunities on offer.
Point of view