With a pandemic, global conflict, and record rates of inflation, we know enterprises are struggling. But those that make data-driven decisions – powered by a robust data analytics and cloud strategy – are in the best position to weather any storm.
Unfortunately, only 21% of executives use data to consistently inform decisions. And only 9% describe their cloud migrations as complete. That's according to new research – based on a survey of 200 analytics and cloud leaders – from Corinium Global Intelligence.
In fact, only 8% are leading the way by fulling integrating data and advanced analytics into their business processes. So, who are these leaders?
Introducing analytics innovators
The study identifies four levels of data-driven maturity: analytics innovators, advanced adopters, partial adopters, and data beginners (figure 1). Analytics innovators find it easier to generate insights at speed, gain executive support for data and analytics initiatives, and deliver better employee and customer experiences.
But worryingly, most respondents are some way off innovator status. In fact, over half are data beginners or partial adopters, meaning they're still in the earliest stages of data and analytics integration.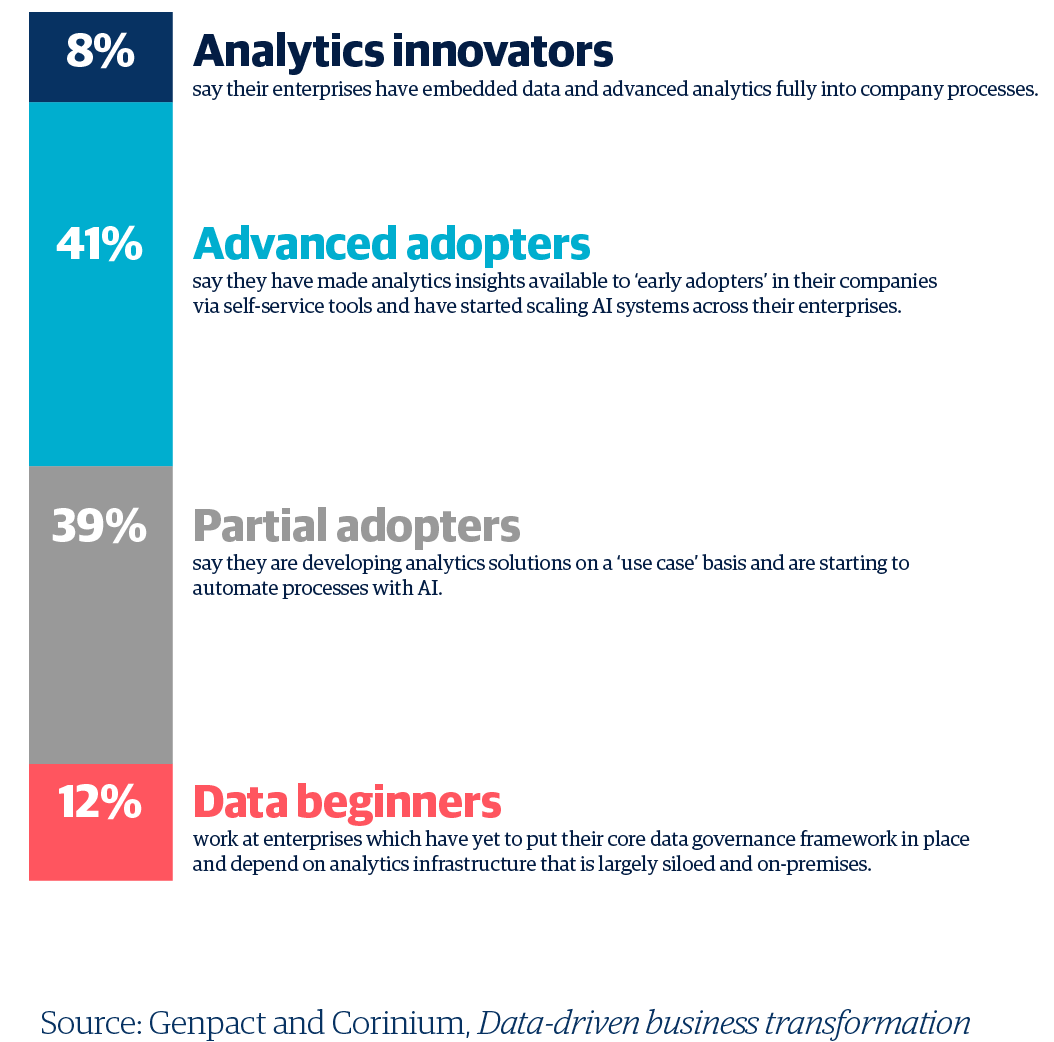 Of course, everyone wants to reach the top of the class. That's we've also explored what makes these analytics innovators stand out from the crowd:
1. They connect business and technology
Analytics isn't just an IT concern. It's a business concern.
Creating a data-driven enterprise calls for close collaboration between business and technology leaders. However, 78% of survey respondents find it challenging to get executive support for data-driven innovation and business transformation. It seems that many business executives either aren't understanding the value of data, or they need support to access the invaluable insights at their fingertips.
In the most innovative organizations, data, analytics, and cloud leaders work in harmony with business leaders. They democratize data to empower every employee to make the right decision at the right time with the right data.
And they speak each other's language. Every technology strategy is closely aligned to the needs of a specific business unit or the enterprise as a whole.

2. They focus on culture
Across all respondents, the number-one investment priority is building a data-driven culture within their enterprise.
And for good reason – culture can make or break technology strategy. Employees must understand and embrace cloud-enabled analytics. If they don't, enterprises will never be truly data-driven. Perhaps that's why 94% of respondents say they want their data architecture to become 100% cloud-based. However, just 9% of respondents say their cloud migrations are complete.
To accelerate the pace of technological change, analytics innovators are creating a culture in which data, analytics, and cloud are everyone's priority. As we say in the report, "The biggest problem is not the tech. The biggest problem is changing the culture."
3. They develop trusted and accessible data
Analytics innovators are twice as likely as data beginners to say their master data management program provides a single source of trusted data.
So, when you have this data, how do you make sure it's used?
Focusing on data literacy – from the interns to the CEO – is the only way data will turn into actionable insight across an enterprise. It's why 38% of analytics innovators are investing in establishing master datasets for business-critical functions to empower employees, compared to just 29% of data beginners and 17% of partial adopters.
The end goal is to integrate data from across business units and make it more manageable, accessible, and actionable. With comprehensive data governance and literacy policies in place, employees make decisions safe in the knowledge they can trust the story the data is telling.
Become a data-driven enterprise
Analytics innovators are leading truly data-driven enterprises. They've moved their analytics strategies from experimentation to scale, they've made the shift from migration to modernization with the cloud, and – most importantly – they're ready to not only survive but thrive.

Want to benchmark your business? Read the report