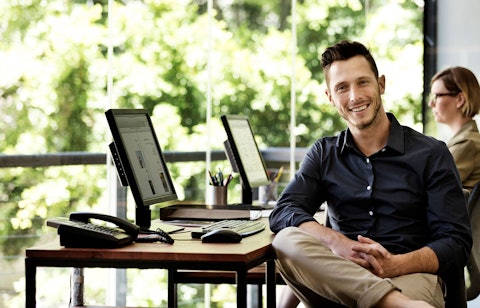 Three generative AI use cases for CFOs
In the first of our two-part series on generative AI in finance and accounting (F&A), we explored why CFOs are adopting the technology, how it enhances existing digital ecosystems, and the factors that determine how best to use large language models (LLMs) to enhance business processes.
Here, we dive deeper into three prominent use cases for generative AI in finance.
At Genpact, we envision that the future of finance will be defined by 00001:
Zero-touch processing

Zero exceptions

Zero time to close

Zero time to insight

One holistic experience
Generative AI is a key element in helping organizations achieve 00001. Based on our analysis, F&A operations will benefit from a 15%–25% improvement in productivity over the coming two to three years. But the broader impact goes beyond productivity. By pursuing system change and not just point solutions, CFOs will realize digital transformation and much more depending on the processes they select and the company's data maturity.
Let's explore three prominent use cases in detail:
1. Empowering the helpdesk with generative AI
Finance teams have used chatbots for several years with varying degrees of impact. Now, with ChatGPT and its ability to engage in human-like conversations based on the prompts it receives, conversational AI capabilities have improved significantly. Any business process or interaction that primarily involves responding to a query based on a body of knowledge can gain hugely from LLMs.
For finance, that means accounts payable, accounts receivable, payroll, and procurement are at the forefront of benefiting from generative AI to deliver a more efficient, engaging, and empathetic helpdesk experience.
Customer-service processes rank right at the top for finance, where an LLM-enabled custom-trained bot can respond to queries from internal customers and external suppliers. Teams can then reserve human intervention for the more complex or context-driven queries.
Figure 1: The level of impact generative AI can have on helpdesks
For most of our clients, more than 50% of their vendor helpdesk queries are related to the payment status of suppliers' invoices that require specific payment and invoice details. To carry out this task, an LLM can be trained on a company's first-party data and business processes. To generate accurate output, a company's systems should be integrated so that the LLM, ERP, workflows, and front-end helpdesk solutions can work together. Gen AI-powered helpdesks can be set up for many types of queries to improve not only productivity but also the user experience.

When the LLM receives a query, it will follow these steps:
Understand the nature of the query using natural language processing (NLP) for text classification

Identify the vendor from the company's master data records

Retrieve vendor-specific payment details based on the company's current records from its operational data

Enable personalized text conversation based on the vendor's history, behavior, tone of query, and more. The LLM can either prepare a response with its content-generation capabilities or forward the query to a human expert to resolve
Figure 2: A supplier using a generative AI-powered AP helpdesk
Generative AI technology continuously learns and can enhance data analysis. It will refine its responses, working out how suppliers and customers talk, their preferred styles of interaction, and what issues should take priority – eventually creating deeper supplier loyalty and more fruitful vendor negotiations.
2. Journal entries: Classification, validation, and preparation
By their nature, generative models are adept at various NLP tasks, including text classification that involves assigning one or more categories to a given piece of text. In many business processes, these classification capabilities can validate inputs against defined rules and detect language, intent, toxicity, emotion, and spam.
Take the example of a typical journal entry template that contains chart-of-accounts codes, narration, and approver details. Rather than use generative AI's ability to create text conversations, text classification offers the biggest benefit by determining whether the input fields meet the predetermined rules.
Figure 3: The level of impact generative AI can have on journal entries
LLMs can also read large amounts of text and synthesize data to provide contextual responses. This is hugely valuable for processes that require finance teams to read contractual documents for information on terms and conditions, for example. They can also recommend accounting practices when working on royalties, leases, revenues, and commissions. The LLMs draw on country-specific data they have been trained on, accounting standards, and statutory requirements. This use case can make individual or bulk journal entries easier to manage and expedite the month-end close.

Using their content-generation capabilities, LLMs can prepare accounting entries and submit them to an ERP in the right format using APIs.
3. Generating concise commentaries and actionable insights
Businesses hold data in many systems and in many formats. The challenge is accessing, aggregating, and converting it to get useful insights and turn them into real-world outcomes at speed.
Just as generative AI has the potential to take on information retrieval tasks, it is equally valuable in the curation and contextualization of its output, depending on the prompt. Many tasks within a business process require finance teams to regularly run structured and unstructured queries on disparate data sources. Generative AI's search capabilities can help in the data-collation stage by creating a layer of automation. To date, attempts to achieve this have not been hugely effective.
One of the fundamental goals in financial planning and analysis (FP&A) is to enhance business partnerships. This requires effective collaboration across and within departments on the company's performance.
Figure 4: The level of impact generative AI can have on gathering and cleaning data and reporting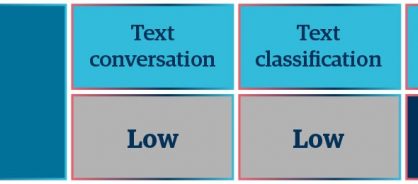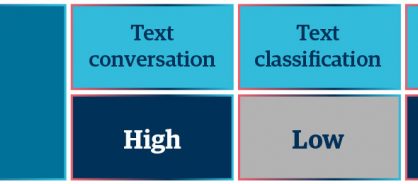 Generative AI can help here too. Through its ability to create intelligent, human-like responses, the technology can write commentary for management and/or external reporting. LLMs can make the entire FP&A process more proactive, unlocking real-time answers rather than offering a retroactive repository of charts and diagrams.

Generative AI will embed automation deep into these tasks while also offering information search, text classification, and text conversation in the different phases of the reporting activities.
Generative AI can automate the reporting process by:
Using monthly, quarterly, and annual reports on budget vs. actuals and cash flow statements

Applying its information search capability to interpret multiple reports at a time and synthesize data to generate trend or variance analysis

Adding commentary on the insights generated, for example, the reasons for variance in the data or business context for an increase or decrease in revenue

Becoming a personalized assistant to help with decision-making as it understands the kinds of queries users make, creating a more personalized experience with ad hoc analysis, insights, and commentary
A peek into the future
With generative AI solutions, business leaders will have immense opportunities to increase process automation, enhance user experiences, uncover insights from their data, and work more efficiently – all while making processes more reliable, accurate, and trustworthy.
With generative AI, we believe that the future holds great promise through:
The democratization of low-cost programming, which will force a major shift in the adoption of AI across businesses, including finance

Realizing companies' automation goals, enabling entire ecosystems to come together to create end-to-end digitization. CXOs should look for partners to help them evaluate, deploy, and maintain their generative AI capabilities

Integrating AI into all digital technology – rather than AI and digital systems working separately – to create intelligent automation stacks that deliver finance outcomes

The software industry addressing the data challenges that will make generative AI succeed
But for finance teams and other CXO functions to benefit from this future, they must partner well, building trust, maintaining relationships, and communicating effectively.
And businesses should not lose sight of the fact that generative AI is but another digital tool and part of a company's digital toolkit. Enterprises need to evaluate whether the business problem they face is best solved by an existing digital solution or if generative AI can work in tandem with other technologies to address the challenge.
Turning use cases into impact
Generative AI is poised to transform the finance and accounting landscape. CFOs have immense opportunities to increase process automation, enhance user experiences, uncover insights from their data, and work more efficiently as they make processes more reliable, accurate, and trustworthy.
While there are many ways to use generative AI in F&A, starting with a focus on helpdesks, journal entries, and commentary generation will deliver the biggest benefits and lay the foundations for a more agile, future-ready function.
Transform your accounts payable helpdesk with generative AI
Genpact's revolutionary generative AI-powered AP helpdesk solution empowers accounts payable teams to deliver supercharged supplier satisfaction.
Point of view