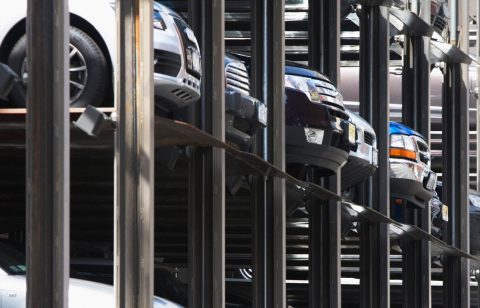 A successful future for auto finance depends, in large part, on resolving the tension between innovation and governance.
Innovation is the path forward for the industry, and there are plenty of opportunities for it. For example, auto lenders can:
Make it easier for consumers to purchase cars by personalizing their buying journeys from start to finish.
Develop and provide new experiences for consumers through service, charging, and entertainment packages. For example, Tesla brought Netflix, Hulu, and YouTube streaming to its cars.
Make the most of the sensory technology that car manufacturers now pack into vehicles. Today's vehicles collect wide range of sensor data - such as road conditions, tire pressure, traffic conditions, and usage patterns, which is ripe for monetization by members of the auto ecosystem.
With all these opportunities to innovate, the industry should be able to effectively navigate the current crisis and emerge stronger on the other side of it. But emphasis on governance, regulation, policies, internal controls, and risk management threatens to stifle the innovation and creativity the sector needs to break out of traditional models and escape from falling car sales.
So how can auto lenders unlock innovation without exposing the business to undue risk? The answer: by evolving into a data-driven business.

Update your metrics
The first step to evolving into a data-driven business is to update your metrics. After all, the right key performance indicators (KPIs) are crucial to data-driven decision making. And making effective, data-driven decisions is key to achieving overall business strategy.
Traditional KPIs, such as return on investment, will always be important. But auto lenders also need new targets that reflect how they really expect to deliver to their customers, and that genuinely support execution on the way to achieving strategy.
So instead of (for example) raw sales targets, KPIs should focus on the industry's new reality - things like maximizing the longevity of customer relationships, or making the most of appropriate opportunities to intervene when consumer lifestyles change and throughout the life cycle of customer contact.
Deliver the right data at the right time
The next step to becoming a data-driven business is to deliver the right data at the right time.
Especially as more and more enterprises move toward process automation, auto financiers must focus on the processes that consume data and the processes that provide data for decision making. It's futile to implement robotic process automation solutions supported by artificial intelligence (AI) if the data going into these systems is, for example, outdated, too aggregated, or too granular. Whether a human or a bot is making the decisions, providing the right data at the right time is key.
'Treat your data as an asset' may sound old fashioned, but it's still true. Those companies that do the best job of resolving the tension between innovation and governance have a chief data officer (CDO) and function to manage this asset. The CDO serves as a gatekeeper - not just to stop data but to enable the delivery of data - parceling it out to the areas of the business that need it, when they need it.
Organize around multi-disciplinary teams and use cases
The CDO must also drive the organization's culture. Gone is the old, silo-based model of data management - with its focus on large numbers of data scientists. Today, multi-disciplinary teams from across the business must come together with the CDO on a 'use case-by-use case' basis to analyze, extract value from, and deliver data. These teams can then disband and move on to the next use case. For a couple of months, they might look at, say, credit decisioning. When that system works well, they would look at something else - total lifetime value, for example. And each of those use cases must be guided by a single light: user experience.
Instead of spending years behind the curtain, building a data management system, and then hoping an investment works out when you flick the switch, this method allows the business to build the system incrementally, and with agility. You can keep the good ideas and discard the rest.
Rather than a vast, slow, one-size-fits-all system build, the use-case approach means that data moves through the pipeline quickly, and you can showcase value at speed.
Ensure data structure and accessibility
Two key markers of data quality are data structure and accessibility. Instead of massive unstructured data lakes, auto finance companies should build taxonomies and data sets that automated systems can tag, classify search, and recommend to users as needed. This way, each time a new problem needs to be solved, your thinkers don't need to start from scratch.
These taxonomies and sets also help with governance: some data can be fast-tracked to the business, while other data can move through the approval stages more slowly. This type of 'bi-modal' architecture, which big tech firms have used for years, accelerates the process from source to consumption without putting the business at risk.
Use data to win the race
Many industries are already using data to win the proverbial race. Others are using data to win the race, literally.
Genpact and a team in the FIA Formula E World Championship, the first all-electric, international single seater motor-racing series, partnered to enhance race performance and outpace uncertainty. Genpact used advanced analytics to generate competitive insights from vast amounts of race and training data at speed. By analyzing huge volumes of structured and unstructured data, we helped the team make fast decisions on how to manage energy, when to overtake, and when to defend. The goal? Win the race. The strategy? Work with Genpact to unlock data-powered insights and cross the finish line first.
Likewise, the auto finance industry can use data to make podium-winning decisions. The secret? Reorient your business toward targets that reflect how the industry is changing; get yourself a CDO function that understands deeply the importance of case-by-case collaboration across the business; make sure you aren't drowning in unstructured or untagged data; and always prioritize the user experience.
Do this, and your auto finance business will be in pole position to capture the checkered flag.

This article was co-authored by Rohan de Souza, global head of auto finance, and Alex Plenty, data and analytics leader for Europe, Genpact. A version of this article first appeared in Auto Fin Journal.
Article