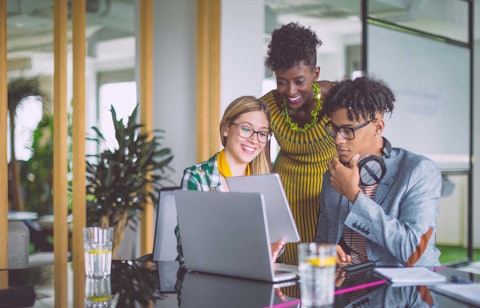 For enterprise leaders, the pace – and amount – of change they face feels never-ending. Many are still grappling with the impact of COVID-19. Meanwhile, new challenges continue to emerge, and a recession seems just around the corner. Though this can feel overwhelming, there is something that can be done.
Build business agility with composability – a cloud services differentiator.
What is composability?
Composability is a systems design approach that breaks down an enterprise's technology, business models, and processes into discrete, interchangeable modules. The composable systems and technologies behind these modules allow teams to quickly respond to changing business needs. They can resequence, enhance, remove, or rearchitect individual modules in response to internal and external factors without needing to overhaul entire systems.
How does composability support business agility?
With composability, you can create or change underlying systems and technologies in a matter of days or weeks instead of months and years.
Gartner found that organizations with highly composable infrastructure came out of the pandemic ahead of their moderate- and low-composability peers. They are simply better placed to predict and adapt to disruption. These businesses also develop better partnerships, evolve products more frequently, are more responsive to customers, and operate more cost-effectively.
Getting started
With composability, it's best to focus your efforts on specific domains – for example, large domains like supply chain or smaller domains like demand planning. As you get started, there are three things to keep in mind:
Align: You must connect your key business and IT stakeholders by agreeing on the vision and desired outcomes that composability can address for the domain. Think 40% improvement on time to market or achieving zero operations while maintaining an exceptional customer experience.
Architect: Start from the ground up – you need to focus on creating a business and solution architecture geared toward composability.
Act: The biggest benefit of composability is speed, so you need the ability and the will to make big changes over a small amount of time. When you're ready to act, an event storming workshop is a great place to start.
Understanding event storming
Event storming is a business modeling approach that breaks a complex domain down into modules. It's faster and better than process mapping because it doesn't require you to decompose processes. And it's more appropriate than user journey mapping because it explores what happens at the back end too.
With business executives, product owners, functional experts, IT leads, architects, and senior developers in attendance, event storming can align cross-functional stakeholders on common composability goals.
During an event storming workshop, key stakeholders develop a future-state model tied to business outcomes. Then, our composability experts decompose and modularize the model so you can choose an appropriate technology path for each. The workshop answers questions like: could an existing application address the required functionality? Do you need to refactor an existing application? Or could a SaaS solution or a custom cloud-native application enable it?
Building composability in banking
Let's look at an example in practice. My team recently helped a banking client transform its loan syndication business. We started by decomposing it into five subdomains:
Client onboarding

Deal onboarding

Servicing

Portfolio management

Secondary trading
We then decomposed each subdomain into 33 minor subdomains – some of which we further decomposed into modules. Using event storming, we split client onboarding into two elements – borrower and lender. This allowed us to explore how to improve the end-to-end ability of a borrower or lender to directly manage their profile.
But we didn't stop there. We further modularized profile management with enabling applications and services. And we gave each decomposed module a more appropriate technology path.
With composability designed into the bank's loan servicing processes and underlying technologies, it has reached new levels of business agility. The bank can make changes and innovate far more quickly to deliver a better, future-proof experience for borrowers and lenders.
Take the first step
So, have you started your composability journey? Composability is so crucial to business resilience that Gartner encourages CIOs to consider composability a superpower. And there's no time like the present to build that power.
To learn more about how we transform some of the world's biggest companies
Blog