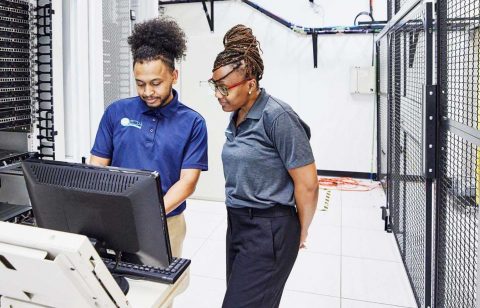 Everyone wants to keep their home safe. They lock their doors, install alarms, and maybe even get a surveillance camera – all to prevent break-ins from happening in the first place.
Business leaders should protect their cloud solutions in a similar way. But in the rush to adopt cloud services, security is often overlooked. And that oversight can cause big problems down the road.
In this blog, I'll discuss what cloud security solutions are, the challenges involved, and the steps organizations can take to get it right. If you're looking for advice on securing cloud-native applications specifically, take a look at this blog.

The foundation for innovation
Cloud computing offers the foundation many business leaders need to build on their automation, analytics, and AI solutions in 2022. And it's an essential component for delivering better employee and customer experiences. But as the adoption of cloud services grows, security needs to keep pace. In fact, we expect cloud security to be the top cloud trend of 2022.
Unfortunately, businesses face many challenges when it comes to cloud security. They struggle with:
Managing increasingly complex cloud environments

A lack of deep visibility for monitoring cloud solutions

An inability to scale in a secure way

A lack of cloud security solutions talent in a competitive market
As a result, many companies struggle to protect their data and digital assets – but they don't want to make headlines for a major security breach. So, what can business leaders do about it?
Four steps for better cloud security solutions
Build defense and depth: Let's go back to the house analogy. Individually, locks, alarms, and cameras are all good ideas. Together, they're even better. If one fails, there's another safeguard in the line of defense. Cloud security follows the same concept: your defense must also have depth – with multiple layers of security throughout your cloud computing environment, you can prevent and detect deliberate and accidental security attacks.
Hire, train, standardize, and enforce: The most valuable homes often take things a step further by bringing in trained security personnel. Likewise, enterprises should prioritize hiring and cultivating talent to oversee their cloud security services. It's also crucial to set clear security standards and security responsibilities that every employee and developer must follow. No one wants to cause security problems, so educate everyone on how to avoid them – and enforce those standards when they're in place.
Implement security by design: When building cloud services, consider security from the very beginning – this is security by design. Embed security and automation in DevOps with security guardrails around how application code pushes into cloud environments. By putting these controls in place at every stage from planning to deployment, security shifts further to the left of the development lifecycle, proactively mitigating security risks and vulnerabilities.
The same is true for infrastructure as code templates that are used for provisioning cloud resources and services. Make sure to scan and validate this code for security issues, vulnerabilities, and policy enforcement as part of your DevOps process. You'll find issues before they show up in production.
Be proactive: Installing motion sensors after a break-in won't help you recover what you've lost. Similarly, if you've fallen victim to hacking or ransomware, it's already too late. Instead, proactively check to ensure cloud security guardrails and security automation are in place. Then periodically test the overall cloud security posture. Proactive diligence is a best practice to apply across every area of cloud cybersecurity.
Cloud security solutions in action
I'll share an example of what proactive cloud security looks like. A financial services company had made a quick and experimental move to cloud.
As a result, the company struggled to manage its overall security posture. Genpact's cloud team came in to help. We reviewed the company's workloads, industry regulations, data security issues, and existing cybersecurity policies and standards. We then developed and implemented a multi-year roadmap to heighten and standardize cloud security helping accelerate the organization's cloud-enabled digital transformation initiatives. To add further depth, we trained cloud security experts in-house.
Today, security issues are flagged early in the development process, which allows employees to experiment, innovate, and embrace the cloud without compromising compliance. The company has securely moved a greater number of workloads to the cloud and launched more cloud-enabled business services globally. Moving forward, the company has a greater understanding of cloud security and replicable practices to support future cloud success.
This is just one example, but the same principles can apply to every industry. When organizations can establish and maintain a secure cloud environment, innovation and competitive advantage aren't far behind.
Blog