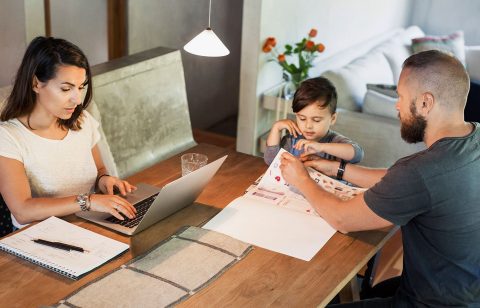 "You need to get to the future first, ahead of your customers, and be ready to greet them before they arrive." – Marc Benioff, Founder, CEO, and Chairman of Salesforce
The future of work is approaching faster than anyone could have anticipated. Accelerated by the COVID-19 pandemic, the cloud is one business tool that has suddenly become essential infrastructure. Being smart about the usage of cloud platforms and services can mean the difference between gaining a competitive edge or falling behind.
Working from home is the new normal, with cloud technology as the business enabler. It's hard to imagine employees working effectively without it. In fact, COVID-19 is driving the largest work-from-home experiment in history, and cloud technology has admirably risen to the challenge. It has pushed the scalability, availability, and security of business applications and processes to new heights.

Never has there been such a global need for IT resources powered by the cloud
Cloud technology enables employees to be more productive and collaborate effectively while working remotely. It allows executives to uncover real-time business insights and gives suppliers and partners secure access to much-needed systems and data. In effect, the cloud has helped businesses to operate at scale without relying on physical workspaces.

The benefits
Though cloud technology's importance is more apparent than ever, it has long held significant advantages over traditional on-premise systems including:
Lower operating costs

Easier ability to scale up or down

Greater speed and agility

Increased uptime and better disaster recovery

Improved security and control
Benioff also said, "If someone asks me what cloud computing is, I try not to get bogged down with definitions. I tell them that, simply put, cloud computing is a better way to run your business." COVID-19 is forcing business leaders around the world to realize this truth.
The challenges
That said, realizing full business benefits is not simply a matter of moving on-premise applications to the cloud. Enterprises face multiple hurdles along their cloud journey. Very few companies are "born in the cloud," and most have hundreds of legacy business applications and processes that are not primed for the cloud environment.

These challenges tend to fall into three categories:
Strategy: Deciding which business applications to retire, refactor for the cloud, or adopt as new cloud-native applications can prove difficult. To get started, focus on evaluating which public and/or private cloud technology stacks best align with your company strategy.
Process: To refactor business applications, work must happen at the infrastructure and application levels. To align with the security and capacity requirements of the cloud, you need a mix of industry and process expertise to successfully rearchitect your business.
Skills: Is your IT organization mainly focused on business applications developed within a traditional IT framework? If so, they'll need help developing the new skills required to effectively navigate the cloud environment.
Your cloud roadmap
To prepare your company for its cloud journey, consider the following recommendations:
Embed cloud investments into your overall digital transformation strategy: McKinsey suggests that "[t]he full value of cloud comes from approaching these options not as one-off tactical decisions but as part of a holistic strategy to pursue digital transformation."
Reorganize operations to take full advantage of what the cloud offers: You must review and refine your end-to-end business processes to operate at this new level of scalability, flexibility, and agility. Only then can you maximize the ROI of your cloud investments.
Find a trusted advisor to help you develop your roadmap: Every journey is easier with a guide. A cloud services provider with industry knowledge, deep process expertise, and agile development methods can smooth the path and help you reach your goals sooner.
Remember – cloud technology is a means, not an end, and how you creatively apply it to your business is the real game changer. With the competitive stakes so high, businesses need to leverage the cloud to "get to the future faster" and provide new, compelling experiences for their employees, partners, and customers. Those who don't may be left in the past.
Blog