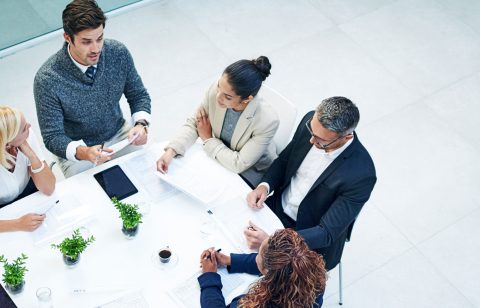 A powerful approach to driving holistic change across the organization
Does this sound familiar?
"I wonder if service teams understand the impact of these delays on us and our clients. I need better transparency." – Jeanette (financial services, banking services)
"When I enter a service ticket, I have no idea where it goes or when I can expect a response. I need them to better manage my expectations." - Dan (banker, financial services)
"Service and operations teams over-complicate by focusing on every exception instead of looking at the commonalities. They need to simplify." – Juan (insurance account executive)
We hear this type of feedback constantly, as organizations struggle to deliver experiences that today's employees and customers expect. It's symptomatic of the dreaded organizational silo.
In today's digital world, seamless integration of the front, middle and back offices is critical to optimizing customer and employee experiences. Silos are particularly detrimental, as legacy systems and new technologies are implemented across the enterprise, further exacerbating divisions. You can't disconnect front-end experiences from the people, processes, and technologies that support them. The good news is that there is a powerful approach that busts down silos and delivers experiences that drive revenue and profitability: service design.
How does service design help?
Service design helps teams reimagine the design of their businesses. We've seen first-hand how it can reframe business strategy and unleash innovation. It can smash silos in the following ways:
Ground thinking around user needs
Service design is always grounded in customer and employee needs. By zeroing in on user needs, teams focus on a human-centered perspective that helps everyone understand service from both an internal and external perspective. Creating personas enables empathy, sparks the reimagination of serving users, and brings teams together with common understanding.
This, in turn, brings meaning to work. When service and operations teams better understand how they can work together to empower colleagues and better address the needs of end customers, employees gain a better sense of purpose. In one famous story that illustrates this point, someone asked a janitor at NASA what he did every day. "I put people on the moon," he replied. He saw his work in a higher context.
One operations manager at an insurance client mentioned that before she took a service design approach, she had no idea what happened to her work once it cleared her queue. She now has a clear sense of how her work connects to customers, and her motivation and productivity have increased.
Foster knowledge-share and collaboration
Service design workshops bring different parts of the organization together – creating cross-functional teams that take a holistic view aimed at achieving business outcomes. The workshops help everyone understand the current state, and envision the art of the possible. By leveraging institutional knowledge and skills across the organization, service design avoids focusing on incrementally improving existing problems. Rather, it challenges whether firms should continue with existing processes. In turn, that sparks ideas for new experiences and entirely different ways of working.
Map the ecosystem
Service-design blueprints map the end-to-end journey, which helps teams look beyond isolated processes to understand how the entire ecosystem works. By looking at the big picture, teams can identify where silos cause break points and find opportunities to apply cross-functional solutions. This creates a shift in mental models.
One of our financial services clients reimagined how to handle trade irregularities by understanding the end-to-end journey across existing silos. The institution applied a new governance model to redefine its current process and to work differently.
Build, test, and learn
With the ideas from service design workshops, the team of service designers and experience architects fleshes out rough ideas into prototypes. They use these prototypes to test and learn in iterative design sprints. Prototypes enable teams to take immediate action based on experimentation and alter the internal culture from reactivity and resistance to one that continuously embraces transformation.
Include service design as part of experience-driven transformation
Service design is an important first step in experience-driven transformation. The resulting blueprint helps orchestrate people, process, and technology in designing and engineering innovative products and services that connect, predict, and adapt. By breaking down silos, teams consider integration of powerful digital technologies – like conversational AI, robotics, and sophisticated analytics – within context of connections to humans and processes from front-to-back office. Let us know how you are busting silos within your organization.
Blog