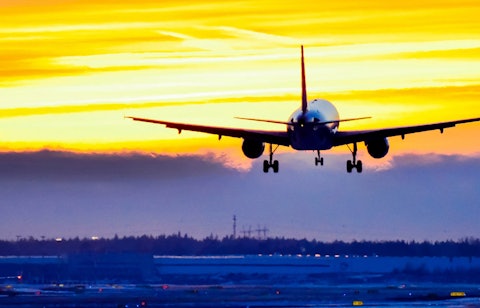 Client: An aviation major
Business need:

A predictive and proactive aircraft fleet management solution to:
Maximize the asset availability and safety

Reduce cost of operations

Maximize revenue through product performance (improve Time on Wing), and service continuity

Enhance collaboration and responsiveness for better customer experience
Solution:
A Lean DigitalSM approach drove an unbiased combination of analytical models, Lean principles, engineering expertise and digital technologies - to transform fleet operations and related processes
Accelerated, risk-free transition from multiple incumbent vendors
to an advanced operating model that leveraged process re-design, global delivery and automation to effectively handle high volumes and velocity of machine-to-machine and other data, at scale, to enable Data-to-Insight-to-Action for predictive and proactive maintenance

Simplification of technology and process landscape enabled by Predix. Improving the accuracy of the alert generation algorithms through machine learning techniques helps increase asset performance and durability
Impact:
Generated $240 million through cost saving for the airlines in the first year of engagement

Reduced operational costs by up to 40%

Reduced customer effort and queries by 20%

Reduced false alerts by 50% by improving the accuracy of alert generation algorithms
Modern aircraft engines are fitted with thousands of sensors that can generate terabytes of data every hour. Harnessing this data for insights can unlock unprecedented value – lower fuel consumption, increase aircraft uptime, lower maintenance costs and ensure safer flights – but needs much more than the latest technology. A unique approach to digitally enabled transformation helped client's fleet management operations become predictive and proactive to realize Data-to-Insight-to-Action results, at scale, in the very first year.
Business challenge
Aviation companies' fleet support operations perform complete life-cycle management of engines manufactured by them as well as some third parties, and their success as a digital industrial business relies on fleet support operations as increasingly engine manufacturers' revenue and profits are linked to engine up-time and maintenance costs with "pay-per-use" pricing models.
The client was looking to embed advanced diagnostics and prognostics based on real-time data from its engines in its fleet support operations to make them more predictive and proactive. The organization was looking for a solution to strategically utilize data of more than 100 million flight records coming in at high velocity from 35000 engines for improved predictive analytics to cut the cost of fleet support operations significantly and to enable their customers—the airline companies that buy their engines— fly more frequently with and greater safety.
However, the company's attempts at adopting advanced technology were grounded by several challenges. Run by multiple vendors; the fleet support unit had been operating with disconnected manual processes being somehow patched together with tribal knowledge. The fragmented approach between teams meant that even simple requests from customers for specifications or operating manuals took a long time to resolve. There were no standard processes to integrate data from new engines or on board new customers to the systems or take actions by proactively identifying changes in the customer's environment.
A medley of legacy systems—some based on unsupported technologies—inhibited a faster exchange of data between functions, and led to frequent operational errors.
A tendency to generate a high level of false alerts (96%) caused undesirable aircraft downtime with expensive and time-consuming manual reviews. This problem was compounded by the lack of a mechanism to prioritize alerts that needed immediate attention.
With the installed base of supported engines doubling in the next 3 years, the existing approach had limited potential to scale up, with the only option of doubling the manual intensive effort to the team.
Genpact solution
An integrated fleet support engineering and analytics center of excellence (CoE) re-imagined Data-to-Insight and insight to action processes with an unbiased approach that ensures that most appropriate combination of interventions - whether classic lean or cutting-edge machine learning - is aligned to maximize business outcomes faster. We call this approach Lean DigitalSM - a combination of design-thinking principles that focus on the end user, Lean principles, process-centric digital technologies, and domain knowledge. The solution involved:
Accelerated transition to an advanced operating model: A proven transition framework built on lean principles and process transformation expertise helped shift from multiple vendors to a CoE. This move involved a detailed failure mode analysis under which a series of soft launches were conducted before the actual start date, allowing the company to get exposure to a variety of real time scenarios. Within three months, the transition was completed with no surprises, the CoE along with a global delivery system was incorporated, and streamlined processed resulted in immediate efficiency gains as the earlier headcount of 100 was rationalized by 25%. Backups were created for more than 90 percent of the processes to ensure business continuity and more than 400 processes were documented.
Process transformation through KPIs tied to business outcomes: As the absence of KPIs had limited the company's ability to serve customers better, Genpact identified 12 key metrics taken from 400 different transactions that would be tracked on a weekly basis. These KPI's—which ranged from turnaround time for integration of engines into aircraft to ongoing day-to-day operations support—were based on what customers feel and wanted. The process transformation and governance for enhanced customer experience was based on Genpact's Smart Enterprise Processes (SEPSM) methodology. SEPSM focuses on identifying the critical factors that influence business outcomes and targets them to achieve maximum impact with minimum disruption using granular data analysis, sophisticated diagnostics and cross-functional benchmarks to maximize process effectiveness and the power of digital technology.
Application of Advanced Analytics and Process-centric technologies: In the area of alerts generation, advanced analytics algorithms and supervised machine learning techniques that correlated different parameters, based on our product and engineering knowledge (such as temperature with altitude) replaced the earlier methodology based on individual threshold parameters. This process change triggered more accurate alerts and reduced the quantum of false alerts.
Connecting the front and back-office: Manual processes for handling customer queries were streamlined and automated with text mining analytics while a robotic automation solution created auto responses which were accessible to all customers on a Web portal. This auto-triaging method combined with Natural Language Programming to generate responses accelerated the response rate for the more than 5000 queries received every month.
Streamlined information flows and data requests: Genpact helped create end-to-end process ownership providing a single cohesive interaction platform for company's customers. For example, Genpact designed end-to-end processes for quicker integration of new aircraft. The earlier lengthy process that sought all the information from customers was shortened through a Web-based tool that pre-populated most of the required information, leaving only a few to be filled in by the customers. Further, more than 99 percent of engine changes were recorded within 24 hours.


Business impact
The global delivery model and the analytics & technology based re-engineering of processes to enable effective Data-to-ActionSM helped the company to:
Generated $240 million through cost saving, jointly for the client and the airlines in the first year of engagement, by reducing aircraft downtime and associated delays for the airlines and by helping the client fulfill the performance warranty of the engines which it committed to the airline, resulting in better customer experience and greater business. 400 significant events that could have led to Aircraft-On-Ground situation were averted in the very first year

Cut the cost of fleet support operations by up to 40 percent

Standardize and prioritize KPI's with a focus on "what customer's feel" and improved them by 50%

Improve customer journey by providing single cohesive face to the customers with end to end process ownership and reducing customer touch points by 20%

Lower rate of false alerts generated by 50%

Improve customer satisfaction through faster integration of new aircraft, and 100% touchless reports distribution, eliminating all manual errors and saving 2000 hours of work

Run compliant, predictable operations from day one and create timely revenue for the client, by applying our proven transition methodology to ensure seamless transition, and shorter client response TAT
Overall, the Genpact solution as a combination of domain knowledge and experience augmented with machine intelligence deployed in an advanced operating model paved the way for the client to effectively use IIoT to transform operations. It transformed their fleet support operations from a transaction processing center to a decision support to monetize IIoT data for accelerating time to market, increasing efficiency and enhancing customer relationships.

Case study