Overview
Heightened customer expectations, increased regulation, and aging technology are all major F&A challenges. Let us help you reimagine finance workflow management so you can achieve greater business agility, responsiveness, and control of operations.
Robust reporting
Want a complete view of business process lifecycle management? We can help. Case status dashboards backed by configurable reports and templates give you the visibility you need. Plus, automation combined with advanced tracking and alerts will support flexible work allocation, simplify supervisor reporting, and reduce the manual effort spent on core operations reports.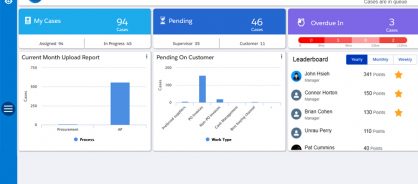 Seamless interfacing
Process Lifecycle Manager interfaces seamlessly with various data sources. It simplifies the case management process with advanced workflows to manage any kind of operational requests – internal or external – across multiple channels. It also offers a range of additional capabilities including configurable workflows, auto-response emails, chatbot integration, and more.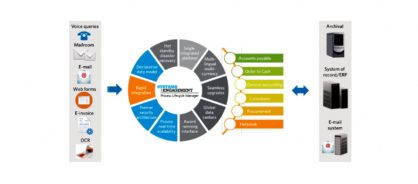 Activity management
Disparate data? No problem. Create cases from email, web, and helpdesk data. Plus, customize case allocation and scheduling with configurable rules across multiple languages and currencies.

Workflow and approvals
Process Lifecycle Manager is powered by dynamic workflows. Based on configurable business rules, approval management, and auto-alerts, our solution streamlines business processes.

Content management
We keep case content in a central repository so users can add and track documents of any type. This enables quick and easy access for everyone, leading to a significant cut in case resolution times.

Collaboration
Process Lifecycle Manager supports real-time collaboration between the business, service delivery teams, and customers. It does this using role-based authorization and customizable access features.

Reporting
Reporting is crucial for effective case and workflow management. Our case status reports and data dashboards increase visibility whether you use templates or go fully customized.
+ 40
deployments across global clients
+ 3,000
end users supported
40 %
reduction in case creation and allocation errors
Testimonial
"Genpact industrializes and speeds up the adoption of new digital process models across the organization by providing a consistent framework… for next-generation process adoption."
John Willmott
Founder and CEO, NelsonHall
F&A Digital Capability Platform Solutions PEAK Matrix™ Assessment
See why Everest Group positions Genpact as a leader and star performer in digital finance platform solutions.