Overview
Genpact's Cora Case Manager is the solution your business needs to manage operational requests. It supports multichannel case creation so employees can create a case through email, your organization's portal, or using a bulk upload.
Seamless and integrated
Cora Case Manager is an advanced digital case management system powered by Genpact Cora – our unique digital business platform. Across every industry and for every employee, it supports automated work allocation and quality control. Cora Case Manager can rapidly deploy across any business unit that needs support. It's also multichannel, so it can handle any case, issue, or query raised internally or externally by employees, customers, or suppliers.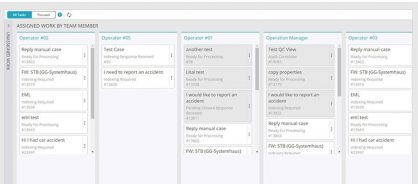 Happier customers
The best case management solutions give managers the visibility they need to track, troubleshoot, and respond to issues. Our real-time dashboard and reporting tools do all this and more by reducing manual reporting efforts across operations. The result? Improved customer satisfaction thanks to greater transparency and collaboration across the front-, middle-, and back-office teams. Plus, businesses can expect greater control of operations and a big productivity boost.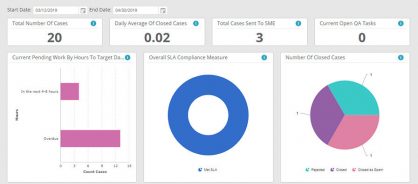 Featured solutions
Cora Case Manager is a case management platform that makes operations seamless. Take a closer look to see how our case management solutions can help you transform business operations and prioritize work effectively with our built-in service-level agreement and target date calculation tools.
Easier auditing
Keep a close eye on your operations with auditing. Cora Case Manager can maintain accurate audit samples against audit checklists provided by your business to increase the speed and accuracy of auditing.
Quick to deploy and connect
Employees and customers need to stay connected. Cora Case Manager will improve collaboration, accountability, and transparency across your business to better connect the front, middle, and back offices.
Increased governance and control
Cora Case Manager gives employees suggested actions based on a customer or user request. This enables organizations to optimize task allocation and workloads for greater control and better reporting.
+ 10 %
productivity boost
+ 10 %
increase in process control
Testimonial
"Genpact industrializes and speeds up the adoption of new digital process models across the organization by providing a consistent framework… for next-generation process adoption."
John Willmott
Founder and CEO, NelsonHall
F&A Digital Capability Platform Solutions PEAK Matrix™ Assessment
See why Everest Group positions Genpact as a leader and star performer in digital finance platform solutions.