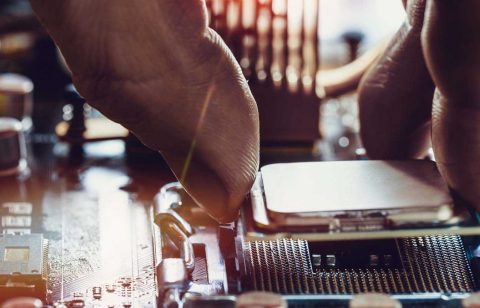 Challenge
In the era of 5G connectivity, leading-edge semiconductors are vital for keeping the world turning. With demand and complexity growing and the high costs of manufacturing, enterprises can't afford to stay reactive. They must get ahead of threats through the kind of end-to-end digital transformation that builds true resilience.
To do so, they must overcome three major challenges:
The semiconductor market requires extreme flexibility to adapt to constantly changing dynamics. Traditional planning processes often can't fully address the realities of today's environment, especially without an integrated view of the supply chain

Legacy processes and systems are often fragmented and opaque. Companies face the challenge of realigning their target operating model (TOM) in order to streamline people, processes, and tools to make planning more agile

Global in nature, supply chains have become exposed to risks from every angle, whether it's geopolitical crises, logistical disruptions, pandemics, inflation, materials shortages, or natural disasters. They must survive – and grow – despite these risks

Solution
Genpact's decades of experience, expertise, and extensive partner ecosystem simplifies the path forward to deliver real business value through three key solutions:
Enabling transformation assessment (ETA)
Our ETA approach provides the foundation to align strategy, process, organization, and tools to enable best-in-class planning and execution. ETA is a collaborative exercise aimed at standardizing, re-engineering, and digitally enabling processes to drive operational efficiency and business impact.
Our ETA blueprint builds momentum and focus for our clients. It enables future transformation programs through four stages:
Project alignment: A phase of evaluation to identify the key requirements that will enable a successful execution
Current state validation: Establishing strategic design principles to create an organizational baseline that informs the future-state design
Future-state design: Designing the TOM by aligning organization, process, and technology with a digitally enabled supply chain planning environment to improve business outcomes
Transformation roadmap: Developing an actionable, executable plan that covers both immediate next steps and outlines future milestones over the life of the transformation
Integrated business planning (IBP)
Genpact's IBP solution helps overcome complexity by breaking localized silos in favor of end-to-end planning. It links customers, suppliers, distributors, and service providers to enable best-in-class delivery.
Integrating the full value chain optimizes planning and boosts collaboration to unlock true business value. In doing so, IBP helps maximize profits, efficiency, and capacity. It reduces leakage and costs and allows supply chains to respond to market fluctuations and disruptions faster and better. Further, it enables the consistent development of planning building blocks.
With a central control tower view of data across the entire supply chain:
Truly accurate demand forecasting becomes a reality

Reports run in real time, enhancing the flow of inventory management and production scheduling
Scenario modeling and testing through a digital twin of the supply chain allow planners to instantly assess the impact of oncoming disruptions and evaluate risks

Businesses can combat challenges before they become problems and mitigate risk
Supply chain resilience
To build resilience, enterprises need oversight of their entire supply chain. They also need to see beyond their immediate ecosystem to analyze and mitigate a whole host of risks, such as geographic issues and complexities, competitor activities, natural disaster potential, workforce health, financial vulnerability, and so much more.
Many enterprises cannot see, forecast, or comprehend these threats on their own. This is where Genpact comes in, with its data analytics, advanced planning, and comprehensive mapping and scenario assessment tools and techniques.
A supply chain resiliency program starts with a culture of preparedness and includes many participants and elements. To drive real enterprise value, advanced risk mitigation must become a living process through four key steps:
1. Mapping the supply chain end to end
2. Setting the framework for a risk management council by:
Developing and deploying a supply chain risk management system, including people, processes, and tools

Identifying specific goals and KPIs related to risk mitigation and management

Creating plans and assigning deadlines
3. Assessing current sales and operations planning (S&OP)
4. Incorporating risk into the ongoing S&OP business framework to drive closed-loop improvements by:
Driving maturity and metrics for the risk management council

Prioritizing risk mitigation actions and driving closure

Developing S&OP risk assessment scenarios
Impact
ETA, IBP, and supply chain resiliency deliver vision and value with proven, measurable results including increased revenue, higher margins, risk mitigation, improved supplier collaboration, and customer satisfaction.
ETA is our proven methodology to deliver supply chain transformation programs. The evaluative approach maximizes the business and monetary value of digital transformation and boosts return on investment. It's the first step to end-to-end supply chain optimization.
IBP follows. End-to-end synchronization and real-time, continuous forecasting help to optimize budgets and boost profitability. A digital twin allows for executable manufacturing where reality replaces averages.
Supply Chain Resiliency reduces risks and potential downtime. Using advanced analytics and planning tools and techniques, mitigation strategies improve to drive a resilient business model and boost efficiencies and profitability.
For one semiconductor manufacturer, this led to:
A 50% improvement in S&OP meeting processes and cycle times

An over 200% increase in S&OP sales participation

The identification and capture of over $53 million in inventory reduction through collaborative planning and strategy segmentation
Why Genpact
Through ETA, IBP, and supply chain resilience, transformation is not only possible but also simplified. Genpact is your partner to enable organizational transformation.
Our semiconductor team has decades of experience in solving supply chain challenges. Combining expertise in procurement, data, analytics, and technology, we optimize end-to-end management, helping to overcome outsourcing issues and mitigate risks. We deliver billions of dollars each year in business impact.
Solution overview