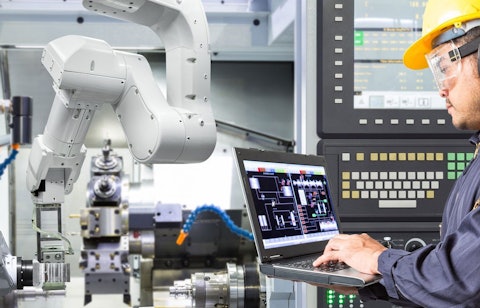 Robotic process automation (RPA) is on the rise. Research from Gartner estimates that by the end of 2022, 85% of large organizations will have deployed some form of RPA. Using RPA, businesses can configure bots to mimic how humans process transactions, albeit with far greater speed and accuracy. This allows employees to focus on higher-value tasks.
So what motivates organizations to invest in automation? The biggest driver is still cost savings, but business leaders are realizing that the ROI of automation, both quantitative and qualitative, can be seen across the organization.
Stability, retention, and compliance
Automation can improve business stability. When an employee leaves an organization, all their training, knowledge, and experience leaves with them. This is especially true if their role is largely unautomated. One of the great things about bots is their inability to resign or retire – once they're trained, they're part of the process for as long as you need them.
Productivity is another commonly cited benefit of automation, but it's not exhaustive. As you continually expand the number of bots and refine processes across the organization, the benefit becomes infinite. Plus, bots free employees from monotony, which boosts job satisfaction and leads to increased retention, reduced turnover, and business advocates that can help you attract future talent.
Perhaps it's unsurprising that customer experiences are likely to improve because of RPA, too. This is because properly equipped, productive employees can deliver better service to your customers. While it might not have been a ROI point outlined in your project plan, the impact shouldn't be ignored.
Lastly, increased compliance is another – often unforeseen – benefit. Information security and regulatory compliance are major concerns for every organization, especially those operating in highly regulated environments like banking, capital markets, and healthcare. With automation, checking 100% of data against compliance measures 24/7 becomes a reality – something that's just not viable in real time without automation. And, as noncompliance is linked to financial penalties, there's a financial benefit to be seen here, too.
Setting expectations
Of course, these ROI scenarios sound great, but are they realistic? Well, yes, but it entirely depends on the organization. Do you have adequate resources to invest in the project and do you have support from senior leadership?
If your organization is supportive of a RPA project, the big question you need to answer before you start is what you will automate and why. Processes involving structured data, that follow solid business rules, are best placed for automation. Data collection, aggregation, and reporting tasks are also good examples. However, you must remember that automating a poor process isn't going to improve it. You'll need to refine and prime your processes first.
Ultimately, when approaching an automation project, the biggest pitfall is not setting definitive expectations upfront. You need to be clear on what you hope to achieve, if it's even possible, and how you will measure it. A mix of qualitative and quantitative feedback, before and after implementation, is a great place to start.
Encouraging and empowering employees
To successfully automate, businesses must support their employees in developing new skills and new ways of working. Automation investments made without a strong focus on people can have a negative impact on employee and customer satisfaction. This causes digital transformation to fizzle out. Investments in automation at scale are futile for organizations that cannot make this connection to employee experience.
Similarly, to realize the ROI of automation, your employees need to be supportive. Unfortunately, employee perception can be a barrier. Some employees may feel threatened and concerned that their job is being replaced by machines. Arguably, automation enhances, rather than replaces, the human workforce. Automated and semi-automated processes still need to be managed, and bots need to be monitored and refined, which requires human intelligence. Automating mundane work allows employees to be reassigned to more strategic, and ultimately stimulating, work that requires a human touch and relationship orientation. Once you educate your employees and prepare them to embrace automation, the ROI will reveal itself.
So, if you've already automated your processes and aren't seeing the anticipated ROI, keep refining, experimenting, and looking for those hidden benefits.

Or, if you're apprehensive about getting started with automation, remember that your apprehension may mean your competition is getting a head start. The sooner you explore the possibilities of automation, the sooner you can realize the benefits.
Blog