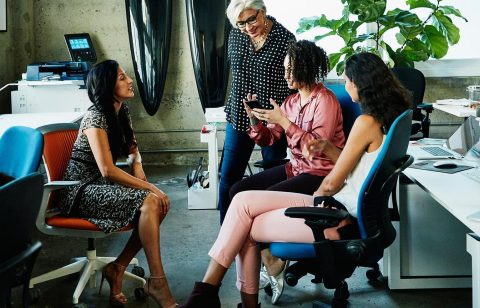 As we enter the next phase of the experience economy, those that consider experience the North Star of digital transformation will thrive. Others risk becoming obsolete.
Whatever industry you're in, blending human empathy with data insights is critical. It helps you create experiences for your customers, partners, and employees that boost productivity, profitability, and market share. Experience-led transformation puts experience at the heart of an enterprise. As a result, teams can align around a user-centric vision that maps to business goals – and avoid investing in technology for technology's sake.
If you're not sure where to start, below are five experience principles that many of our clients are applying in 2020:
1. Know your audience
Although it may sound counterintuitive, assuming that you don't know your target audience is a good place to start. Qualitative and quantitative research identifies what makes people tick, and creating personas – realistic, contextual profiles based on comprehensive insights – can help too. Standardized personas help teams across your business to more easily spot the needs, preferences, and expectations of end users across all touchpoints, channels, and devices.
We put this thinking into practice for a developer of scientific solutions, software, and services. Today, standardized customer insights allow employees to quickly develop new products and services that anticipate customer needs. And, comprehensive customer journey maps highlight pain points to help employees improve existing products and services. The approach has helped to develop stronger customer relationships and brand differentiation in an increasingly competitive market.
2. Be business (versus technology) led
CNBC reported that organizations spent $1.3 trillion on digital transformations in 2018, only to see 70% of them tank. [1] To avoid making the same mistakes, be sure to coalesce around a shared vision. Use approaches like service design to bring diverse stakeholders together to reimagine experiences in the context of business objectives. Then, blueprinting can help businesses integrate the right emerging technologies – like AI, automation, and analytics – at the right time to achieve KPIs.
But as markets shift, businesses must also be ready to evolve. For one lifestyle company, they needed to maintain the power of its parent brand while overseeing a strategic digital redesign to support more sophisticated, fluid, and engaging customer experience. Starting with strategy, we helped them approach this redesign with business goals in mind – and then choose the technical platform to deliver meaningful and personalized experiences that drive conversion.

3. Connect experience to operations
Customers and employees are continuously exposed to your operations, processes, and systems – even though they aren't always visible. Superior experiences should go well beyond the front end to seamlessly connect to underlying operations. Enterprises must overcome the inertia of legacy operations and take an experience-led approach across every aspect of the business. Running an assessment to understand how customer and employee journeys connect to enterprise operations is a great place to start. Here, it's important to look at processes, technologies, and people, as well as operating models.
We helped a professional services firm transform how they work and collaborate internally. By strategically transforming an outdated intranet into a modern digital workspace, employees now enjoy a new way to share knowledge, experiences, and insights to align with the needs of the customer – in this scenario, everybody wins.
4. Get employees on board
Change happens from the inside out – and if employees aren't backing experience-led transformation, it will fall short. The goal is to put employees first so they can put customers first. As CNBC stated, "[P]eople aren't the problem; it's the organization's failure to communicate effectively with its people that sets them up for digital transformation trouble from the start."
A leading hedge fund understands that its people are its most important asset. We are working with the organization on a multi-year initiative to reinvent the employee experience. To engage and align employees, we started with a service design workshop that brought multiple stakeholders together from different areas of the business. We're helping these stakeholders reimagine new, more experience-led ways of working by combining expertise in IT, operations, finance, and HR.
5. Adopt agile ways of working, measure, and optimize
To transform experiences at scale, agile methodologies are critical. Prioritize the pursuit of exceptional experiences over rigid adherence to process. Use sophisticated measurement capabilities that blend data and design insights to support the continuous creation of the next best experience. In this way, teams can make ongoing improvements and monitor the health of experiences over time and across organizational layers.
We worked on an experience-led project with a global biopharmaceutical organization toward the end goal of creating a flexible resourcing model. We put the needs of people first at every stage of the project and today, they can more easily tackle multiple priorities, adapt quickly, and ship more regularly. The result is a better experience for both employees and customers.
Ultimately, if you want to thrive in the experience economy, the time to act is now, and these five principles provide the core building blocks of success.
Blog