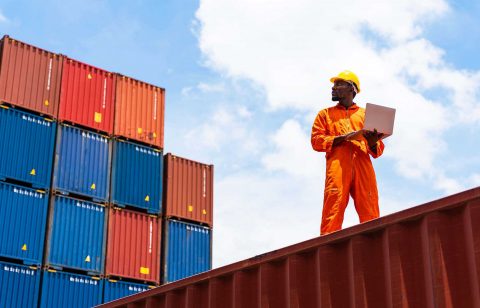 We've heard it all before. Global supply chain issues are impacting____. You can fill in the blank with just about any industry. Semiconductor chips quality control, retail and pharma inventory fulfillment, and even claims processing in property and auto insurance.
Imagine you're driving to work, and you get into an accident with another car. You're safe, other than the coffee stains all over your outfit, but your car has sustained a lot of damage. You think to yourself, "Ah! Good thing I'm insured." But not so fast – those pesky global supply chain issues mean a delay in getting the new parts needed to fix your car. The best solution for the insurer might be to consider your vehicle a total loss rather than fix the old one.
While this scenario seems improbable, insurers have been dealing with this issue for the past few years following the pandemic. Regardless of industry, disruptions seen in global supply chains are set to remain the same in 2023, according to research from KPMG. While most know about the impact of these issues - such as higher prices, inflation, and reduced quantities of available goods - few consider the intersection between insurance and supply chains.
Supply chain delays frustrate customers
At its heart, the claims resolution is a supply chain issue. Take the auto industry as an example. After an accident, claims adjustors review the damages and decide whether to repair or replace the vehicle. Before COVID-19, most claims adjustors were able to pay out for specific auto parts. Now, with ongoing supply chain issues, there is an increase in total loss decisions due to the increased time to repair and costs incurred caused by availability of replacement parts. And, according to U.S. government data, vehicle repair costs spiked 18% year-over-year as of February.
Both insurers and customers are becoming increasingly frustrated. Insurers face staffing shortages, rising repair costs and material shortages, which are keeping them from providing a good customer experience. Customers, on the other hand, are seeing increased prices and longer wait times, driving down Net Promoter scores.
Technology tackles supply chain issues
Insurers must implement strategies designed to address supply chain issues, and leveraging advanced technologies is one solution. For example:
Demand forecasting: Use data analytics and machine learning algorithms to analyze historical sales data and market trends to provide accurate demand forecasts.

Supplier management: Leverage technology to help manufacturers streamline supplier selection, qualification and relationship management processes.

Artificial intelligence: Use AI to determine if it is more cost-effective to repair the vehicle or pay out claims as a total loss.

Virtual imagery: Use virtual options to triage vehicles or write estimates on drivable cars.

Digital marketplace: Utilize expanded parts searches or digital marketplace sources such as PartsTrader to find and deliver parts.

Calibration: Work with shops who are more equipped to completely repair vehicles and provide the calibration scans in-house vs. having to sublet those which can add more time.
Leveraging technology solutions empowers claims adjustors to easily track and manage loaner inventory, reduce cost, increase efficiency, and improve customer satisfaction.
Improving the customer experience
Grappling with supply chain issues is challenging for insurers and frustrating for customers. In order to generate a positive customer experience, insurers should focus on four areas:
Ensure timely communication with customers on the status of their claims in the format they prefer (calls, text, email).

Set expectations with customers based on timelines from supply chain partners.

Streamline the claims process by minimizing paperwork, leveraging digital platforms for claims submission and tracking, and automating processes where possible.

Prioritize prompt responses to supply chain-related claims and work towards fast resolutions.
Insurers can take the sting out of the claims and repairs process by increasing transparency with customers and finding creative solutions that improve the customer experience. Doing so will help strengthen your brand and turn your customers into brand advocates.
This article first appeared in Insurance News Net. It was authored by Yasir Andrabi, global head of insurance strategy, service lines, and solutions at Genpact.
See how Genpact's insurance services and solutions enable new business models for insurers
Article