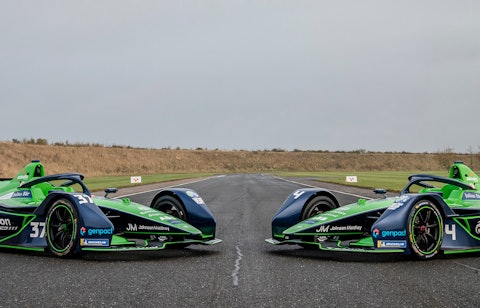 There has never been greater awareness of the power and prevalence of data. We wake up every morning to graphs and statistics, and we all now know what 'flattening the curve' means. Overnight, everyone has become a data scientist. But what's top of mind for many companies is how they can turn insights from the past and from their environment into predictions that help them make the right decisions tomorrow.
I recently had a fascinating discussion with leaders in data intelligence from distinctly different industries. We explored how accurate prediction capabilities are helping businesses – and sports teams – overcome uncertainty.
Competing and winning with data
Insights help make the most of limited resources. For Envision Racing, a founding member of the ABB FIA Formula E Championship, its cars wouldn't leave the garage without data. And the drivers stand the best chance of winning if they've depleted every last drop of battery energy as they cross the finish line.
"We calculate how much energy we're going to use meter by meter over a 100,000-meter race," said Sylvain Filippi, the team's managing director and CTO. "When you have a lot of good, well-structured data, and the technology and expertise to extract insights, you can achieve incredible things."
Winning with data requires preparation. When circumstances push companies to perform advanced analytics and make critical decisions under pressure, having one platform, one technology, and one data lake in place is key. In healthcare, for example, when stocks of drugs are low, fast access to relevant insights helps workers give patients the best substitute medicines. But this is only possible with strong data foundations.
Focusing on relevant data is also key, but it can mean tough conversations about giving up on tried-and-true models. Penske, a leading transportation solutions company, noticed that as COVID-19 hit, many of its field managers were continuing to order truck-part replacements based on prior years' data, even though trucks were now logging far fewer miles.
"Our analytics team recognized that we couldn't work from those past trends and had to forecast differently," said Penske Transportation Solutions CFO Tom Janowicz. "The people in the field have experience and trust their gut, but our analytics team helped them understand the new trends."
Turning instant insights into rapid decisions
Data is most valuable when one can turn it into action. Action requires two things: insights that arrive quickly to guide your decisions and insights people trust to act upon. Envision Racing is under constant pressure to quickly turn data into action. On race day, the breaks between track practice sessions, qualifying, and the official race are as short as two hours.
That's why the team, like many other organizations, focuses on ease of data consumption rather than just ease of data ingestion. "I have way too much data and not enough time," Filippi said. "But focusing on the right data and algorithms, and their performance, helps us make huge improvements."
Within healthcare, spikes in demand mean organizations must make swift choices about where their products are needed most and adapt their processes, production, and supply chains in response. We've seen leading companies adopt new forecasting models and embrace greater levels of collaboration across the industry to turn data into action at speed, keeping patients and employees safe.
Gaining competitive advantage by blending human and machine intelligence
The interaction between technology and data is meaningless without people. The real value is in data insights that help workers make better decisions.
For Penske, collecting accurate, detailed data about the damage to its rental trucks when returned by customers has been a challenge. Computer vision with artificial intelligence analysis can provide a solution by capturing images of damage, recording new incidents, and notifying the proper resources much faster than on-site employees, who work best when they focus on customer service and quick truck turnaround. "It's an opportunity for us to deliver a better experience for our employees because we're not overwhelming them with tasks," said Janowicz.
To get the most out of this pairing, companies should actively focus on reskilling workers to take advantage of digital technologies. Our recent AI 360 study of 4,000 workers and 500 senior executives found that 75% of workers are interested in AI-related reskilling, but only 35% of senior executives say their companies offer such services. When technology empowers workers, they can proactively and quickly solve problems with automation and the ability to generate predictive insights.
We've yet to see everything that augmented intelligence can deliver. But it's clear that a robust data foundation, the ability to turn predictive insights into fast action, and the combination of human and machine can give companies the strength and agility to overcome today's uncertainty. It will unlock resilience for the future, too.
Blog