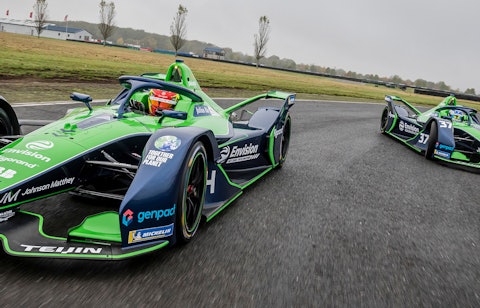 While sport around the world has had to hit the pause button, Genpact and Envision Racing are still collecting trophies. Only this time it's for our innovative use of data and technology that's helping the team cross the finish line first.
The Lap Estimate Optimizer (LEO) – an AI-based scenario engine and key part of our collaboration – has today been named a winner of The Hackett Group's 2020 Digital Awards for analytics excellence. We're delighted that the strategic consulting and benchmarking firm has recognized our work developing critical predictive insights for the team.
Focusing energy on winning
On the surface, Envision Racing's goals from data and analytics look different to those of a life-sciences or financial services firm. In reality, however, they're not. All businesses, whether they're operating on a racetrack, laboratory, or trading floor, must identify the key factor that supports a winning strategy.
In Formula E – the world's first fully electric, international single-seater street racing series – every driver has a limited amount of energy and a major unknown factor: how many laps will there be in the 45-minute-plus-one-lap race? Having the answer at any point in a race is foundational to a successful strategy.
With accurate predictions, drivers can confidently attack and defend their positions. Without them, drivers may save too much energy and fall behind or overspend and fail to finish. Neither of which are great options for the team.
Augmenting intelligence with LEO
LEO's evolutionary algorithms help the Envision Racing drivers and engineers prepare for and succeed on race day. The technology consistently assesses and predicts the number of laps remaining, which augments the technical engineers' strategies.

Weather, crashes, safety-car interruptions, and changing track conditions all have an impact on a race's outcome. Having access to accurate information faster enables the team to make the right split-second decisions and secure a podium finish. Since we've been working together, neither Envision Racing driver has run out of battery power before the finish line, unlike some teams that have had tragic failures.
The Hackett Group judges have recognized our cutting-edge work with the racing team and how it benefits more mainstream businesses too. The same principles and digital technologies at work within the championship can also help companies across industries predict fraud, anticipate spikes in customer demand, and keep businesses ahead of maintenance or parts failures.

Formula E races may be on hold, but our Genpact and Envision Racing teams have been hard at work behind the scenes. I'm looking forward to cars getting back on track so you can see our latest work in action.

In the meantime, learn more about our work with the team generating predictive insights, and how we can help your business make better decisions with augmented intelligence.
Blog