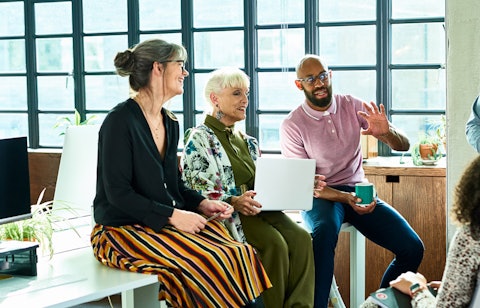 Having worked in marketing for more than 25 years, I can spot the need for a rebrand when I see it. On today's agenda: 'soft' skills.
With attributes like teamwork, communication, problem-solving, empathy, and adaptability topping the list, these so-called soft skills are instrumental to every career, every team, every brand. They're vital to developing our communities, societies, and our planet too. You might argue that they are, in fact, foundational.
So, tell me: when was the last time you heard about the importance of a soft foundation?
The false choice of soft skills
To be fair, no one has claimed that soft skills are unimportant. In fact, LinkedIn's 2019 Global Talent Trends survey revealed that 92% of talent professionals and hiring managers agree that "candidates with strong soft skills are increasingly important" to the success of the organization.
But by referring to these skills as soft – which means "easy to mold, cut, compress, or fold" – we devalue their importance compared to technical skills, which are often viewed as 'hard' skills. These labels can inadvertently position soft skills as optional or inherent – a genetic bonus – rather than expertise that most people can (and must) deliberately hone, acquire, evolve, and perfect over time.
Though some people have a natural proclivity for communication or teamwork, that doesn't preclude others from developing these attributes as they would a technical skill. By suggesting people either have soft skills or they don't, it abdicates an individual's responsibility for building them.
Soft skills are both vital and very much within our control. That's why I suggest we rebrand them as power skills – not just because attributes like leadership, creativity, collaboration, and problem-solving are the driving forces behind every career, but also because they're within our power to change.
Power skills in organizational culture
Power skills go far beyond the impact of an individual – they're central to defining organizational culture. When leaders are adept communicators and can listen and demonstrate empathy, they inspire the best work from their teams. When a workforce is adaptable, the company is innovative. When people are problem solvers, the business is transformative.
For example, Microsoft CEO Satya Nadella wrote in his book Hit Refresh, "My passion is to put empathy at the center of everything I pursue – from the products we launch, to the new markets we enter, to the employees, customers, and partners we work with." And we see individual empathy transformed into brand action every day. For instance, Airbnb CEO Brian Chesky recently turned empathy into action, announcing that the lodging marketplace will house 20,000 Afghan refugees without charge.
In other words, an individual's power skills contribute not just to the success of the individual, but to the success of the enterprise. Power skills within teams are the amplifiers of potential that turn good to great – the superpowers that make the impossible possible.
The need for power skills has only increased since the start of the pandemic. Almost overnight, everyone, including business leaders, had to draw on compassion and tap into new depths of communications skills to secure employee wellbeing and trust. And as organizations have accelerated digital adoption, it's our power skills, like good judgment and relationship building, that not only help our businesses realize value from their technology investments but also differentiate their company from the competition.
Research confirms this point. The World Economic Forum's Future of Jobs Report 2020 indicates that by 2025, the top skills employers will focus on include "critical thinking and analysis as well as problem-solving, and skills in self-management such as active learning, resilience, stress tolerance, and flexibility."
Now comes the hard part: Putting power skills into action
As anyone in communications knows, words are important, but without action, there's no impact. In addition to renaming these skills, we're responsible for changing the way we develop, value, and reward these skills in our own teams and in the workforce.
As individuals, we must have the will to assess our skills honestly and make investments deliberately, wherever necessary. As leaders, we must instill in our teams the importance and urgency of developing these skills. As part of this process, it's essential to measure and reward those who are proficient in these areas just as we do technical skills. In many cases, this will require us to adapt our performance metrics, creating an environment that rewards the totality of skills.
There's no question that the world around us is layered with complexity. From business goals to larger societal issues like climate change, public health, or racial justice, the complexity is only increasing. And that means the skills that we use – as individuals, as leaders, as citizens – must rise to meet the moment. The future of our companies, our industries, and our communities rests on the ability for us to collectively adapt, evolve, and reinvent. It relies on our ability to bring the right combination of technical and power skills to build movements that change hearts and minds.
Right here, right now, we have the 'power' to use our words and actions to create a more positive future for us all. And that's a rebrand I can get behind.
Blog